Meghan Markle Is Pregnant & Due In The Spring, Kensington Palace Just Announced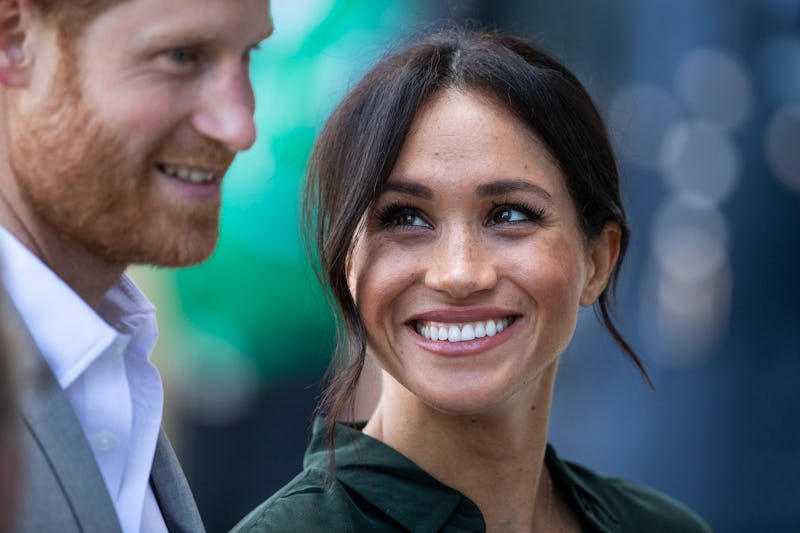 Dan Kitwood/Getty Images Entertainment/Getty Images
Prince Harry and Meghan Markle have been an absolute delight to watch and seem totally in love, whether they're PDA-ing at high profile events or their body language is speaking miles at charity appearances. At the moment, they're currently out in Australia on their first official royal tour as a couple and while it's a big step — an arguably much bigger one has just been announced by Kensington Palace. It has just been announced that Meghan Markle is pregnant, with the pair expecting a baby in the Spring. While there's already been a lot of speculation, the news has been confirmed through the royal's official channels with the following statement:
"Their Royal Highnesses The Duke and Duchess of Sussex are very pleased to announce that The Duchess of Sussex is expecting a baby in the Spring of 2019."
WHAT GREAT NEWS. I literally have not been able to stop grinning all morning. A second tweet read:
"Their Royal Highnesses have appreciated all of the support they have received from people around the world since their wedding in May and are delighted to be able to share this happy news with the public."
At the moment, Meghan's expected due date is a little fuzzy since the palace are remaining pretty vague about just how far along the royal is. However, a source shared some insider intel with HELLO!'s royal correspondent Emily Nash.
Apparently, Meghan Markle is "12 weeks along". Nash tweeted, "Meghan is thought to be around 12 weeks pregnant, and the couple shared their news with family at the royal wedding on Friday - the Queen, Duke is Edinburgh, Prince of Wales, Duchess of Cornwall and Duke and Duchess of Cambridge are "delighted for the couple"."
The royal couple's happy news comes just as the pair have touched down in Sydney for the Australian leg of their royal tour, which will span sixteen days and several countries including Australia, Fiji, Tonga and New Zealand according to PEOPLE. Even before the Duchess' pregnancy was announced, it sounded like it was going to be a pretty stressful arrangement as her first high profile international outing. I'm sure the media attention on her is going to quadruple once the news well and truly sinks in.
Luckily, she'll have two staunch supporters with her along the way: her husband Prince Harry as well as her best friend and stylist Jessica Mulroney, who will reportedly be accompanying her over the tour, according to The Times.
It's been an incredibly busy year for the royals, if not a joyous one. There's been a smattering of weddings (Prince Harry and Meghan Markle's as well as Princess Eugenie's to Jack Brooksbank last Friday) and new additions to the family, with Prince Louis arriving in April. It's also super sweet to think that Meghan and Harry's little one will be pretty close in age to Louis, the family's littlest royal, and fingers crossed we get to see some cute AF play dates in the future.
It had been widely speculated that Meghan Markle was pregnant earlier this year and during Princess Eugenie's wedding on Friday, with further rumours spiking this morning when she stepped out in public holding a set of purple binders to her body, as the Daily Mail reports. However, it's more than a little unfair to police and speculate about a woman's body — especially when it comes to something as monumentally life-changing as a pregnancy. Beyond being sexist and backwards, it's a damn shame to steal the thunder from one of the biggest announcements of any couple's lives. People will tell you when they're good and ready, the same way Meghan and Prince Harry just have, and it's about time we start respecting that.
Congratulations to the couple!