Prince Louis' Godparents Aren't Who You'd Expect, But The Choices Are Still Super Meaningful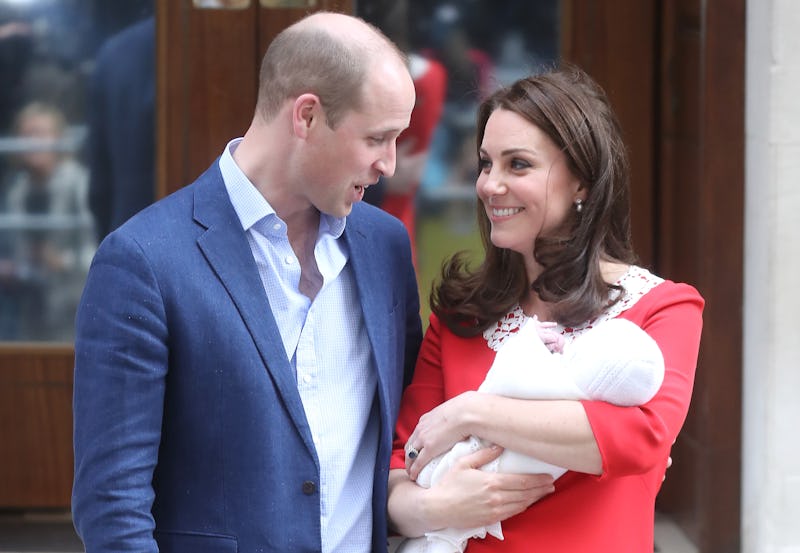 Chris Jackson/Getty Images Entertainment/Getty Images
It's been less than three months since Prince Louis was born, but he's already facing his first major milestone. On Monday, Prince Louis will be christened into the Church of England, but if you were expecting Prince Harry and Meghan Markle to be named as his godparents, think again. Kensington Palace has announced Louis' godparents, and unfortunately, his newly married aunt and uncle aren't on the list.
According to the royal announcement, which was shared on the royal family's official website, Prince Louis' godparents are all friends and family of Kate Middleton and Prince William. And although many children only have two godparents, Prince Louis has six, so obviously, there will be a lot of love to go around for this little one, and he's only following his family's tradition. Both of his older siblings have multiple godparents — George has seven, while Charlotte has five — so Louis and his six fit right in.
The list includes the following as Louis' godparents: Nicholas van Cutsem, Guy Pelly, Harry Aubrey-Fletcher, Lady Laura Meade, Hannah Carter, and Lucy Middleton. Unless you're part of the royal family, most of these names probably sound unfamiliar to you. So who are these people, exactly?
According to Us Weekly, van Cutsem and Aubrey-Fletcher have been friends of William's since childhood, while Pelly is a friend who helped plan his bachelor party when he married Middleton. And as for the godmothers? Lucy Middleton is Kate's cousin, Meade is the wife of one of Charlotte's godfathers, James Meade, and Carter is one of Middleton's college friends.
Obviously, Middleton and William chose people who are close to them to take on the responsibility and honor of being Louis' godparents, but why weren't Markle and Prince Harry included in that group? It's important to note that Prince Harry isn't a godfather to any of Middleton's kids (and for the record, neither is their aunt on their mom's side of the family, Pippa Middleton). It does sort of make sense; as an aunt and uncle, Pippa, Markle, and Harry already have special roles in their nieces and nephews' lives, so why not hand over the title of godparent to other important loved ones?
Before the announcement, bets were being placed on who the godparents would be (as they often are before something major happens in the royal family) and booking expert Jessica Bridge told People last month that odds were in favor of William and Middleton keeping immediate family members off the list, so this seems to be a totally expected move.
"As with George and Charlotte, [William and Kate] chose close and trusted friends and aides, rather than immediate family members, and the odds suggest that will be the same with little Prince Louis," Bridge told the magazine at the time.
And when the christening is over, it sounds like the family has plans to keep the celebration going. According to the announcement on the royal family website, Prince Louis will be wearing a replica of the Royal Christening Robe, made by the Queen's dressmaker, Angela Kelly, and will be baptized with water from the River Jordan. After the ceremony, guests will be invited to Clarence House, where they'll be served a very special dessert.
"Following the service, The Duke and Duchess of Cambridge will give a private tea at Clarence House," the announcement said. "Guests will be served slices of christening cake, which is a tier taken from The Duke and Duchess of Cambridge's wedding cake."
Now, we just have to sit back and wait for those christening photos to roll in. Since we haven't seen much of Louis since his birth, it'll be fun to see how he's changed in the months since — and with six new godparents by his side, it's clear he'll be surrounded by love on such an important day.