This Royal Is 38th In Line To The Throne & Holidays Like A Total Queen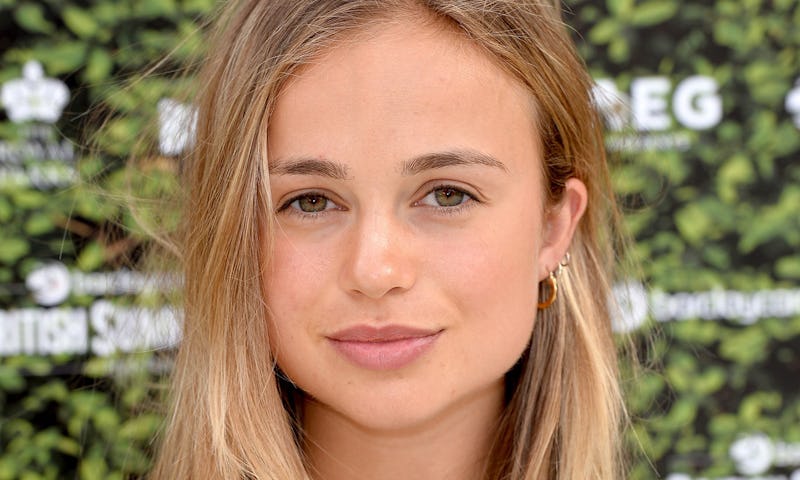 Jeff Spicer/Getty Images Entertainment/Getty Images
Thanks to a legendary heatwave this year, there hasn't been much need to head abroad to soak up some rays. Although, that doesn't stop me from dreaming of jetting off to Tuscany to relish in its beautiful Italian culture. Why so specific? Well, if you're following Prince William and Prince Harry's third cousin Lady Amelia Windsor on Instagram, you'll know she is currently doing just that.
The 22-year-old model, who is signed under Storm Management, has worked with the likes of Dolce & Gabbana and Bulgari according to Harper's Bazaar. Windsor has recently been sharing seriously beautiful snaps from the heavenly Italian region, and there is one photo in particular that the model posted on Wednesday that may shed some insight into where she may be staying.
Captioning the photo as "heavenly" — and rightfully so — Windsor seems to be spending some of her time in the gardens of La Foce. A historic property that overlooks "the Val d'Orcia, a beautiful and miraculously intact valley in Southern Tuscany," as detailed on the estate's website.
There is ample opportunity to actually stay within the grounds, with six houses to choose from. Each house is available to rent, and the cheapest stay is at the Palazzolo B&B, with daily rates of €140. The whole house can actually be rented for two or three days, with prices starting at €1,820, according to the site.
I mean, if you can afford it — and you're part of the royal family — who wouldn't want to vacation at La Foce?
And it's not just Italy that Windsor has been exploring, either. She shared snaps in the Spanish Balearic Islands — including a stay at the gorgeous Sol Beach House in Ibiza — in late July. She posted photos during her trip of the gorgeous coastline of Santa Eulalia del Rio, utilising the views at moonlight in a paid partnership with Michael Kors. Wow, talk about slaying it.
The model isn't spending her holiday alone, either. The Duke of Kent's granddaughter — and 38th in line to the throne — has been using this break in the sun to spend some quality time with her siblings Edward Windsor Lord Downpatrick, and Lady Marina Charlotte Windsor, according to the Daily Mail.
I mean, I can't think of a better way of chilling out with my brother than in the Balearic Islands and the rolling hills of Tuscany. They're livin' the dream.
The trio are making the most of what Tuscany has to offer, including the region's stunningly designed gardens and the beautiful flowers that makes for some great fashion moments, which obviously, Windsor is making the absolute most of.
Of course, Windsor hasn't been the only royal exploring what Europe and other parts of the globe has to offer in the summer. W'lliam and Harry's maternal cousin, Lady Kitty Spencer, has recently been sharing enchanting photos of the Italian coastal village of Portofino, and seems to currently be staying in Montenegro, exploring what the country has to offer, including a delectable winery.
The only way I'm going to replicate these dream vacations is by ingraining the photos in my mind whilst I sit in my garden with my eyes closed with a glass of wine in hand. Close enough, right?