DW Guys, William & Kate Haven't Cracked This Millennial Parenting Problem Either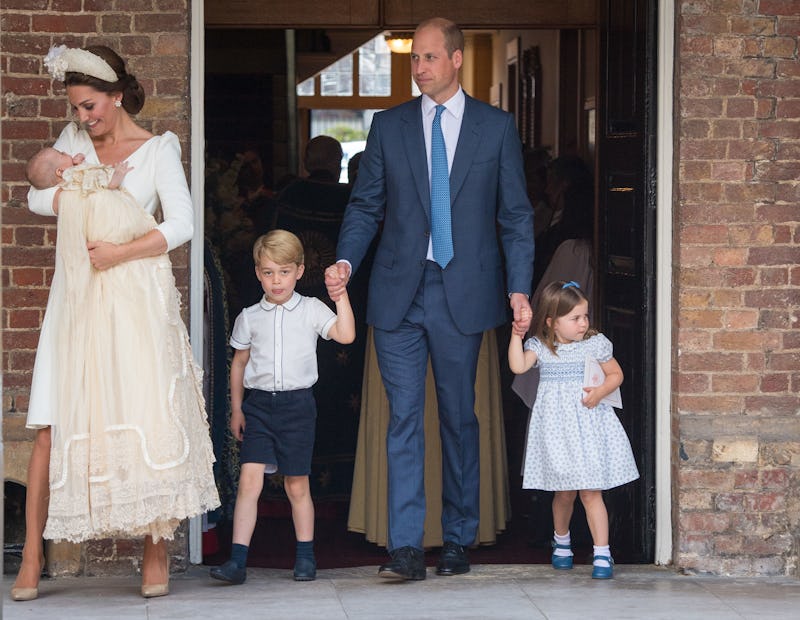 WPA Pool/Getty Images Entertainment/Getty Images
If you grew up in the '90s or the '00s, your parents probably also laid down the law and restricted your telly and computer time. I, for one, had to be super strategic about how I used my mum's clunky old PC. It usually boiled down to feeding my Neopet, posting on MySpace, and reading as much fan fiction as humanly possible. (I was a very cool kid.) Nowadays, however, children are more connected than ever before and it's proving to be a bit of a challenge for new parents — including those in the royal family. It turns out that Prince William and Kate Middleton are concerned about social media and online use in their family.
Prince William and Kate Middleton made a public appearance on BBC's The One Show last Wednesday to promote new campaigns aimed at tackling bullying amongst schoolchildren. According to the BBC, when asked about his own children and their experience of the internet, William said, "We still haven't worked out the right balance is for online time."
The internet is a beautiful place (hence why all of us at Bustle basically live on it), but there are pretty dark pockets of it that you definitely don't want your children stumbling across. He continued, "We're going to have that discussion with our family, how on earth are we going to police and have family time when the phones are all put down and you're offline? Because we're all so connected now that we've got to say, 'Right, for instance, we're eating now'."
It's been pretty wild seeing how increasingly normal it is to see a child or toddler wandering around with a smartphone or tablet of some kind, swiping away. While I narrowly avoided the boom of social media in my childhood and tweens, there's a bunch of kids who have grown up with their entire lives on Instagram, Snapchat, or Facebook, which presents its own set of problems.
Prince William told the One Show hosts, "This generation are going to be the first generation to grow up fully immersed in mobile phones, social media, lots of stuff."
He continued, "And yet our generation, the older generation, the parent generation, we're completely left at, 'How do we deal with this? Where do we go to? Where do you learn about how to look after your children's digital world?'"
In conjunction with tech giants like Google, Snapchat, and Facebook, Prince William set up a task force on the prevention of cyberbullying back in 2016. According to Express, he was "moved after meeting bereaved parents of bullied children who had taken their own lives".
He said previously, "I have spent time getting to know parents and children for whom the impact of online bullying has been devastating. As a parent myself, I understand the sense of loss and anger of those particular families who have lost children after they were the targets of campaigns of harassment."
Although Prince William, Kate Middleton, and the task force have done their part in trying to stamp out cyber-bullying, the royal didn't mince words when it came to calling out people he didn't feel were doing enough. He criticised tech companies for their slow and sometimes indifferent responses to internet issues and TBH, I'm here for it.
He said, "I am very concerned though that on every challenge [tech companies] face — fake news, extremism, polarisation, hate speech, trolling, mental health, privacy, and bullying — our tech leaders seem to be on the back foot. Their self-image is so grounded in their positive power for good that they seem unable to engage in constructive discussion about the social problems they are creating."
Say it louder, Prince William. For more on how to help stamp out cyberbullying, it's worth checking out the task force's #StopSpeakSupport campaign which educates children on what to do when they witness online bullying.