Netflix's 'A Christmas Prince' Actually Was Inspired By Prince William & Prince Harry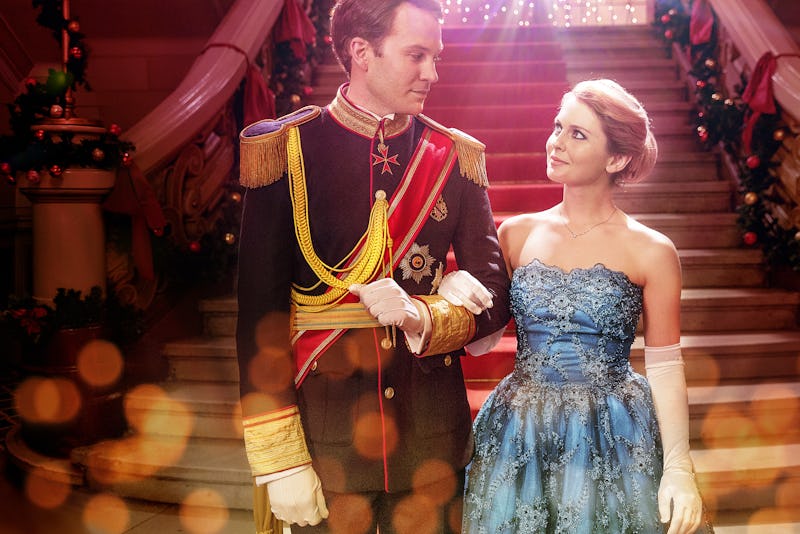 Netflix
The wildly popular Netflix movie A Christmas Prince proved to be purest form of escapism. People loved it, people didn't love it, and no one could stop talking about it after it premiered last November. Although the film is a fantasy to the Nth degree, fans may be surprised to learn that A Christmas Prince was actually inspired by Prince William and Harry — not just stories about them, but personal experience involving them. Screenwriter Karen Schaler told Entertainment Tonight how her real-life experience as a TV reporter impacted the movie and its plot.
The author and award-winning host of Travel Therapy revealed that Amber's story is somewhat based on her time reporting on the royal family. "[It's] loosely inspired by trying to get scoops when I was an investigative reporter and they were always sending me to get the worst story," Schaler told ET. A Christmas Prince follows New York journalist Amber (Rose McIver), who's sent to the fictional country of Aldovia to get the skinny on Prince Richard (Ben Lamb) only to fall in love with him. Although Amber's journalism skills have been the brunt of many jokes about the movie, it seems Schaler took her work very seriously.
She explained to ET that she was invited by U.K. tourism to visit the Isle of Anglesey in Wales when Prince William and Kate Middleton were living there. The segment was meant to be on William and Kate's town, but Schaler quickly faced obstacles producing it when the locals wouldn't give up information on the beloved couple as easily as she'd hoped.
In fact, the community was rather protective of the princes and their past, as explained by Schaler. "They go, 'You have no idea what [Harry's] been through. You have no idea the wonderful things he does for charity. You have no idea what his real story is. You guys blow it up,'" she said. As a former investigative reporter, Schaler experienced a push-and-pull between wanting to get more positive stories while others wanted negative or salacious ones.
Even though audiences have had a blast poking fun at Amber's "journalism" career, Schaler enjoys the reactions, whether good or bad, and encourages even more. "I love all the feedback. I love the ones like, 'This is so bad it's good and I have to watch it 20 more times.' I was dying," she revealed.
Despite viewers criticizing the movie, Schaler just hopes that her work allows people to escape and have a good time, even if they are having a good time making fun of it. "Even the people who thought it was corny and ridiculous seemed to enjoy it and watch it. People loved picking on the poor little Christmas Prince, but all I said was, 'Thank you for watching and I appreciate it all. Keep the comments coming.'"
Clearly, she's onto something. The success of A Christmas Prince leads to its sequel, A Christmas Prince: The Royal Wedding, which premieres this winter and has fans waiting in anticipation. Get those Twitter fingers prepped, because Schaler is ready.