Prince William & Princess Eugenie's Reaction To England's World Cup Win Is SO Real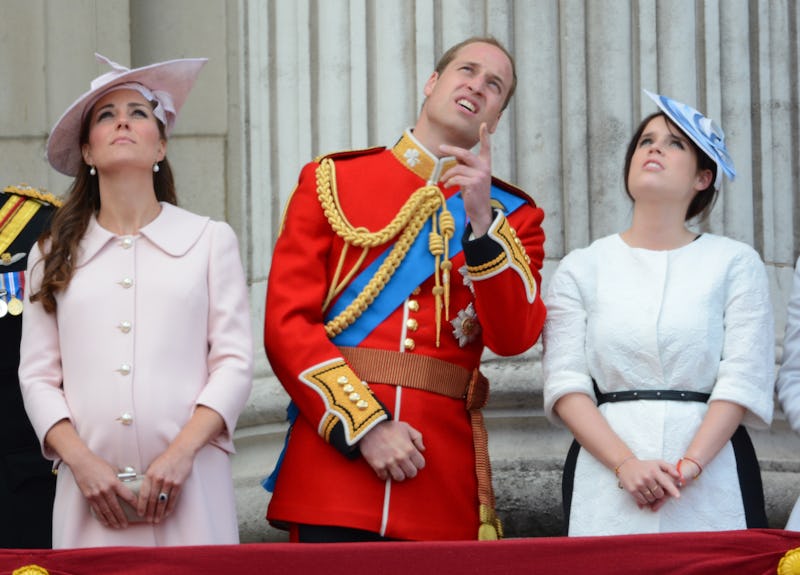 Tim Rooke/REX/Shutterstock
Britons tuned in in their millions — 24 million, to be specific — to watch England beat Colombia in the FIFA World Cup on Tuesday night. Among the fans were some rather high profile royals. So what was the royal family's reaction to England's World Cup win? Luckily we now have social media to tell us.
In case you missed it, the England versus Colombia game went into extra time and then penalties after the teams remained tied 1-1 after both the full and extra time whistles. Despite never previously winning a penalty shootout during the World Cup, the Three Lions went on to beat Columbia 4-3 on penalties, making history as well as securing a place in the World Cup quarter-finals.
So, were the royals all tuning in? It looks like some of them were. Following England's history-making win on Tuesday night, Kensington Palace tweeted a message that was attributed to the second-in-line-to-the-throne and President of The Football Association, Prince William immediately after England's win. So, it's nice to know our future monarch can get down for England alongside his future subjects.
According to the tweet, William said: "I couldn't be prouder of England, a victory in a penalty shootout! You have well and truly earned your place in the final eight of the World Cup and you should know the whole country is right behind you for Saturday! Come on England!"
So, what for the other Royals?
Well, it seems Princess Eugenie is definitely feeling the World Cup this year, even if she's not watching the England games in real time. The daughter of Prince Andrew and Sarah Ferguson sure wasn't alone in posting the hilarious Friends/"It's Coming Home" meme which is currently making the rounds across the social media pages of England's football fanbase, but I for one am glad she decided to join the ranks and post the meme, despite not sharing it with her followers until Wednesday morning.
I salute you and your A-grade football meme game, Eugenie.
With William and Eugenie pretty much confirming themselves as football fans — at least, during the England team's remaining time in the 2018 FIFA World Cup — it's only natural to speculate that if England were to progress, a Royal may fly to Russia to watch the team in the stadium. However, I wouldn't get your hopes up.
Indeed, it looks like England supporters probably won't see a member of the Royal Family cheering the England team on from the stands this World Cup, according to a report by Express.co.uk. Royal expert Richard Fitzwilliams told the newspaper in June that no matter how far England progresses in the tournament, the English Royal Family are unlikely be attending the FIFA World Cup this year, due to England and tournament host Russia's frosty AF relationship .
Fitzwilliams explained: "Relations between Britain and Russia have recently been at their worst since the Cold War and regardless of the progress of the England team I would not expect any Royal attendance." The Future Engagements section of Royal Family's website does indeed list no intention on Prince William's part to attend any matches. Darn.
The England football team will take on Sweden in the quarter-final stage of the FIFA World Cup on Saturday. And, while a member of the Royal Family probably won't be there to cheer them on in person, they may be in one of the millions of England supporters expected to tune in from the comfort of their own homes.
Indeed, the BBC reports that 23.6 million households tuned into ITV on Tuesday to watch the England versus Columbia game, with ITV also confirming a record 3.3 million people watched online via the ITV Hub. So, however many viewers tune in on Saturday, I fully expect William, Eugenie and hopefully even more Royals to be among them.
England vs. Sweden airs at 3 p.m. on Saturday, July 7 on ITV