Prince William's New Mental Health Project Is What Every Workplace Needs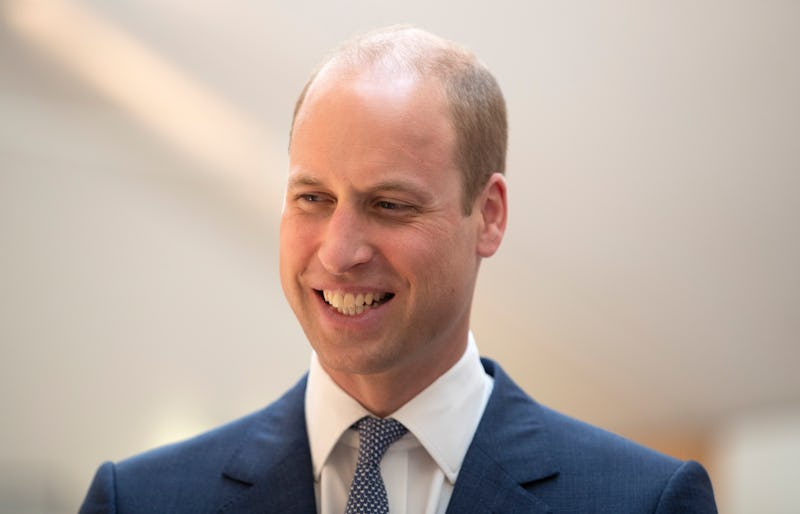 WPA Pool/Getty Images Entertainment/Getty Images
Prince William has been working tirelessly to improve awareness of mental health issues, and on Thursday, Kensington Palace revealed the royal's next move; an initiative called Mental Health at Work. Prince William's new mental health campaign will be launched on Sep. 11 in conjunction with Mind and Heads Together. Focused on providing "resources, training and information on mental health for workplaces across the UK," the initiative aims to push conversation regarding mental health further, and is setting out to highlight the struggles those with mental health issues face specifically in the work environment.
Mental health issues in the workplace are actually a bigger problem than you may realise. According to Mind, at least one in six people in the UK experience "common mental health problems" at work. In addition, work can also affect mental health. Feeling overwhelmed and stressed at work can often spiral into further mental health issues, "including anxiety and depression," according to the charity's website.
However, Prince William is hoping his latest campaign will help to tackle those issues. Kensington Palace explained in a statement: "Mental Health at Work is a new online gateway that will change the way we approach workplace mental health across the UK."
Of course, this isn't the first time the Duke of Cambridge has set out to address the issues regarding mental wellbeing in the workplace. Back in 2016, through his charity Heads Together, William met with business leaders at an event held by consumer goods company Unilever, along with Mind, to increase the understanding and importance of mental wellness in the work space.
"Work, as we all know, can at times be a source of great fulfilment, growth and fun, but also at times a significant source of stress — sometimes, if we are honest, to the point of its being overwhelming," William said during a speech at the event. "Your ability as employers to effect long-lasting social change on mental health by the example you set in your workplaces is something I strongly urge you to embrace."
Heads Together launched in 2016 as a mental health charity, headed up by the Duke and Duchess of Cambridge, along with Prince Harry, with the goal to "tackle stigma and change the conversation on mental health with fundraising for a series of innovative new mental health services."
William, along with his wife and brother, is not letting this issue fall to silence, promoting the initiative through every avenue possible. Heads Together regularly uploads videos to its YouTube channel to help raise awareness, including the #okaytosay series. If you haven't seen it yet, you seriously need to get involved. The short film series basically features conversations between William, Harry, and Kate Middleton as they openly talk about mental health. In one of the clips Lady Gaga even makes an appearance. And as if that wasn't enough, the organisation also won the 2017 Virgin Money London Marathon Charity of the Year. Not bad, eh?
Heads Together really is helping to change the tide when it comes to mental health, and I have so much respect for William because of all the work he has been doing. If you feel like you are struggling with mental health issues or feel as though your work environment may be affect your wellbeing, please book an appointment with your GP. Remember, talking about what's going on is the first step to getting better.