Could Prince's Music Be On Apple & Spotify Soon?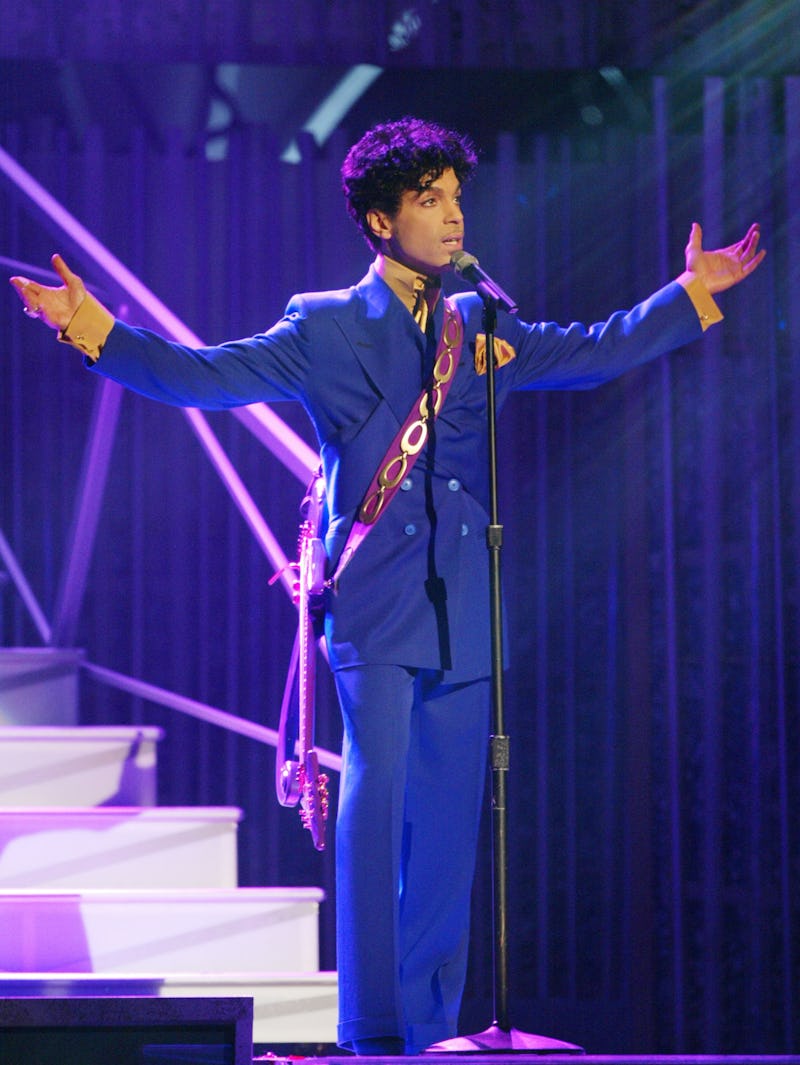 Frank Micelotta/Getty Images Entertainment/Getty Images
There's a major musical gap leaving your life a little less purple — if you want to listen to Prince's music, it's unavailable on most streaming services. Hopefully all of this will change, thanks to a new report implying Prince's music could be on Spotify and Apple sooner than you think. A source who requested to remain anonymous "because the talks are private" spoke to Bloomberg Technology and claimed that Prince's representatives "have all but finished a deal" allowing songs like "Purple Rain" to be played publicly. The same source also stated that Prince's estate "are nearing a deal with a record label." But what does this mean in practice? According to Bloomberg Technology, these are "preludes to streaming agreements." A representative for Prince could not be immediately reached, but Bustle will update in the event that we receive a statement.
So why wasn't Prince's music on these platforms in the first place? In 2015, Prince pulled his music from Apple Music and Spotify in order to make it available on Tidal. In an interview with Ebony magazine, Prince suggested that he chose Tidal, in part, to support both newcomers and African-Americans. He said,
Tidal is a new company, it's brand new. They're just getting their footing, and I think when there's a company like that, or the OWN (Oprah Winfrey Network) network — situations where we finally get into a position to run things — we all should help. It's been a lot of fun.
The control Prince had over the other artists that were also displayed on his Tidal page was another reason the company appealed to him. He said at the time,
Where it would normally say "RELATED" and have a bunch of random stuff pop up... what we did is we changed that to INFLUENCES. Then all these black and white pictures come up and you can go back and look at all the people who influenced me. Then in each one of those situations, Tidal allowed us to go and work on those pages.
If you're wondering why this is all suddenly coming together, three unnamed sources told Bloomberg Technology that the estate is trying to reach streaming agreements ahead of the Grammy Awards, since, in light of the entertainer's 2016 passing, they believe the artist is likely to be paid tribute to at the event. If that's the case, what's standing in the way of being able to stream Prince 24/7 on Apple or Spotify?
Weirdly, Prince's oft-stated antipathy to the non-Tidal streaming platforms isn't the problem (though, if we're being really fair, elsewhere in the Ebony interview he stated, "Different situations call for a different approach, a different set up," so presumably he might have eventually changed his approach, had he been offered an attractive deal by any of the major players).
One of the biggest problems, according to the unnamed Bloomberg sources, is the sheer number of parties involved, which makes reaching a legal consensus far more complicated than a straightforward deal between two different companies. Tidal still retains some streaming rights, while Warner Music Group has some of his biggest hits (but not his whole catalog). Meanwhile, Universal Music Publishing Group won Prince's songwriting rights, giving the company "long-term administration rights" for Prince's hits like "Purple Rain" and "When Doves Cry," according to the New York Times. However, as the Times already stated, this is an administration deal, which means that ownership of the songs remains with Prince's estate.
And not all of Prince's rights have been bought yet and according to Bloomberg, the "estate won't license the catalog until it has all the rights represented." This could take a while. In April 2016, Derek Crownover, the entertainment-law practice leader at Dickinson Wright PLLC valued the full catalog of Prince's rights at approximately $100 million, and the absence of any further Prince rights headlines following the November ruling selling the administration rights implies that major rights, such as the recorded music rights (i.e. the melody and words to "Purple Rain" would fall under the song copyright, while the recording of Prince performing the song would fall under the recorded music right), are still up for grabs.
Still, at the end of the day, we're discussing companies, who commonly want to make profit, and what will be more profitable than taking advantage of the almost inevitable Prince tribute at the Grammys? Given that there are few incentives more powerful than the dollar, here's one writer betting we get more Prince across the major streaming services before the ceremony.