Princess Charlotte Just Started Nursery School & The Pics Are Beyond Cute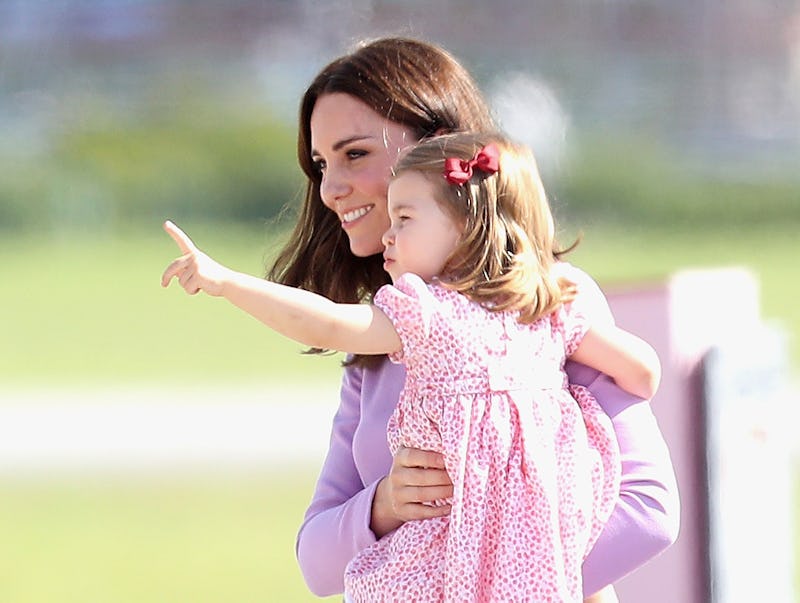 Chris Jackson/Getty Images Entertainment/Getty Images
The royal babies are growing up at what seems like lightening speed. On Monday, Princess Charlotte started nursery school, and it's hard to believe since it feels like she was just born yesterday. Her parents, Prince William and Kate Middleton shared photos of her first day on social media via Kensington Palace's official account. Alongside the images, they announced, "The Duke and Duchess of Cambridge are very pleased to share two photographs of Princess Charlotte at Kensington Palace this morning."
What makes these pictures all the more special is Kate took them of her daughter. "The images were taken by The Duchess shortly before Princess Charlotte left for her first day of nursery at the Willcocks Nursery School," it was also revealed on social media. As you can see below, Charlotte is wearing the cutest outfit for her first day. The 2-year-old princess is sporting a red peacoat, red shoes, and even a red bow in her hair. Her scarf, tights, and backpack serve as the perfect accents.
Kensington Palace announced in December 2017 that Charlotte would attend Willcocks this January. "We are delighted that The Duke and Duchess of Cambridge have chosen the Willcocks Nursery School for Princess Charlotte," the school said in a statement (via E! News). "We look forward to welcoming Charlotte to our nursery in January." According to The Telegraph, parents have described the school as "kind and gentle." The publication also reported Willcocks has an all-female staff and is recognized for its "high standards, excellence and good manners".
In late December of last year, a source told Us Weekly William and Kate chose Willcocks for a specific reason — it's close to home. "Charlotte will be attending five days a week in the mornings only, so going further away in London would mean she would spend half her day on the commute." The source also added, "Not something a child would want!" Apparently, the Duke and Duchess also chose this school "because it's a traditional nursery with high standards."
A Kensington Palace spokeswoman also opened up to Hello! Canada about their decision last December, "They felt it was ideal as a first step for Princess Charlotte's early education and they were impressed by the team that work there."
Unlike his younger sister, Prince George went to nursery school at Westacre Montessori School in Norfolk in January 2016. At the time of his attendance, William and Kate released a statement (via Vanity Fair) reading, "Their Royal Highnesses are delighted to have found a school where they are confident George will have a happy and successful start to his education."
Westacre's principals, Ben Thomas and Tobyn Thomas, also said in an email obtained by Vanity Fair about George's schooling, "The Duke and Duchess have made it clear that they do not wish Prince George's attendance at Thomas's to change its aims, values, or ethos in any way." The email continued, "They would like, as far as is possible, for him to enjoy the same education that all of our pupils receive and for them to join the school community as all of our new parents do."
Even though George and Charlotte attended different nursery schools, both of their pre-nursery school photo sessions are beyond adorable. Kate also photographed her eldest son, who is now 4 and attending Thomas' Battersea school in London. You can check out his photos below. You won't be able to handle the cuteness. Also, George has grown up so much since these were taken. Where did the time go?
First, kudos to Kate for capturing such sweet images. Secondly, it's safe to say that George and Charlotte's first day of school pics put everyone else's to shame.