Eugenie Sent Intimate Handwritten Thank You Cards To Royal Fans & No, You're Crying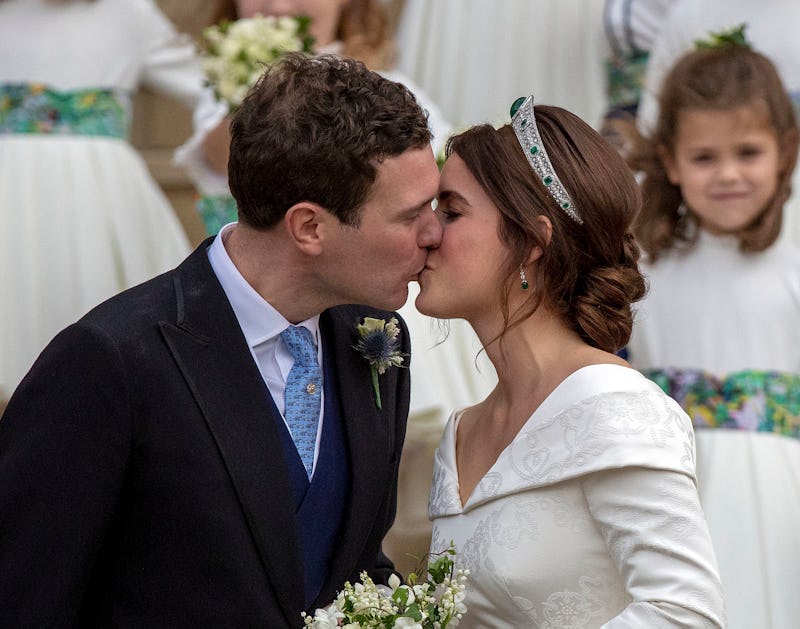 WPA Pool/Getty Images Entertainment/Getty Images
Princess Eugenie and Jack Brooksbank's wedding was responsible for some of this year's best royal memes. Even if it wasn't quite so advantageous for them, everyone watching back home had plenty to be thankful for with all those falling hats, as well as — who could forget — Fergie's iconic Quidditch tribute headpiece. There were some genuinely sweet moments too, of course. That kiss, those adorable bridesmaids, the royal fam turning up in full force. The couple had lots to be thankful for, and so Princess Eugenie and Jack Brooksbank sent handwritten thank you cards to their royal fans.
Instagram user @loopycrown3, who describe themselves in their bio as "a devout monarchist and royal commentator," posted a glimpse of one of the cards sent from the couple. They posted the envelope alongside a close up of Jack and Eugenie's embossed monogram to their Instagram on Nov. 3, as well as a photo of the couple alongside the adorable kids who made an appearance on their special day, which presumably lay inside the letter. The user must have sent out a note of congratulations first, as they captioned the cute pic: "A fantastic reply from HRH Princess Eugenie and Mr Jack Brooksbank thanking me for sending my good wishes for their wedding."
Inside the card, the couples' message reads: "Thank you from the bottom of our hearts for making our wedding so special and for thinking of us as we start our married life. We are completely over-whelmed with happiness." Aw, shucks. It's a sweet touch, especially when you consider — as the Daily Mail reports — that the thank you cards from Meghan and Harry were typed up. That Eugenie and Jack's were handwritten not only gives them a bit more of a personal quality, it was also a good opportunity to show off whoever's good cursive that is. Those curls! It's the thing of dreams, I tell you.
As etiquette expert William Hanson told Femail, the handwritten aspect is especially appreciated nowadays, since he says that "Gratitude is dying in modern Britain, but I am so glad to see that it is alive and well in the Royal Household." Gratitude is dying, eh? Tell that to all of the "thank you" text messages I had in mind after receiving gifts but forgot to send. It's the thought that counts, right?
As the Daily Mail reports, the photo chosen to accompany Eugenie and Jack's note was taken by fashion photographer Alex Bramall, who's also shot the likes of Vogue and Vanity Fair, according to his website. The photo was reportedly taken in Windsor Castle's White Drawing Room, which was the setting for the couple's formal photos with their respective families.
According to House Beautiful, Prince Charles and Camilla had their photos taken in the same space back when they married in 2005, and Wills still had his hair. You're able to snap some selfies there yourself, as the room, along with the castle's other semi-suites, are open to the public from Spring through to Autumn, according to the Windsor Castle TripAdvisor page. So, if you have any thank you cards of your own to send, get yourself snapped, print it up, and jobs a good'un.