Here's What Princess Eugenie & Jack Brooksbank's Body Language Revealed About Their Feelings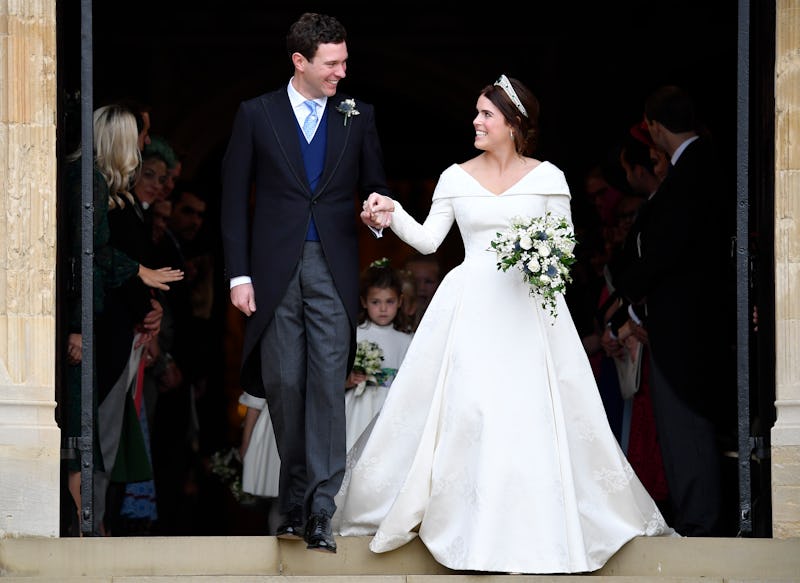 WPA Pool/Getty Images Entertainment/Getty Images
On Friday, Oct. 12, Princess Eugenie and Jack Brooksbank got married at St. George's Chapel at Windsor Castle. If you've seen photos from the special day, then you know the ceremony was beautiful, but you might be wondering what the British royal couple were thinking as the gorgeous snapshots were being taken. Bustle spoke with an expert, who analyzed Princess Eugenie and Jack Brooksbank's body language in three of their wedding photos to find out what might have been going on in their minds during their big day. And based on what she said, the two are head over heels in love.
Eugenie and Brooksbank certainly looked happy to finally become wife and husband, and according to body language expert Patti Wood, the newlyweds expressed their exact emotions through their kissing, touching, handholding, and facial expressions.
If you were unaware, Eugenie and Brooksbank have said it was love at first sight after meeting each other for the very first time. Eugenie told ITV News on Oct. 11, "It was love at first sight. [I saw him staring at me] and I thought, 'What a silly hat!' and I thought, 'Who is that?' And then you came over and shook my hand. I was all butterflies and nervous. I think I rang my mom that night and said, 'I just met this guy, Jack.'" Brooksbanks sweetly described Eugenie as "this bright, shining light."
Below, you can read Wood's opinions on what Eugenie and Brooksbanks were feeling in these particular moments. After you hear what she has to say, they just might become your new favorite royal couple, if they weren't already.
This Kiss
There's no denying this kiss is passionate. "Here's what I love, love, love, love," Wood says, "He is doing this really beautiful combination. He is smiling and crying at the same time he kisses her. So, you have true happiness. You have crying to show you the intensity of his feelings. And, then, you have a tender kiss, as well. It's beautifully authentic and real. I can't tell you how beautiful that is to see, for me."
Wood continues to say it's actually very rare to see this type of emotion in wedding photos. "I'm more likely to see fathers of the bride tear up, actually," she tells Bustle. "So, that tells me he's willing to be vulnerable with her and feels very safe being vulnerable with her. But, I've looked at other photos from the wedding this morning, [and] he tends to be the one that's anchoring her. It's not that he's a wuss at all, it's just that he feels very safe."
As for Brooksbank's hand on Eugenie's waist, Wood says that demonstrates a "sexual and tender" nature. "That shows they have a good physical relationship, but there's a tenderness there," she explains.
Then, there is Princess Eugenie. Wood says, "Her response to the kiss is a little bit shy," but she adds, "There's a shyness and tenderness about it."
Waving To The Crowd
This photo shows the newly married couple walking down the chapel's steps and waving to the crowd. "I like that they're stepping down together," Wood tells Bustle. She continues, "I saw video of the same walk down the stairs, and he just wants to be there for her. It looks like he's reaching out for her arm, rather than touching the arm. I think there was a point, where they were walking down the stairs where he also had her arm."
Wood also says their hands speak volumes. "What I like is they both have their hand up at the same time. [Her hand] is more reticent, much more shy and cautious," Wood notes. She also points out how Eugenie's hand is "cupped back," in addition to the elbow, rather than both being straight up.
Wood adds about Eugenie, "So [her hand] is more cautious, but she is going down all those stone steps with a big old wedding dress on, so I don't know even know how she did it."
A Very Royal Couple
Finally, there is this sweet photo of Brooksbank and Eugenie with their page boys and bridesmaids. "If you see, she's reaching over and it's very much with formality and decorum of how that hand is typically held in that situation with the man holding the woman's hand up," Wood says. "So that's exactly for royal etiquette."
Brooksbank's smile, or as Wood calls it "jubilance," is also hard to ignore. She says, "This [is] little boy glee, which is really beautiful in the context of that formality of the rest of their bodies for him to be able to have that." About Eugenie, she says, "She's got a little bit of tension in her smile, but she's definitely smiling. Her eyes are happy and up."
Wood's final conclusions: the royal couple is definitely ready to start their new journey as husband and wife head on. "So, it says they'll be fine with the formality they'll have to have for the public," Woods says, before adding about Brooksbank, "But he's just joyous in this relationship, getting a lot of glee out of it."
And there you have it, Eugenie and Brooksbanks are a jubilant, happy, and very in love couple.