6 Stunning Pieces Of Princess Eugenie's Commemorative Wedding China You Can Buy Right Now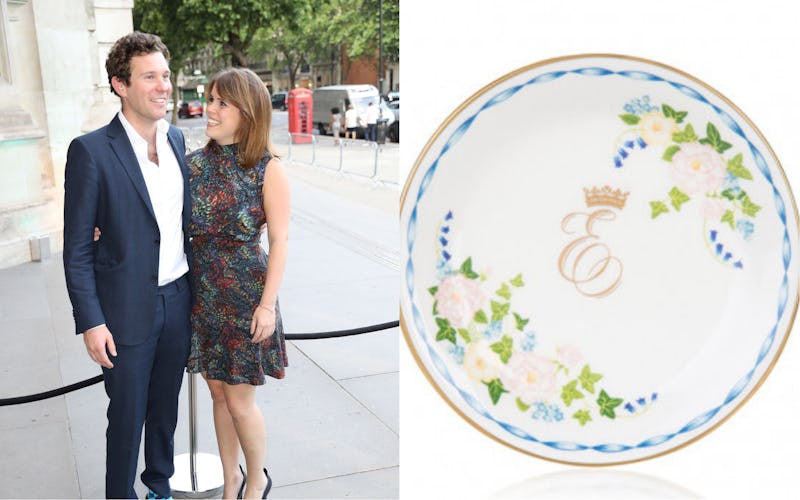 Chris Jackson/Getty Images Entertainment/Getty Images
Princess Eugenie and Jack Brooksbank's wedding is coming right up, which means there's now something special available for any passionate royal fans out there. The commemorative china for Princess Eugenie's wedding has been released, as well as a couple other items, and the design is really pretty. It's perfect for displaying on a shelf... or for eating a late night grilled cheese sandwich off of... or for cereal if you don't feel like washing a bowl. I mean, look, we're not all royals. Sometimes you have to make practical use of what you've got and feel super fancy while eating Honey Nut Cheerios.
There are six items specifically made in honor of Eugenie and Brooksbank's wedding. The Royal Collection Shop website also lists a Royal Mews Souvenir Horseshoe along with the collection since horses from the Royal Mews will be involved in the October 12 wedding, just like they were with Prince Harry and Meghan Markle's recent wedding.
The items feature Eugenie's monogram with her coronet, as well as Eugenie and Brooksbank's conjoined monogram. The design also includes ivy, bluebells, forget-me-nots, and the white rose of York. The meaning of the rose is clear: the bride is Princess Eugenie of York. People reports that the ivy is in honor of the couple's residence at Ivy Cottage at Kensington Palace. Forget-me-nots can represent fidelity and true love (among many other things), according to FlowerMeaning.com. Garden Nerdy says bluebells can signify constancy, humility, everlasting love, and gratitude. Also, as you'll see, the flowers just look nice on a piece of china or a tea towel.
While the prices for the items aren't totally outrageous, shipping is very pricy if you live outside of the UK. For the US and Canada shipping costs £20, which is around $26. Proceeds from the Royal Collection Shop go to the Royal Collection Trust, which funds the upkeep and display of royal art from throughout history, as well as nearly all the contents of the royal palaces. So, at least if you do take the plunge, you'll know where that money is going. Plus, you'll have a keepsake that will last for generations... as long as you keep it somewhere very safe.