Once Married, Eugenie Will Follow A VERY Different Rule Book To Kate & Meghan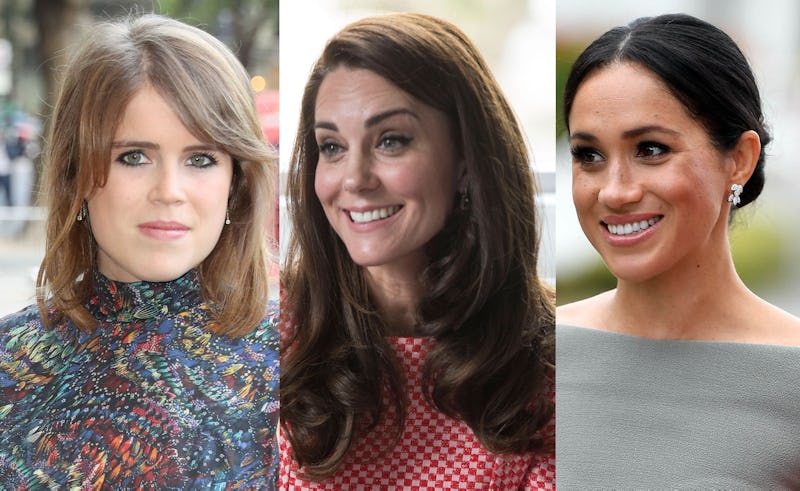 WPA Pool/Getty Images Entertainment/Getty Images/Chris Jackson/Getty Images Entertainment/Getty Images/
Royal stans are obsessing over the impending nuptials of Princess Eugenie and Jack Brooksbank; What will her dress look like? Is she really having her hen in Ibiza? Who's on the guest list? However, there's one question that's been on my mind that doesn't seem to be getting much attention — that is, how will Princess Eugenie's life as a married royal differ to Kate Middleton's and Meghan Markle's? I mean, just like Prince William and Prince Harry, she's a grandchild of the Queen. So what's going to be expected of her once she settles down?
Well, first and foremost, it's worth remembering that Eugenie is already a princess who was born into the royal family. Unlike Middleton and Markle, she won't need to be eased into anything. She's been in the game since she was born. This means her life will change less than Middleton and Markle's presumably, as there are already certain things expected of her.
It's also worth noting that unlike her cousins William and Harry, she is not a working royal. So, after she marries Brooksbank on Oct. 12, life for her will be pretty different to theirs. She will of course have certain options open to her should she be interested following her big day, but ultimately, these decisions will be up to.
Here, are all the ways Eugenie's life could change after her wedding, and how that compares to Markle and Middleton's roles within the royal family.
Her duties
While Middleton and Markle carry out official duties in their duchess roles on behalf of the Queen, Eugenie will not be expected to do the same. As I mentioned before, she and her sister Beatrice do not work for Her Majesty, so the rules are pretty different for the siblings. This means that royal fans will not see her conducting official tours in the UK or overseas.
According to royal historian Marlene Eilers Koenig, it was decided that Eugenie and Beatrice would not work not carry out duties on behalf of the Queen in '90s. She explained to Hello! magazine: "It was decided...largely due to the scandals, that the York princesses would not carry out official duties. Their engagements and their charities/patronages are not included in the Court Circular and the royal family's charity database."
However, Eugenie does regularly appear at public events with her family by choice. So, the public can still expect to see her gracing palace balconies when the opportunities arise.
Her title
When Markle and Middleton married into the royal family, they both gained titles (the Duchess of Sussex and the Duchess of Cambridge, respectively). However, Eugenie already has one. She should currently be addressed as Princess Beatrice Elizabeth Mary of York, Her Royal Highness. It's believed that she will keep this following the wedding.
She does have the choice to relinquish her title all together, but royal historian Eilers strongly believes the princess will not do this. She told Hello! magazine: "I sincerely doubt that Eugenie will do a Princess Patricia of Connaught and relinquish her title and adopt the style and title of a daughter of a Duke, which would be done by royal warrant."
It is apparently unlikely that Brooksbank will receive a title too, according to The Sun. In 2016, Prince Andrew called rumours claiming he desired his future son-in-laws to be given earl titles "a complete fabrication."
As Brooksbank is not a member of the royal family, Eugenie is not expected to take his surname either.
Her home
In a very modern move for a member of the royal family, Eugenie moved in with her husband-to-be on royal property before they got married. While there is no official word, it is presumed that she will remain where she lives now following the wedding.
Moving in together before marriage isn't unheard of among royals. Harry and Markle moved into Nottingham Cottage together before they became husband and wife. Middleton and William also lived together before they got married. In fact, they actually lived with each other at university.
Unlike Middleton and Markle, all in all, it sounds as though little will change after marriage for Princess Eugenie. Her name will stay the same, she is not expected to move homes, and her duties probably will not change. Sounds like a pretty smooth and easy transition to me.