The Weather On Princess Eugenie's Wedding Day Caused So Much Commotion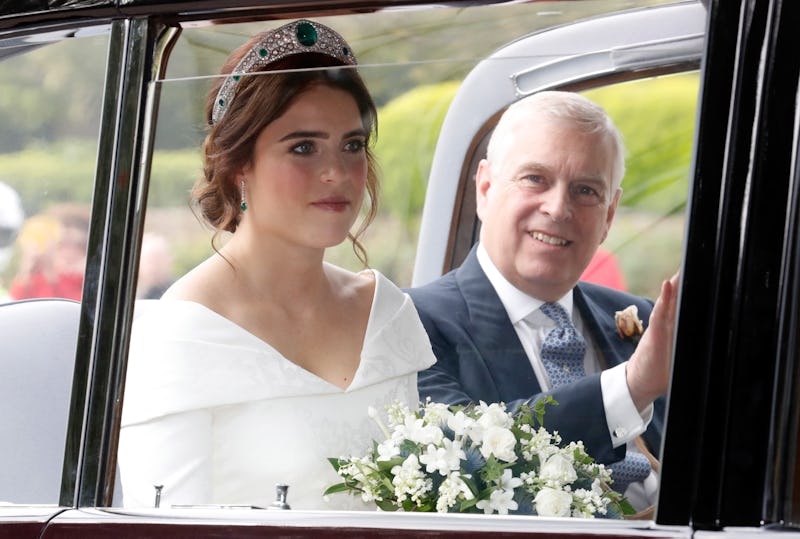 Chris Jackson/Getty Images Entertainment/Getty Images
So much time, effort, and planning went into Princess Eugenie and Jack Brooksbank's wedding that it was always going to be a beautiful day. However, one aspect that neither money nor the best wedding co-ordinators in the country could bear control over was the good old British weather. While it was undoubtedly still the happiest day of the couple's life, Princess Eugenie's wedding day weather wasn't exactly ideal. As guests were entering the church, hats went flying and skirts were blowing thanks to the strong gusts of wind.
The reason it was so windy on the princess' big day is Storm Callum. According to the Met Office, although the severest gales would hit north western parts of the UK, it appears as though Windsor hasn't escaped unaffected. In fact, the Met Office issued a yellow warning for wind and rain, and has warned that Storm Callum has the "capacity to produce dangerous, stormy conditions which may constitute a risk to life and property."
Several high-profile guests were seen struggling in the gusty conditions as they entered St. George's Chapel at Windsor Castle for the ceremony. After Robbie Williams arrived with his wife Ayda Field and her mother Gwen, shortly before they entered the church, Gwen's hat was seen flying off. A nearby member of staff was then seen running after her accessory before returning it to her.
Mother-of-the-bride Sarah Ferguson, Duchess of York, arrived with Eugenie's maid of honour Princess Beatrice some time after. As the pair got out of their car, Ferguson was seen carefully holding onto her hat as the strength of the winds appeared to increased.
Soon after, when the bridesmaids and pageboys arrived, which included the likes of Prince George and Princess Charlotte, the children also appeared to be struggling in the wind. At one point six-year-old Louis de Givenchy and Princess Charlotte fell over while walking up the church steps. "He looks like he was blown over," admitted Ruth Langsford during ITV's live coverage of the big day.
Both Langsford and her husband Eamonn Holmes raised concerns over the weather during ITV's live broadcast as the strong gusts appeared to be taking their toll on the stunning floral arrangements decorating the entrance to the church. "I hope those trees and flowers hold up," Langsford said.
Fortunately, when the Queen arrived with her husband Prince Phillip, she only had a short walk into the church and wasn't affected by the strong winds.
Shortly after her grandmother was sat down, Eugenie arrived with her father Prince Andrew, Duke of York. Thankfully, the strong gusts didn't affect her beautiful heavy gown as she walked up the church steps. Her hair also stayed perfectly in place. However, the duke's coat, which was undoubtedly far lighter than the bride's gown, was seen blowing. After entering the chapel, he was seen briefly fixing his hair before walking his daughter up the aisle.
Ahead of the wedding, Andrew beamed with pride as he opened up about his daughter and new son-in-law, Brooksbank. During an interview with ITV, he said: "She's a chip off the old block. She's a little like her father. She's quite decisive, but she's got a huge heart. Jack is an extraordinary young man; one of the kindest hearts I think I know. He's perhaps met his match with Eugenie and it's a good match. It's wonderful watching them interact with each other because it's almost as if they're a married couple now. I have huge hopes. I am sure they will be massively in love for the rest of their lives."
Although their wedding may have got off to a gusty start, I wish Eugenie and Brooksbank all the luck in the world as they embark on this new venture together. Congratulations guys!