The Pics Of Princess Eugenie's Beautiful Wedding Flowers Will Blow You Away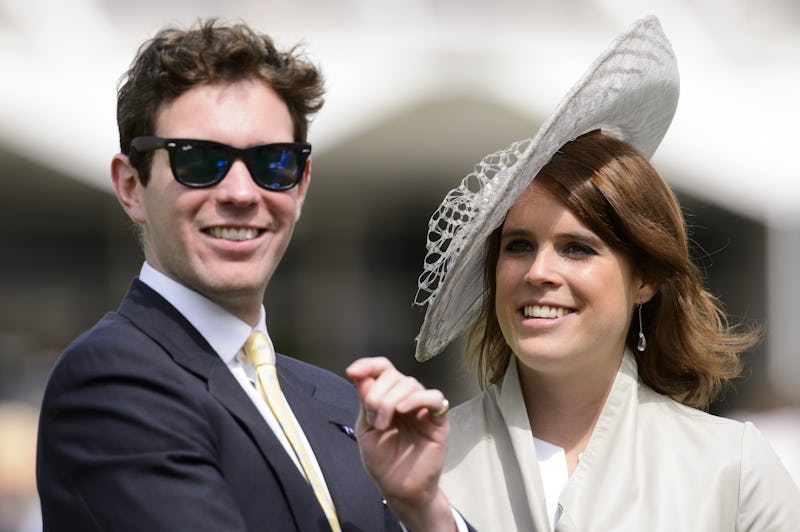 Jonathan Hordle/Shutterstock
Princess Eugenie and Jack Brooksbank spared no expense for their big day on Oct. 12. Every teeny detail was planned out with such care, from her dress to her guest list to her grand reception. And Princess Eugenie's wedding flowers by Rob Van Helden were no exception.
As guests arrived at St. George's Chapel in Windsor Castle, the stunning floral arrangements that decorated the church were one of the first things people noticed. In fact, Hello! magazine's royal editor, Emily Nash, took to Twitter to share pictures of how beautiful the flowers as she entered the church. "Stunning autumnal floral dressing at St George's Chapel by @RobvanHelden1 for the wedding of Princess Eugenie and Jack Brooksbank #RoyalWedding," she wrote before sharing several photos of the entrance to the chapel.
It's little wonder Eugenie and Brooksbank chose Van Helden to provide the floral arrangements for their big day. He comes highly recommended by a number of big names including Pierce Brosnan, Jo Malone, and Autumn Phillips. He even provided flowers for important dinners hosted by the late Nelson Mandela.
On Van Helden's website, he explains why flowers are such a crucial detail at weddings. He writes: "Your wedding should be the most special day of your life, when you are walking on air and caught up in the romance and fairy tale of true love. Flowers are naturally part of that fairy tale, and RVH offers the quintessence of your own fairy tale come true. We provide a personalised service that ensures that all aspects of your wedding day will look exquisite and afford you the best possible memories."
It's not yet known how much Eugenie and Brooksbank spent on their flowers, but the London-based florist certainly looks like he was worth every penny.
Although security for the big day was funded by the taxpayer, everything else, from the flowers to the bride's gown, was paid for by the Queen, as reported by the BBC. Her Majesty has a cash pot which she can use to pay for any wedding she likes, however, according to former royal press secretary Dickie Arbiter, the Queen tends to only pay for her children and grandchildren's wedding as opposed to extended family. "The Queen herself draws the line on which weddings the royal family chooses to pay for," he said.
Ahead of the big day, Eugenie and Brooksbank opened up to Eamonn Holmes and Ruth Langsford in a special ITV interview about how they met back in 2010. "It was love at first sight," admitted the princess. The couple were skiing at a friend's place in Switzerland at the time. Brooksbank claims he saw the princess first and was memorised. When they both then locked eyes for the first time, he added that they "sort of just starred at each other."
It didn't take long for Brooksbank to pluck up the courage to introduce himself to the princess. "He came over and shook my hand, and I was all butterflies and nervous," revealed Eugenie. "I think I rang my mum that night and was like, 'I met a guy called Jack.' And that was it. That was how it all started."
Fast-forward eight years and the couple are preparing to become husband and wife. Personally, I wish them all the luck in the world as they embark on this new journey together. Congratulations you two!