These Baby Pics Of Princess Eugenie & Jack Brooksbank Are Royally Adorable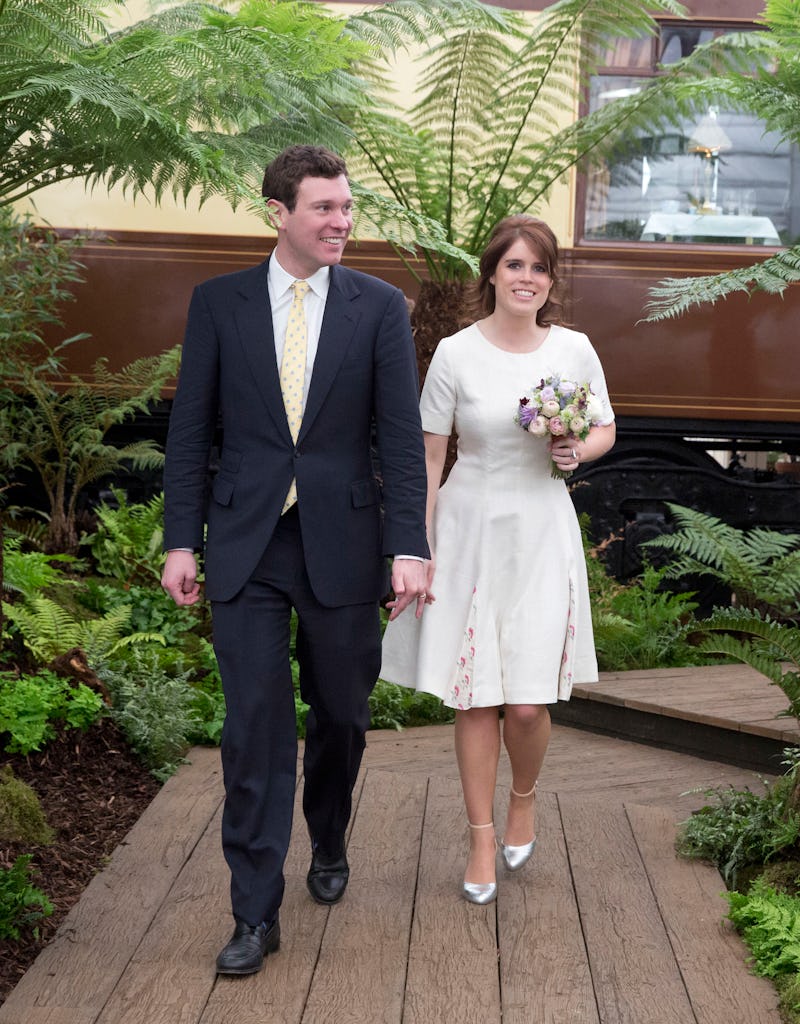 WPA Pool/Getty Images Entertainment/Getty Images
With just a few days left until Princes Eugenie and Jack Brooksbank's wedding, the royal family is doling out some very special pre-matrimony memorabilia — rightfully putting the happy couple front and center. Those who have yet to see these photos of Princess Eugenie and Jack Brooksbank as children might want to take a deep breath. Because, if you thought the pair was adorable in adulthood, just wait until you catch a glimpse of them as kids.
On Tuesday, Oct. 9, the royal family's official Twitter account released a collection of pictures of Eugenie and Brooksbank in conjunction with a new post shared to the royals' official website. For the most part, the sweet photo series catalogues some really gorgeous memories from the earlier days of Eugenie and Brooksbank's relationship, which — as fans know — dates all the way back to 2010. But the snapshots most likely to elicit an enthusiastic chorus of swoons from the likes of the internet see Eugenie and Brooksbank during their much earlier days. As in, primary school kind of early.
At the very top of the royal family's image thread on Twitter, fans can bask in the angel-faced sweetness of both Eugenie and Brooksbank as exceedingly photogenic youngsters. "Princess Eugenie, Mr. Jack Brooksbank & their families have today shared a selection of photographs – including these images of The Couple as children," read the tweet, captioning two side-by-side photos of the betrothed pair from their respective early childhoods.
Seriously, how cute are these two?
In addition to Eugenie and Brooksbank's childhood photos, the newly released photo set also includes "private photographs" of the couple (per a description from the royal family's official website) during what sound like two particularly special occasions. The first? A snapshot of Eugenie and Brooksbank — donning matching rubber boots — atop a scenic mountain near Balmoral Castle in Scotland. According to the site, Eugenie and her beau made the trek during the summer of 2016, around Brooksbank's 30th birthday.
Fast-forward about a year-and-a-half. The last photo to come out of The Royal Family's new digital scrapbook sees Eugenie and Brooksbank ringing in 2018 with a selfie and a matching pair of ear-to-ear grins. Per the tweet's caption, that selfie was snapped during an NYE celebration in Verbier, the picture-perfect Swiss town where the two first met some eight years ago. As the royals' website description notes, the New Year's photo was taken just about three weeks before Eugenie and Brooksbank announced their engagement to the world. Suffice to say, their very tangible happiness is pretty obvious in this particular picture.
It's been almost a year since then. And now, Eugenie and Brooksbank are hurdling straight toward married life. Or at least, they will be, after this week's upcoming royal wedding, set to take place Friday, Oct. 12, at St. George's Chapel on the grounds of Windsor Castle. (Those who watched the first royal wedding of 2018 earlier this year will definitely have a tough time forgetting the esteemed locale.) The highly anticipated event, much like its predecessors, is expected to be one for the ages, in pretty much every way.
That seems entirely appropriate, especially given Eugenie and Brooksbank's particularly epic love story — patently chronicled in the latter two of this week's new photos — which has been something like eight years in the making. Now, it seems the only critical question remaining is, who do we have to bribe for more baby pics?