You Can Buy The Same Tequila About To Be Served At Princess Eugenie's Wedding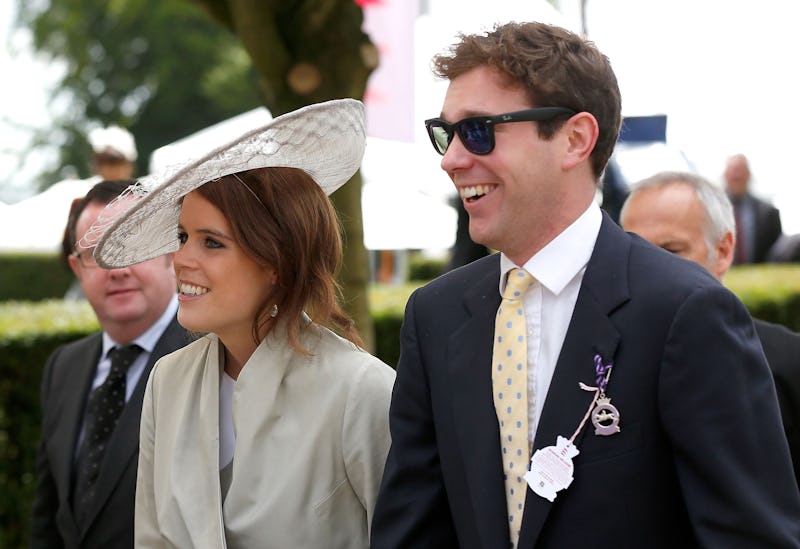 Tristan Fewings/Getty Images Entertainment/Getty Images
It's probably no surprise that this Friday's royal wedding between Princess Eugenie and Jack Brooksbank will not be your typical wedding. For starters, it has the word "royal" right in there. However, the couple's wedding will even be unique as far as royal wedding's go as their royal wedding will feature lots of tequila drinks. Actually, that sounds a lot like some of the non-royal weddings I've been to…
Jack Brooksbank is the U.K. brand ambassador for Casamigos Tequila, the tequila company started in 2013 by real estate tycoon Mike Meldman, entertainment industry businessman and husband to Cindy Crawford Rande Gerber, and George Clooney who needs to introduction. In 2017, they sold the Casamigos Tequila to Diageo, a European beverage company, for $1 billion. Yes, that's billion with a "b." The three founders remain involved in the business as does Brooksbank, whose rose as a brand ambassador takes him to high-end hotels, clubs, and other venues to promote the tequila. Hence the likelihood for lots and lots of tequila wedding toasts at the upcoming royal wedding.
As Business Insider Australia reports Brooksbank has said that he's "in charge of the drinks." A selection of bespoke Casamigos cocktails will be available to guests throughout the wedding weekend, a Casamigos spokesperson told Business Insider. I would give pretty much anything to see the Queen sipping on a margarita.
If you're not familiar with the royal family lineage, I'll break it down for you. Princess Eugenie is the daughter of Prince Andrew, who is Prince Charles' younger brother, and Sarah Ferguson (AKA Fergie), the Duke and Duchess of York. Prince Charles and Sarah Ferguson divorced in 1996 but both will be present at the royal wedding. Because Princess Eugenie is only ninth in line for the throne, Queen Elizabeth II's involvement in the decision making (like her royal permission of her future grandson-in-law) is not required.
Jack Brooksbank, aside from rubbing tequila-soaked elbows with George Clooney, comes from a slightly more modest background. His father is an accountant and company director, according to PEOPLE magazine. However, his parents did send him to a pricey private school and he does have connections to the Brooksbank baronets, according to the Telegraph. The title of "baronet" is just below "baron."
While Princess Eugenie's wedding to Jack Brooksbank isn't as high profile as the royal wedding that happened earlier this year between Meghan Markle and Prince Harry, the celebrations will certainly still be of royal proportions.
Unfortunately, the recently married Prince Harry and Meghan Markle might miss their cousin's wedding due to previously scheduled travel. Meghan and Harry are taking a 16-day tour of Australia, New Zealand, Fiji, and Tonga early next week and will likely have to leave the wedding festivities early. Royals! They're just like us!
If your personal invitation somehow got lost in the mail, have no fear: you can still watch Princess Eugenie wedding to Jack Brooksbank. Unfortunately, the BBC declined to air the royal wedding as they didn't think it would bring in a big enough viewership. (...which, like, ouch.) However, you'll be able to stream the wedding on royal family's YouTube channel Friday, Oct. 12. The live stream is already set up, in case you really want to make sure you don't miss any part of the wedding.
Also, yes, the royal family has a YouTube channel. They currently have 543,000 subscribers and lots of videos of the changing of the guard. You can also watch speeches the royal family has given at different events as well as a two minute video for the Royal Wedding's commemorative china. It is the royal family rabbit hole you deserve to go down. Perhaps I will also spend the evening of Princess Eugenie and Jack Brooksbank's wedding sipping on tequila while in the company of the royal family.