Watch William, Kate, & Harry Race Each Other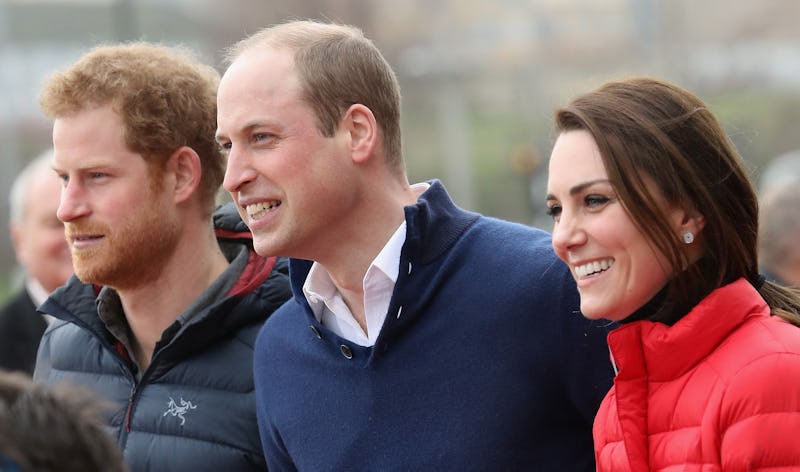 Chris Jackson/Getty Images Entertainment/Getty Images
Could the younger members of the British royal family be any more precious? The adorable trifecta of married couple Prince William and Princess Kate with the addition of William's little bro, Harry, are such an enjoyable part of pop culture, as shown when, on Sunday, Feb. 5, William, Harry, and Kate raced each other for a good cause. The 50-meter dash took place at Queen Elizabeth Olympic Park's London Marathon Community Track and was done to support the efforts of Heads Together, a campaign spearheaded by the young royals to call attention to the stigma surrounding mental health.
The princely brothers and the duchess were joined by 150 Heads Together volunteers, who are in the process of training for the 2017 London Marathon. The big race will take place April 23, and by running, volunteers can raise money for a Heads Together charity partner or the Royal Foundation of the Duke and Duchess of Cambridge and Prince Harry. Publicity for the organization before the big race is crucial, so it's great that the royal family brought it thanks to their race.
While the real winners of the race are all of us, because we get to see the royals run (with perfect form, at least in Princess Kate's case — is there anything she can't do?) the actual winner was Harry, followed closely by his older brother, with Kate coming in at the end. It makes sense, as Harry's probably got more time to work out since he's not chasing around toddlers Prince George and Princess Charlotte or preparing to rule over all of England.
Despite his loss, Prince William gave a beautiful pep talk to the Heads Together volunteers, saying, "you are crucial to making this happen and we can't do it without you." He also said that "we want to normalize mental health. We want to get people talking about it, to make it more normal and to reduce the stigma. What you are doing and having so many of you here today, you've already seen the benefit of joining in by being part of this marathon. We want to make it a mental health marathon."
The Kate-William-Harry race is adorable not only because they support good causes together, but because it looks like they have a great time doing it. Their passion and commitment to issues is inspiration for us all, even if we don't share their royal pedigree.