The Amount Of Time Meghan Markle & Priyanka Chopra Have Been Friends Is Pretty Surprising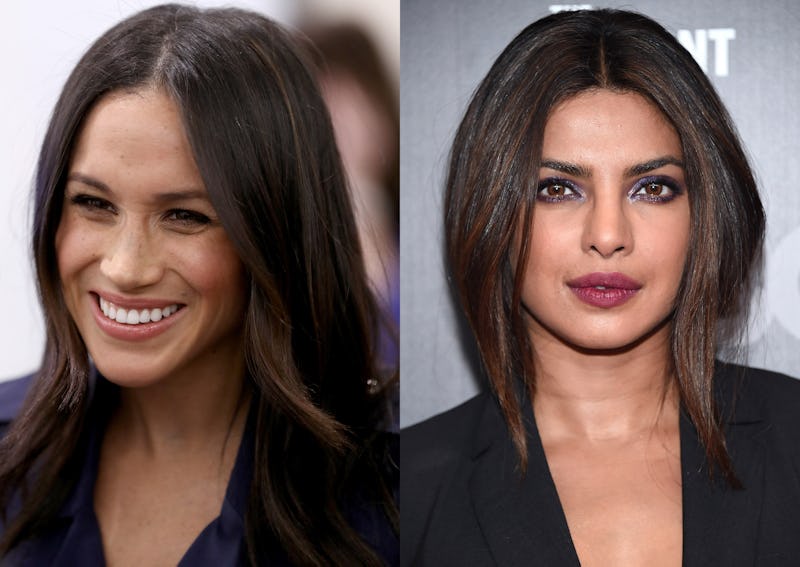 Chris Jackson/Getty Images Entertainment/Getty Images; Michael Loccisano/Getty Images Entertainment/Getty Images
Priyanka Chopra and Meghan Markle seem like they've been friends for a lifetime. When Markle and Prince Harry announced their engagement in November 2017, Chopra was one of the first to send a sweet congrats on Instagram to her friend who would soon be a member of the royal family. There are very few people in the world who can call Prince Harry "my good friend's fiancé." Despite their close friendship, though, the timeline of Priyanka Chopra and Meghan Markle's friendship is surprisingly short — they met just two years ago, but they've gotten super close since then.
But everyone has friends they click with immediately, even if they haven't know them too long. Chopra and Markle really do seem like a match made in heaven. Both women are actors — Chopra on Quantico and Markle, until recently, on Suits. And both women are are very passionate about their philanthropic work, which is something Markle will not only be able to continue as a member of the royal family, but expand with her new global platform. She's advocated for a number of causes, especially fighting for gender equality. Chopra is also a champion of rights for women and girls, and a UNICEF Goodwill Ambassador. It's no wonder the two women get along. Take a look at their short, but very sweet friendship.
January 2016 — Their Meet Cute
Chopra and Markle, both strong and powerful women, appropriately met at an event for strong and powerful women. They both attended Elle's Women In Television Celebration dinner in January 2016, where they hit it off right away. "We bonded as actors," Chopra told People in September 2017. "We just became friends, as two girls would."
Markle was similarly complimentary about Chopra. In an interview with The Indian Express in 2016, she said of her new friend Chopra, "Priyanka is unbelievable, she's become a really good friend." Of the night they met at the Elle dinner, Markle said Chopra turned out to be a big fan of her show, Suits, and it was really platonic love at first sight. "You know when you meet someone and you just click...it was an easy, natural progression," Markle said.
2016 — Just Hanging Out Like Friends Do
Both women were very busy with their own individual projects, but Markle said in her interview that they stay in touch and try to get together whenever they are in the same city. That's one of the hardest parts of friendship as adults — coordinating schedules, especially when you don't live in the same place, so props to these women for putting in the effort.
Later in 2016 they were just doing some good old friend stuff. Chopra and Markle went to see Hamilton together, which luckily there's evidence of on Chopra's Instagram. Because when you join the royal family, you don't have personal social media accounts anymore, so Markle deleted her Instagram, Twitter, and Facebook in January 2018. She'd deleted her website, The Tig, nine months earlier. But, the Daily Mail managed to grab some screenshots of some of Markle's last 'grams, and one of them was a throwback to a photo of her, Chopra, and another close friend, producer Mubina Rattonsey that Chopra had re-posted on her Instagram back in 2016 (above).
2017 — Priyanka Always Stands Up For Her Girl
Sadly, there weren't many photos of the two friends from 2017. Still, Chopra went to bat for her friend time and again, like when she appeared on The Wendy Williams Show in May. When Williams called Markle "Prince Harry's girlfriend," Chopra fired back with: "Also Meghan Markle ― actress, Suits, her achievements." Because she's defined by so much more than her relationship, even if it is to a prince.
Chopra came out swinging again after Markle's Vanity Fair cover story came out in October 2017, just a month before she and Harry announced their engagement. Chopra told Entertainment Tonight that she was disappointed that the article mainly focused on Markle's relationship. "I mean, she's on the cover of Vanity Fair," Chopra said. "It would have been nice to write about her not just her boyfriend. I'm just saying. I mean, she's an actor, she's an activist, she's a philanthropist. I mean, she does so much more." That's a ride or die friend right there.
2018 — Will Priyanka Be At The Royal Wedding?
The two seem so close that there's even some speculation that Chopra will be one of Markle's bridesmaids. But Chopra isn't giving away any answers yet. She was asked about it in an interview with Harper's Bazaar Arabia, and she coyly responded, "If you see me there, you'll know." Which is maddening, but it's definitely not a no.
Whether or not Chopra is going to stand by her friend's side on May 19, she's so happy for her. She told Harper's there's nobody better for the job of a duchess: "She's an icon, truly, that girls can look up to." Markle and Prince Harry might be getting married, but it seems like Markle and Chopra love each other just as much.