Priyanka Chopra Wants Kids, But Hold On Before Jumping To Conclusions About Her & Nick Jonas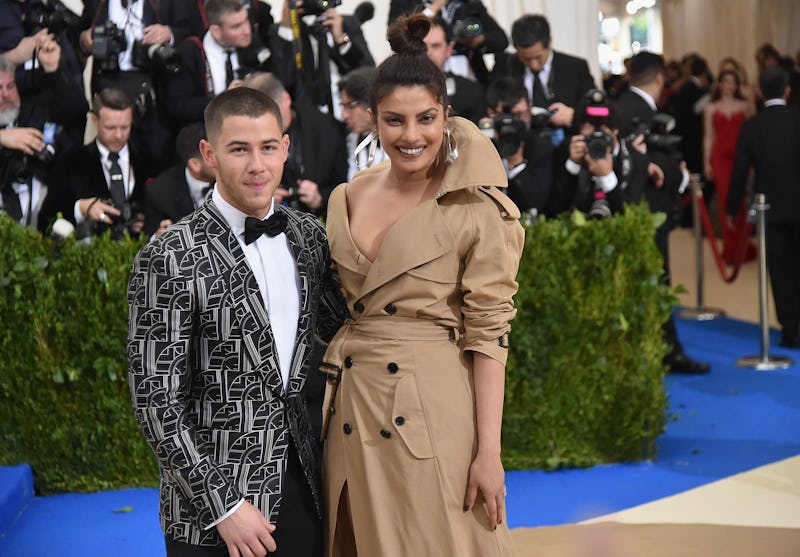 Mike Coppola/Getty Images Entertainment/Getty Images
She may be on the fast-track with rumored boyfriend Nick Jonas, but just because Priyanka Chopra said she wants kids, according to People, that doesn't mean they'll be painting a nursery together any time soon. They'll probably just hire someone to paint the nursery for them. Just kidding. No one is painting a nursery ... yet. Let's not get ahead of ourselves.
In an interview with People on June 21, the 35-year-old Quantico actor said that while she's not big on planning things out in general, she is planning on starting a family — in the next 10 years. Chopra said,
"I am a very live in the today, maximum live in the next two months kind of person. But [in] 10 years, I definitely want to have kids. That is, it's going to happen in the next 10 years. Well, hopefully earlier than that. I'm very fond of children and I want to be able to do that."
Reports of Chopra getting romantic with 25-year-old Jonas first started swirling back in May — and while neither she nor Jonas has confirmed their relationship publicly, the pair has been spotted out together more than a few times, as of late. (When the relationship rumors began, Bustle reached out to reps for Chopra and Jonas for comment, but did not immediately hear back.)
Chopra and Jonas were reportedly seen getting cozy a few different times over Memorial Day weekend, and on May 29, a source told Us Weekly that the two stars "are dating and it's brand new. It's a good match and they are both interested in each other." Then on June 8, People caught the two stars departing New York's JFK airport together, and a few days later on June 11, the Daily Mail snapped Chopra and Jonas walking arm-in-arm while on the way to Jonas' cousin's wedding in New Jersey.
"It's a huge deal that Nick brought Priyanka to his cousin's wedding," a source told People on June 13. "He's dated a lot over the last couple years but it's never been anything serious, so this is a big step." The source also claimed, "Nick and Priyanka really like each other, and his family enjoyed getting to know her as well. She fit right in!"
Now, though, the pair may be taking an even bigger step than meeting the parents — according to Life & Style (as per Hollywood Life), "Nick is telling pals that Priyanka is the one and he's asked her to move in with him," a source told the publication. If this ends up being true, does that mean marriage and kids aren't too far away?
Eh, not necessarily. Jonas has said he definitely wants to get married one day, though. On Dec. 26, 2017, the singer opened up about the subject, and told Women's Health, "I definitely think about marriage and hope that I can find somebody to spend the rest of my life with," he said. "Between my oldest brother, Kevin, his wife, Danielle, and their beautiful kids, and now Joe [Jonas] with Sophie [Turner, who recently got engaged], I've got some really amazing extended family. My sisters-in-law set the standards pretty high. So I've got to find someone great."
If things end up working out long-term for the rumored new couple, Chopra can at least rest assured that Jonas already has some experience dealing with kids. The star is an enthusiastic uncle to his brother Kevin's two little girls, but he has yet to make any comments about whether or not he wants to start a family of his own. Since Chopra's got a 10-year timeline, though, there's definitely no rush for them to start settling down anytime soon.