Priyanka Chopra's Wedding Veil Was 75 Feet Long & It Took Five People To Carry It Down The Aisle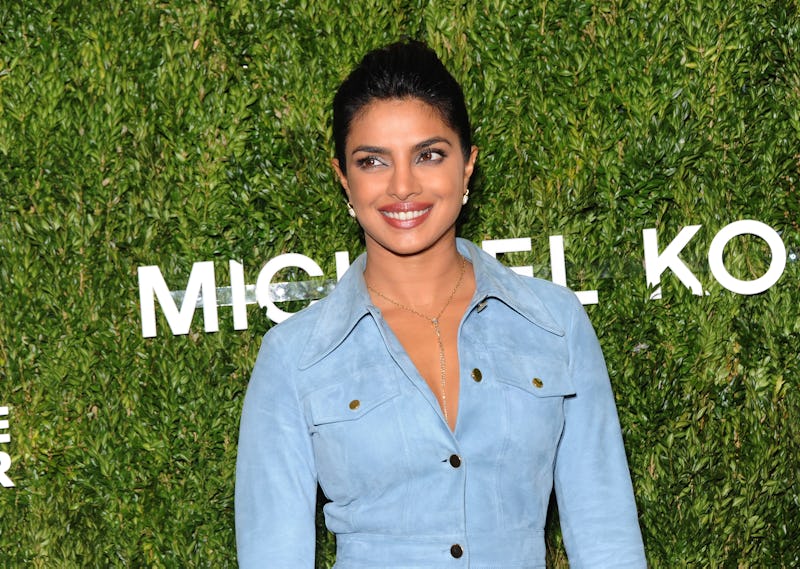 Desiree Navarro/Getty Images Entertainment/Getty Images
In case you missed the news, Priyanka Chopra and Nick Jonas are married — and their dual religious ceremonies, celebrations, and well, entire wedding weekend looked like a blast. While the wedding itself was a BFD, perhaps the biggest (as in literally) part of the wedding was Priyanka Chopra's wedding veil. No, really, her wedding veil was extravagant in the best way possible.
If you haven't seen Chopra's wedding dress yet, you'll understand the need for a massive veil. According to People, the Ralph Lauren designed gown featured over 2 million mother of pearl sequins that were hand beaded. In addition to the sequins, the dress featured hand embroidered floral appliqués which took over 1,826 hours to create. With a dress like that, you kind of have to have a veil to match, right?
At this point, you are probably thinking that Chopra went full on sequin glam with her veil, but she didn't. Instead, she opted for delicate and simple tulle. While the fabric itself was minimalistic with no embellishments, it didn't need them. According to People, Chopra's wedding veil was 75 feet long, and in a video from the wedding appears to take five people to carry down the aisle. That's triple the length of Princess Diana's famous wedding gown train.
In the video posted to Chopra's social media, you can see what appears to be four men and one woman carrying her train as she walks down the aisle during her Western ceremony to Jonas. The people in the video weren't identified by People who had exclusive access to the wedding, but they could be friends or family to the bride and groom.
While the veil's glamour came from the its length, there was also a double layer that sat high on the crown of the braid's head with a bit of bunching. A shorter, seemingly thicker, elbow length veil was placed over Chopra's face as she walked down the aisle. Basically, she kind of had double veils in addition to one of them casually being 75 feet of tulle trailing behind her as she walked.
While Chopra's wedding veil and gown were stunning, they were more than just what she chose to wear. People also reports that the bride had messages sewn into her dress for the big day. Not only were her parents names sewn into the dress, but her husband's full name, a Hindu mantra, and words like love and compassion were all woven into the dress in a sweet sentimental touch. In fact, Jonas also added romantic details to his tux having a piece of Chopra's wedding gown sewn into the lapel of his Ralph Lauren suit.
If you've been waiting for the past few days to see Priyanka Chopra's wedding dress, you've officially gotten your wish, and while the Ralph Lauren design is undeniably stunning, it's hard to deny that her 75 foot veil may have just stolen the show. Okay, maybe that's not true because these Chopra and Jonas' smiling faces during their wedding were definitely the stars.