Priyanka Chopra's Wedding Dress Had Eight Hidden Messages & They Are SO Romantic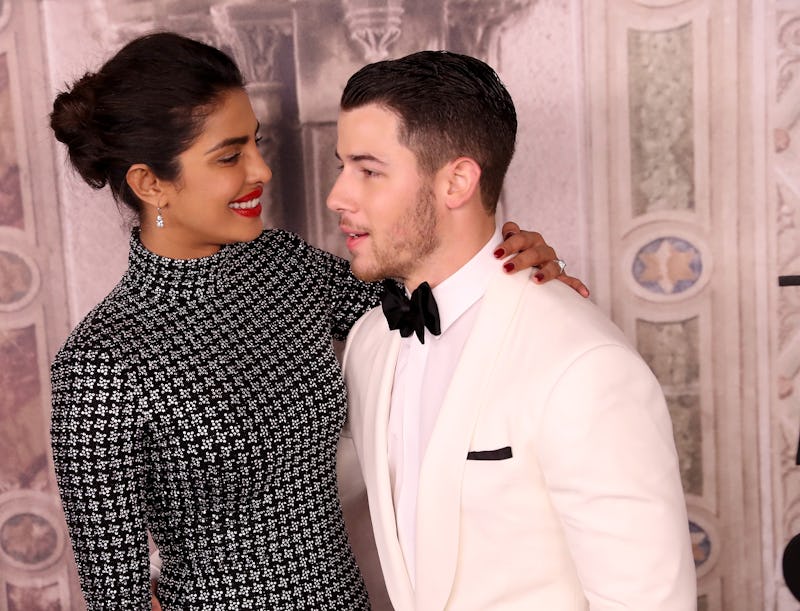 Rob Kim/Getty Images Entertainment/Getty Images
It's official. Priyanka Chopra and Nick Jonas are married, and the photos from their big day are just as amazing as you thought they'd be, but honestly, Priyanka Chopra's wedding dress may have exceeded your expectations. Not only was it stunning, but according to People, it also contained sweet romantic touches that weren't readily visible. Chopra wasn't the only one with additional, sentimental touches, though. Now husband Nick Jonas also added some sweet details to his tux that will make you swoon.
If you haven't been following the Chopra and Jonas wedding weekend, you've been seriously missing out on some great content. Over the weekend, the pair officially got married, and they had a celebration with their family and friends that would make anyone jealous. From Chopra and Jonas' soon-to-be sister-in-law Sophie Turner dancing at their Sangeet to the gorgeous, smile-filled photos of the Mehendi ceremony, it was a huge couple of days for the newly married now.
Now, after days of celebrating (yes, it's okay to be upset you weren't there), Chopra's wedding gown has hit the internet, and the Ralph Lauren design isn't just special because it's his first ever celebrity wedding gown design but because Chopra chose to place hidden messages in the dress that are so romantic.
According to People, Chopra had a total of eight messages embroidered into her gown, and while you can't see them from the video she posted to Twitter or in any of the images revealed by People, they're definitely there, and they've all got a special meaning. Inside the dress, Chopra had she and Jonas's wedding date, the groom's full name, her parents' names, a Hindu mantra, and the words family, hope, compassion, and love. Sounds like a lot to fit into one dress, right? Somehow, though, Chopra and designer Ralph Lauren were able to do so.
Like her wedding gown for the couple's Western ceremony, Chopra chose to also add personal details to the lehenga she wore for their Hindu ceremony. Her parents' names as well as Jonas' name was sewn into the waist of the skirt.
The messages weren't alone, either. Chopra also had a piece of her now mother-in-law Denise Jonas' own wedding dress sewn into the Ralph Lauren creation.
It turns out that Chopra wasn't the alone in her choice to add special touches to her wedding day look. Her groom, Nick Jonas, also decided to add a bit of sentimentality to his double breasted tux. A piece of lace from Chopra's gown was sewn into his tux's lapel with "My Jaan" (which means my life in Urdu) stitched in as well. You're totally swooning, right?
While Chopra's Ralph Lauren wedding gown would have been stunning on its own (hello, it had 2 million sequins), her choice to incorporate so many special messages only makes the dress more special. The fact that her now husband joined her in adding sentimental touches is honestly so romantic. Who needs more royal weddings when these two are around, right?