That Pro-Life Rep. Who Reportedly Urged His Girlfriend To Get An Abortion Is Stepping Down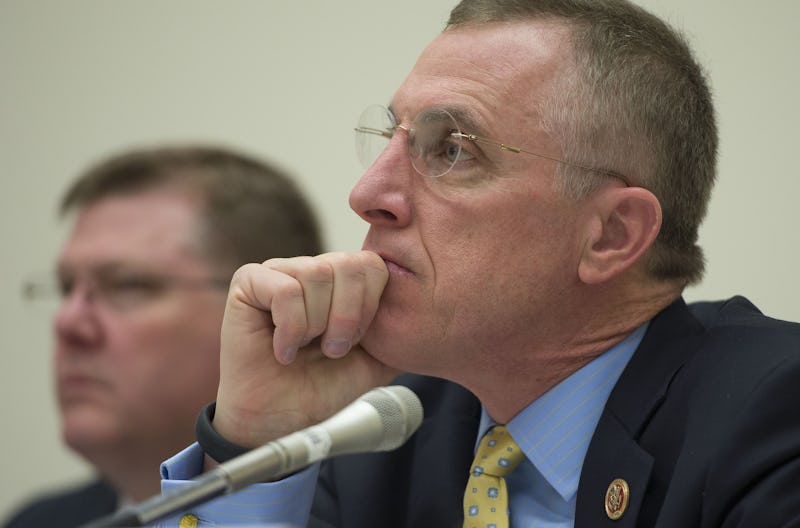 JIM WATSON/AFP/Getty Images
Republican congressman Tim Murphy of Pennsylvania will not seek re-election at the end of his term, Pittsburgh CBS affiliate KDKA reported, after text massages revealed that Murphy, who is anti-abortion, reportedly urged his girlfriend to get one. "After discussions with my family and staff, I have come to the decision that I will not seek re-election to Congress at the end of my current term," Murphy said in a statement. Bustle has reached out for comment.
Murphy explained that during his remaining time in office he'd continue working on mental health care reform, "as well as issues affecting working families in southwestern Pennsylvania." He concluded by saying he was taking "personal time to seek help as my family and I continue to work through our personal difficulties and seek healing. I ask you to respect our privacy during this time."
Following Murphy's announcement, National Republican Congressional Committee Chairman Steve Stivers said in statement that he expects the district to "remain under Republican control next year." He added that he looks forward to working with Murphy's successor to "ensure the district's conservative values are represented in Congress."
In text messages obtained by the Pittsburgh Post-Gazette, Murphy supposedly encouraged the woman he was having an affair with to get an abortion amid a reported pregnancy scare. He'd previously admitted in September to having an affair with Shannon Edwards, a forensic psychologist from Pittsburgh. The news of Murphy reportedly encouraging an abortion came as a shock to many, since he was recognized by the leading anti-abortion group, the Family Research Council, for his 100-percent anti-abortion voting record. He's also a member of the House Pro-Life Caucus, according to the Post-Gazette, and has been endorsed by the anti-abortion group LifePAC.
Back in January, Edwards read a post about late-term abortions on Murphy's official Facebook page, reportedly prompting her to text the congressman a message that read: "And you have zero issue posting your pro-life stance all over the place when you had no issue asking me to abort our unborn child just last week when we thought that was one of the options." According to the Post-Gazette, a text sent from Murphy's phone number replied, saying, "I get what you say about my March for life messages. I've never written them. Staff does them. I read them and winced. I told staff don't write any more. I will."
In his post, Murphy's staff wrote that "the United States is one of just seven countries worldwide that permits elective abortion more than halfway through pregnancy (beyond 20 weeks). It is a tragic shame that America is leading the world in discarding and disregarding the most vulnerable." It also noted that Murphy had sponsored and voted for a bill that bans federal funds from being used for abortions. "We will once again be a nation committed to honoring life from the moment of conception," the post read, "and ensuring American taxpayer dollars are never spent to end a life before it even begins."
Murphy currently supports the 20-week abortion ban that passed the House on Tuesday. Some of the anti-abortion groups that support the lawmaker have spoken out since the controversy. "Congressman Murphy's behavior is disappointing and disturbing," Family Research Council president Tony Perkins said in a statement before Murphy announced his early retirement, according to CNN. "His statements and actions are at odds with his own voting record. Inappropriate personal behavior has public ramifications — and in this case, clearly opens him up to charges of hypocrisy. For his own sake and those around him, our counsel would be for him to bring his behavior in line with his past voting record, not change his policy stance to reflect his wrong behavior."
The congressman, who currently represents the 18th District of Pennsylvania, will end his term in November 2018.