JK Rowling Confirms These Two Professors Were An Item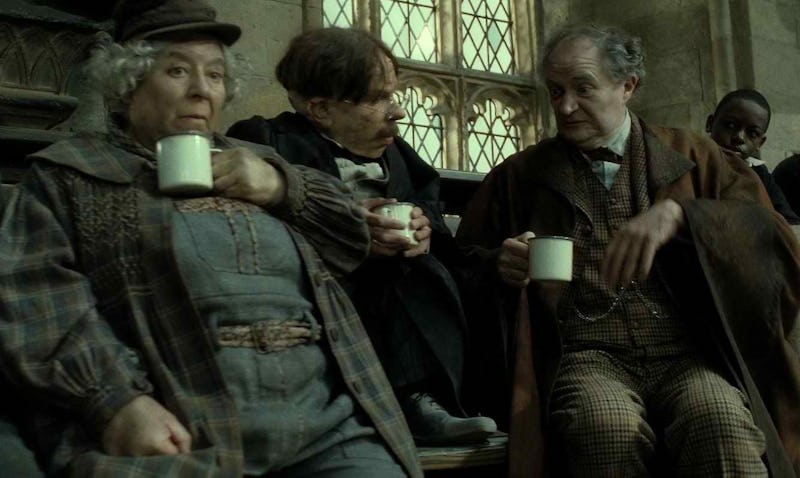 Warner Bros.
For Harry Potter fans, you never know what a new day will bring. From J.K. Rowling's tweets to Pottermore's announcements, there is always a chance that we'll be getting some new information about our all-time favorite series. And, sometimes, that information is just weird and wonderful enough to cause an absolute meltdown of the internet fandom. Fun!
Today's #blessed new info comes to light thanks to the new Hufflepuff House 20th Anniversary Edition of Harry Potter and the Philosopher's Stone. The books were recently released in the UK to celebrate the anniversary of the first Harry Potter's release, and each edition contains some new information about the House it corresponds to. Yes, you'll see famous, tragic Hufflepuff student Cedric Diggory get some much-deserved attention, as well as find out tons of fun stuff about the Hufflepuff common room. But, there's also an entire page dedicated to Hufflepuff Head of House, Professor Pomona Sprout. And that's where things get really juicy.
Because, it turns out, Professor Sprout and Professor Flitwick were totally in love. That's right, two of our favorite teachers were, as the book puts it, in a "long-term relationship." But before you get too excited it also mentions that sadly, things didn't work out between them, though the two remain friends. Armed with this new information, we can only imagine where fanfic writers will take the story next. And isn't that the best part of all this bloody information anyway? The way devoted fans choose to talk about, reinterpret and reinvent them? So, have at it you crazy Potterheads!