Heidi Klum & Tim Gunn Are Leaving 'Project Runway,' But There's A Silver Lining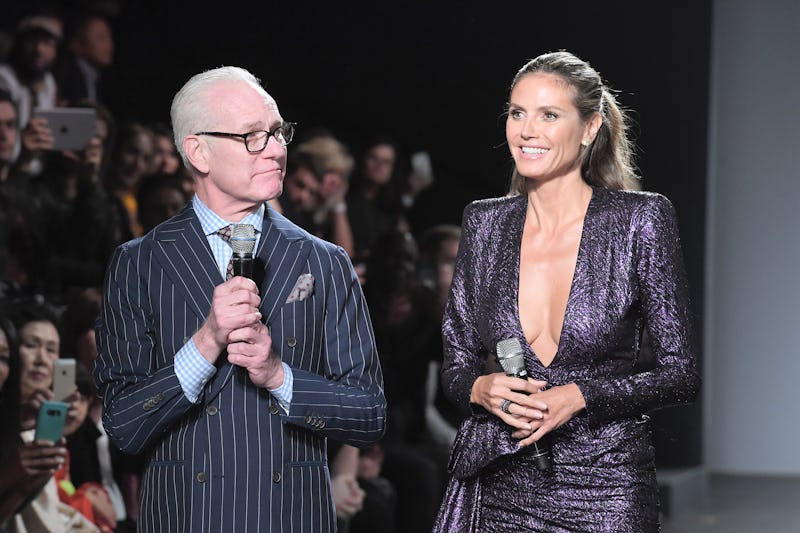 Dimitrios Kambouris/Getty Images Entertainment/Getty Images
The dynamic duo has become as much a part of the show as the designs themselves, but Heidi Klum and Tim Gunn are leaving Project Runway. The show has been in jeopardy due to its connection with the Weinstein Company, and is tentatively scheduled for a return to Bravo, depending on how the financial situation shakes out, but its original hosts will not return. That's the bad news, but there's good news close on its tail, so don't despair. Klum and Gunn are hopping straight onto another project, and from the sound of it, it picks up not far from where Project Runway left off.
After 16 seasons honing their chemistry opposite each other on Project Runway, the supermodel and the fashion consultant will take their talents to a new project kicking off at Amazon. The platform announced the news on Friday, Sep. 7, in a press release sent to Bustle that hints at the excitement to come, while still giving very little away. In the release, Amazon refused to give away too much detail, acknowledging that "details remain close to the vest." What we do know so far, however, is that the as-yet-untitled project will be a reality fashion series, just like PR, and that it will draw on Gunn and Klum's existing dynamic to carry out "a commitment to making fashion accessible to a wide audience."
It promises to be a "fresh take," creating an intersection between storytelling and e-commerce with a "shoppable experience for viewers." And naturally, there aren't more details, but by the sound of it, it seems that viewers who see something they like on the show, streaming on Amazon Video, will be able to purchase those items on Amazon.
It's a bittersweet, watching Klum and Gunn step away from such a longstanding project and into the next adventure. And no one feels that push and pull more than Project Runway's hosts. As Klum said in Friday's press release:
"After 16 incredible seasons, I am saying 'Auf Wiedersehen' to Project Runway, a show that I was honored to host and help create. I am incredibly proud of the show, and it will always have a special place in my heart. I am so appreciative of the dedicated fans, and most of all, I am grateful that we could shine a light on creativity and help launch so many talented designers' careers. I'm most excited that my journey with my dear friend and colleague, Tim Gunn, is far from over. We will be partnering with Amazon for a new show, and we're excited for everyone to see what we're designing next!"
Gunn added his own words of excitement, saying in a separate statement:
"I am grateful to Project Runway for putting me on a path I never, in my wildest dreams, thought my career would take me! I am so proud to have been a part of the groundbreaking process that showcased talented young designers as never before. Most importantly, I am indebted to our incredible fans, they are the heart and soul of what we do, and continue to inspire us to raise the bar in this arena. I'm excited for them to see what's next, as I partner with Amazon and Heidi Klum on our next great 'fashion' adventure."
And while we don't know what the future holds or when, fans are really getting the best of both worlds here. We get to keep enjoying Project Runway, and get an entirely new show that's in the same vein, but with some new innovations. What could be better than that?