Chris Evans Really Is Captain America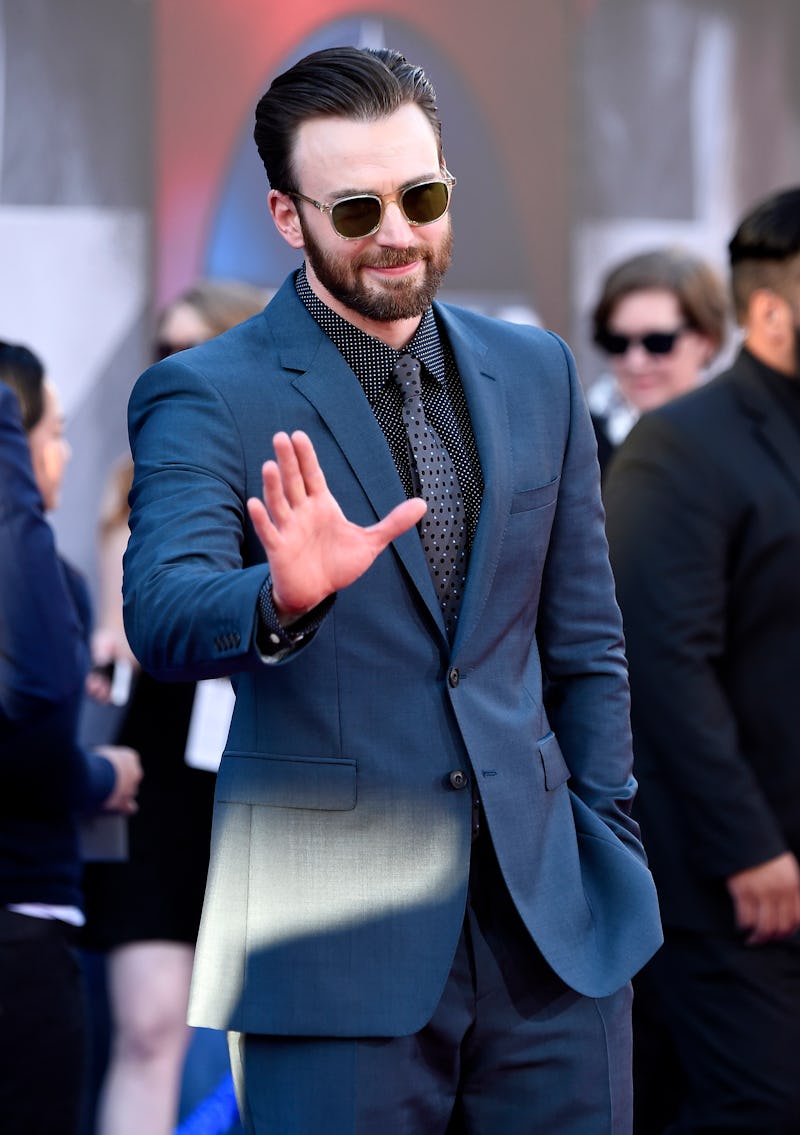 Frazer Harrison/Getty Images Entertainment/Getty Images
Sometimes life imitates art and that is certainly the case here. Raise your hand if you agree that Chris Evans is Captain America. You've probably heard a bunch of different reasons for while Evans is so much like the comic book character he brings to life in the Marvel films, but one of the most important reasons has to do with the politically aware tweets he shares on Twitter. You may not agree with everything the Captain America star says, but there's no doubt he loves his country and only wants the best for it.
The 35-year-old is heavily involved in politics and isn't afraid to tweet about it. He's politically passionate, which may turn some people off, but I always enjoy seeing a celebrity who refuses to stay silent. There are some who believe celebrities shouldn't talk politics, but seeing as they are human beings and they also vote, they have every right to voice their opinions publicly if they choose to.
The Avengers star is all about America, which makes him a real-life Steve Rogers, aka Captain America. And if you need proof of his patriotism and heroism, here you go.
When He Backed Jimmy Kimmel
During his late night show in April, Kimmel revealed in an extremely emotional monologue that his son was born with a congenital heart disease. All of this made him realize how important health care is, and he defended the Affordable Care Act. In response, former Illinois Representative Joe Walsh responded to Kimmel on Twitter by saying, "Sorry Jimmy Kimmel: your sad story doesn't obligate me or anybody else to pay for somebody else's health care."
To that, Evans showed his Captain America side by tweeting Walsh, "Its fair to have opposing views on healthcare, but our humanity should guide us when, where and how to engage. This is beyond misplaced, Joe." Boom.
When He Battled Racism
After Baltimore Orioles pitcher Adam Jones said someone threw a bag of peanuts at him and called him a racial slur during a 2017 game against the Boston Red Sox held at Fenway Park, Evans spoke up. He tweeted, "Disgusting. Lifetime ban for the offender." Evans, a Boston native, loves his hometown teams, but when it comes to racism, he won't put up with it.
When He Wouldn't Shut Up
While chatting with Esquire in March, Evans opened up about Donald Trump and why he won't be shutting up anytime soon when it comes to his political opinion. "Look, I'm in a business where you've got to sell tickets," he said. "But, my God, I would not be able to look at myself in the mirror if I felt strongly about something and didn't speak up. I think it's about how you speak up."
He also recognized that if people don't want to support him or his career because of his political beliefs, he's totally fine with that. "We're allowed to disagree," he admitted. "If I state my case and people don't want to go see my movies as a result, I'm OK with that."
When He Took On David Duke
In February, Evans got into a heated argument with former Ku Klux Klan leader David Duke over Attorney General Jeff Sessions. One of the actor's many tweets directed at Duke read, "If David Duke....DAVID!...DUKE!... thinks you're right, then you are unequivocally wrong. The confirmation of @jeffsessions is beyond words." Duke replied to Evans by writing, "Typical dumb actor - if everything I say is wrong, then when I say I oppose these Zionists wars, you must be for them, Captain America!?"
To that, the Gifted star responded with a link to an article of quotes from Duke, "@DrDavidDuke well if these nuggets of bigotry are some of your OTHER thoughts, then I stand by my original tweet. We can't let hatred be the loudest voice."
When He Believed In Speaking Up
Your voice is there for a reason — so use it. That's exactly what Evans is doing.
When He Praised His Political Uncle
Politics runs in his family. Evans' uncle is, Massachusetts Representative Mike Capuano, who represents the Seventh Congressional District in the state. So, he probably had some help becoming Captain America IRL thanks to his fellow political loved one.
When He Backed The LGBTQ Community
After the Trump administration rolled back protections for transgender students in February, Evans refused to sit back and be quiet. He tweeted, "To the LGBTQ community, I'm sorry for the message that was sent today. They don't speak for all of us. We love you."
When He Remembered This
This is his response to actor David Krumholtz's tweet, which reads, "My fellow Americans. Trump supporters are my fellow Americans. Separate ideologies can be healthy when communicated w/ civility not outrage." Despite opposing views, Evans recognizes that we are all Americans and that trying to understand one another is what can make the country stronger.
When He Supported The Troops
Clearly, everyone was very excited about it.
When He Said This
This could go on a T-shirt.
Thank you for your service, Captain America.