Protecting The Trump Family Will Cost Taxpayers $120 Million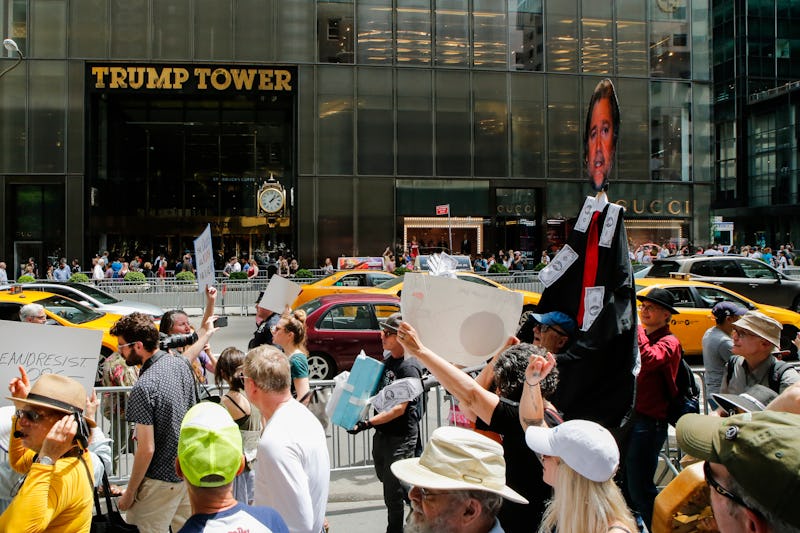 Eduardo Munoz Alvarez/Getty Images News/Getty Images
It's no surprise that protecting President Donald Trump comes at a cost, given his frequent trips to Mar-a-Lago and the first lady's insistence on remaining in Trump Tower until the youngest Trump child, Barron, finishes off the school year. And it's not just his youngest who receives protection. Donald, Jr., and Eric receive Secret Service protection, as does official White House staffer, Ivanka, and her family. This has cost a pretty penny, especially for New York City and Florida taxpayers, and now there's yet another price tag. Congress has allocated $120 million to protect the Trump family.
This allocation for Trump's security is in the spending bill that once seemed contentious enough to shut down the government, thanks to Trump's request that funding for his border wall be included. Now, debate can continue until Friday as a stop-gap measure was passed last week on a bipartisan basis, sans wall funding. And it looks like the final bill could see money earmarked for the Secret Service and the local police departments that are bearing the brunt of Trump's protection.
Of the $120 million, half goes to the Secret Service, The New York Times reported. The government agency has explained the need as a result of the costs of protecting the president while he's on the road, and to ratchet up the security at Trump Tower in New York. Of their $60 million, $34 goes to personnel costs associated with protecting Trump and the first family, including his adult children.
Another $23 million, more controversially, will go to Trump Tower — even paying for rent in the office building. According to The Times, it will also go to personnel and "necessary equipment." And that, of course, is just additional money that the Secret Service needs — on top of the $750 million that they normally spend on government officials and foreign dignitaries.
The other half of the money is to go to local agencies who saw increased costs. The government awarded $7 million earlier in the year for costs from Election Day to Inauguration Day, and now an additional $20 million will be available for the same period. The other $41 million is from Election Day to Sep. 30, 2017, when the current fiscal year ends. It's expected that Palm Beach County, Florida, where Mar-a-Lago is located, Bedminster, New Jersey, where Trump has another golf course, and New York City will be awarded the majority of the money.
New York Mayor Bill de Blasio gave a statement in response to the allocation, hinting that he sees this as a fair compromise, and thanking New York senators and representatives for making it happen. "We are getting what we are owed," he said in the statement. "That's good news for our city and the hardworking police officers faced with this unprecedented security challenge."
That price tag is exorbitant, but it's only fair that the feds cover the costs for local police agencies. It's not New York City or Palm Beach's fault Trump has a residence in their jurisdictions.