Protesters Played Migrant Kids' Cries Outside The DHS Chief's House & The Video Is Intense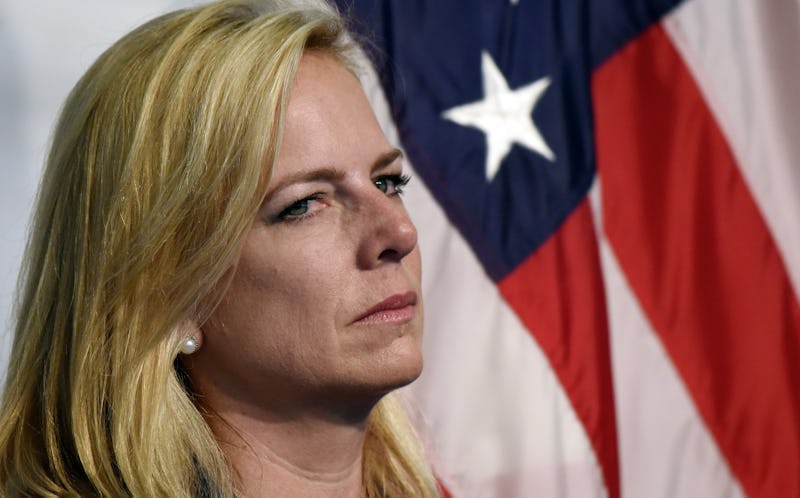 Handout/Getty Images News/Getty Images
Protesters gathered early Friday morning to wake up Homeland Security Secretary Kirstjen Nielsen using audio of detained migrant children crying. The protest, which featured a ProPublica audio recording, comes less than a day after it was revealed Nielsen had privately told lawmakers that the separation of migrant families at the border could be resumed despite the president recently signing an executive order to end the policy.
Undeterred by rain or the early hour, a small group of protesters held signs reading "child snatcher" and chanted "free the kids" and "shame" outside Nielsen's Virginia home Friday. According to Huffington Post, Nielsen was at home during the protest, which was organized by the progressive social change network known as CREDO Action, and even had to walk by protesters who reportedly chanted "shame" as she passed.
Nielsen has, according to The Washington Post, "become the face of President Trump's family separation policy" due largely to her role in explaining and defending the policy. But Nielsen has also come under fire after one legislator claimed she'd told lawmakers the Trump administration may not actually permanently end to its policy of separating families at the border.
"Secretary Nielsen privately told lawmakers the Administration may go back to separating children from their parents," Rep. Adam Schiff tweeted Thursday, one day after President Donald Trump signed an executive order ending the separation policy.
Although Trump's executive order did not end the Trump administration's "zero-tolerance" immigration policy, it allowed for families apprehended illegally entering the country to be held at detention centers together. It was not made immediately clear if, how, or when families already separated under the policy would be reunited. According to The Hill, thousands of children are believed to have been separated from their parents as a result of the policy.
The protest outside Nielsen's house is not the only time the ProPublica audio of crying migrant children was used to oppose the Trump administration's policy. Rep. Ted Lieu played the audio, which ProPublica has said was recorded inside a U.S. Customs and Border Protection detention facility last week, on the House floor Friday.
"If the Statue of Liberty could cry, she would be crying today," Lieu said before playing the audio for his colleagues, USA Today reported. Rep. Karen Handel, who was presiding over the floor at the time, called on Lieu to stop the audio and suspend his speaking, saying he was "in breach of quorum." Handel said representatives were prohibited from using electronic devices to play audio.
"Why are we hiding this from the American people?" Lieu responded while continuing to let the audio play. "I think the American people need to hear this."
The congressman also pushed back against Handel's opposition to the audio on Twitter. "I can't play the @ProPublica audio of [migrant children's] cries for help because of 'decorum?' F*ck decorum," he tweeted. "@realDonaldTrump engaged in the functional equivalent of kidnapping."
Friday also wasn't the first time protesters had confronted Nielsen over the Trump administration's policy of separating migrant families. According to The Washington Post, about 10 to 15 protesters interrupted a meal Nielsen was eating at a Mexican restaurant in Washington, D.C. on Tuesday.
"How dare you spend your evening here eating dinner as you're complicit in the separation and deportation of over 10,000 children separated from their parents," video of the protest shared online by the Metro D.C. Democratic Socialists of America showed a male protester yelling. "How can you enjoy a Mexican dinner as you're deporting and imprisoning tens of thousands of people who come here seeking asylum in the United States?"
Outside Nielsen's home in Virginia on Friday, protesters had a stronger message: They called for her to resign as Homeland Security secretary.