Jhumpa Lahiri Is Nominated For A National Book Award — But Not For The Reason You May Think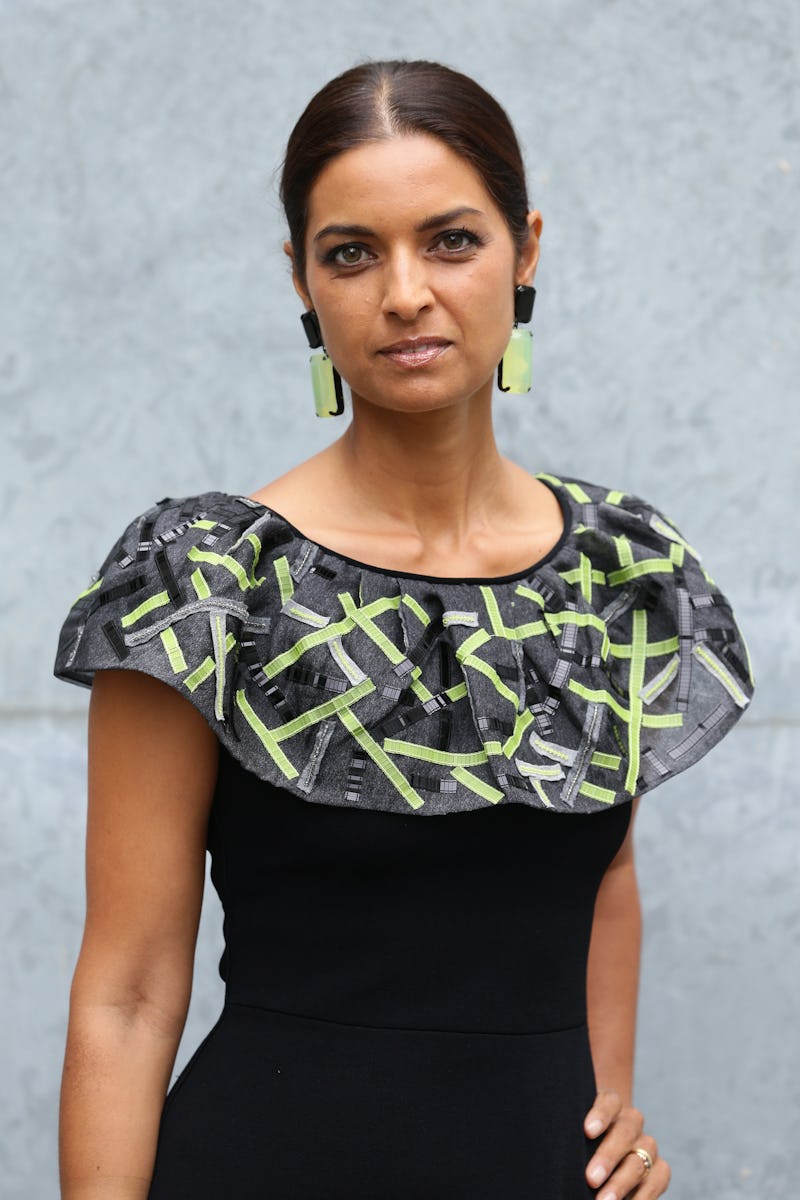 Vittorio Zunino Celotto/Getty Images Entertainment/Getty Images
Pulitzer Prize winner Jhumpa Lahiri is no stranger to literary awards, so it probably won't surprise you to learn that the Interpreter of Maladies author is a finalist for the 2018 National Book Award. What might surprise you, though, is which category the acclaimed novelist and short-story writer is nominated in: translated literature. This year, Lahiri isn't being celebrated for her own original writing, but rather for her fantastic work in translation.
A new addition to the National Book Awards this year, the Translated Literature category recognizes the very best works in English translation. Among its honored nominees are Strega Prize-winning novelist Domenico Starnone for his new book Trick, translated into English by Lahiri. While most people may know her for her English-language writing, Lahiri has also established herself as a celebrated Italian-language author and a successful translator. Trick is actually the second novel Lahiri has translated. Her first, Ties, was also written in Italian by Starnone. So how did the award-winning author of The Namesake and Unaccustomed Earth become an award-nominated translator?
Lahiri reportedly first fell in love with Italian on a week-long trip to Florence she took during graduate school in 1994. After returning to the United States, she decided to pursue her new desire to learn the language, first by picking up a copy of Teach Yourself Italian and later with the help of private tutors. After nearly a decade of studying, during which she became a literary superstar for her English-language novels and short stories, Lahiri decided to go all-in on her dream of becoming fluent in Italian and moved to Rome where, the author writes in her memoir In Other Words, "Italian can be with me every day, every minute."
In Other Words by Jhumpa Lahiri, translated from Italian by Ann Goldstein, $7, Amazon or Indiebound
Her first work of nonfiction, and the first book the author wrote in Italian, In Other Words chronicles how Lahiri fell in love with the language, why she decided to fully immerse herself in it by moving to Italy, and how learning it has transformed her writing. "I think, see, and feel differently in Italian," she told The New Yorker on writing in a new language. "I say things more simply but also more directly. And I tend to take more chances."
After taking on the challenge of writing in Italian, which she has continued to do, Lahiri decided to conquer yet another linguistic hurdle: translating. In 2017, after moving back to the U.S., she translated her first Italian-language novel, Starnone's Ties, into English.
"The discovery of translation has been fundamental to my sanity, coming back to the United States. It's just been so meaningful to me to have Domenico's work, in particular, to translate," Lahiri said in an interview with The Paris Review. "Right now, I feel like my creative project is translation. It's just constant reading and rereading, on such a deep level. If you're reading anything at that depth, it brings this deep nourishment, linguistically and technically. When I see how Domenico deals with something—say, indirect discourse. Or, How does he deal with time? How does he deal with description? To plow through this new territory—it's very invigorating for me."
Trick by Domenico Starnone, translated from Italian by Jhumpa Lahiri, $14, Amazon or Indiebound
Lahiri is is just one of five translators on the 2018 National Book Award finalist list, which also includes Tina Kover for her translation of Négar Djavadi's Disoriental and Jennifer Croft for her translation of Olga Tokarczuk's Flights. The winner will be announced at the National Awards Ceremony and Benefit dinner in Manhattan on Nov. 14.