This Pumpkin Spice Highlighter Will Let You Take Your Fall Obsession To A New Level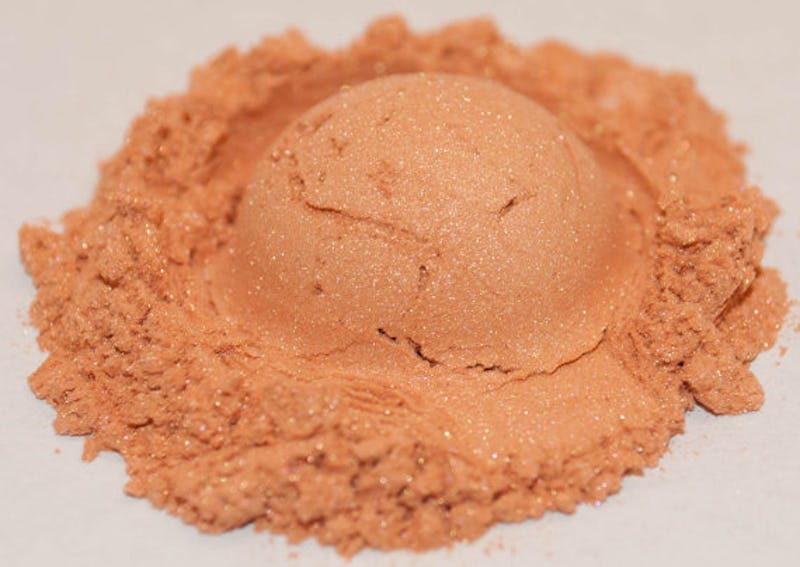 The days are getting shorter, the air is getting crisper, and before you know it it'll be fall — and pumpkin spice latte season — once again. But if you just can't wait to start the season, a pumpkin spice latte highlighter might be the perfect way to get you through the wait for Starbucks to officially drop its addictive drink for the season. That's right, pumpkin spice latte highlighter is a thing, and it looks surprisingly wearable.
Etsy store owner Heather Baker has an entire shop of mineral makeup, pressed eyeshadows and pressed makeup that she sells under her FeatherRiverBody name, but the product from her shop that's currently blowing up the internet is pumpkin spice latte light orange highlighter and mineral eyeshadow. Although orange highlighter sounds like it could easily be over the top, Baker's pumpkin spice latte is a warm, light orange color. It's pigmented enough to show up, but not too dark to not be wearable. It looks like it'd be beautiful on warm, medium skin tones, but it could easily look good on other shades as well.
Unfortunately the loose highlighter is currently sold out, but because it's from Etsy, you have the option to request the seller make another version just for you. But if you're looking for a pressed shimmer highlighter, you can still get the pumpkin spice latte version from FeatherRiverBody now.
Soooo PSL.
The shade is surprisingly wearable, right?
These swatches from Baker's store show how wearable the shade actually is.
Here's the pressed version of the highlighter, which looks like it's a little more pigmented and retails for $12. And although one version is currently sold out, I have a feeling it'll restock just in time for fall.