This Tweet Will Have Pumpkin Spice Latté Fans Freaking TF Out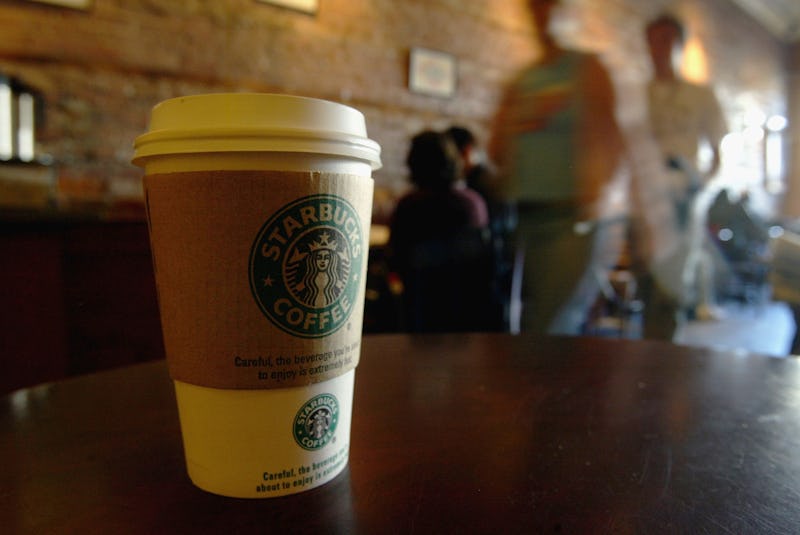 Spencer Platt/Getty Images News/Getty Images
If you're not familiar with the hilarious, adorable and official Twitter account of the Starbucks Pumpkin Spice Latté, you've been missing out. Despite the fact that the PSL is a literal drink with no voice or human attributes, it's so believable it's hard not to imagine each PSL having the same sassy personality that the animated Starbucks cup on Twitter has. I mean, it wears leather jackets, it wears colored sunglasses, it rides on the back of motorcycles, it goes camping, and it wears its whipped topping like a fresh hairdo... basically, the Twitter account is genius, and it exists solely to share PSL news with the world. So, you can imagine my excitement upon noticing on Aug. 24 that the account was reactivated after not being active since Halloween last year. With all the rumors flying around that the PSL could be released very soon, I can only wonder: when is soon?!
In 2016, the account reintroduced the PSL into the world on Sept. 6. This year speculation has lead us to believe it might be out on Sept. 5 (Starbucks did not comment on these rumors when Bustle reached out). But, with a cryptic and alluring tweet coming as early as Aug. 24, could it be possible that the beloved fall drink is coming sooner than we ever imagined? Could pumpkin spice be the new taste of the end of summer, rather than the beginning of fall?
Here's the tweet in question:
Not to make too much over nothing, but "alllllmost back" sounds even closer than "almost back." It sounds like, "rest assured, it's coming so soon you won't even believe it." It sounds like "don't worry your pretty head over the release of the PSL, you're going to be happily surprised." It sounds like "literally get up and leave your office and walk over to Starbucks, because by the time you get there, the PSL will be ready for you."
I mean, if you do recall, last year, before the official public PSL release date, there was a PSL Fan Pass that allowed people to get their hands on a piping hot or Frappuccino cool drink, nearly a full week before the release...
While one tweet might not be enough solid evidence that the release date is looming, there's definitely some activity brewing over at Starbucks, and if you think about it, all signs point towards it being PSL that's brewing. Only time will tell.
Until then, follow PSL on Twitter because it's going to be more entertaining than most of your friends, no offense to your friends, it's just an account worth following.