Fans Can't Stop Talking About Pusha-T's Relentless Diss Track About Drake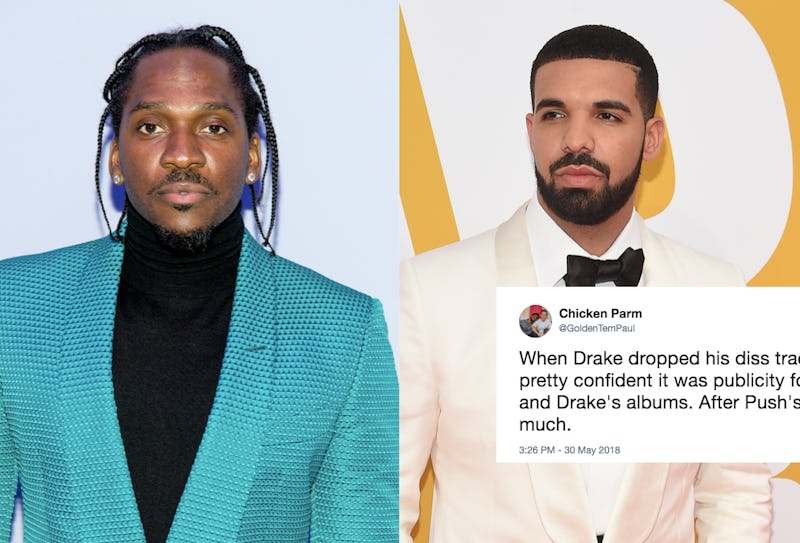 Roy Rochlin/Getty Images Entertainment/Getty Images; Jamie McCarthy/Getty Images Entertainment/Getty Images; GoldenTemPaul/Twitter
As the beef between Pusha-T and Drake continues to heat up, the internet remains undefeated in its reactions to the longtime rivals' back-and-forth banter. It goes without saying that social media always reigns supreme when it comes to weighing in on celeb drama. However, fan reactions to Pusha's "The Story of Adidon" Drake diss are seemingly more relentless than ever this time around.
On Tuesday night, Pusha dropped "The Story of Adidon" (which you can listen to here) in response to the most recent attack by Drake, which took aim at Pusha-T's street cred and lyrical content. Drake also expressed those thoughts on his 2016 diss track "Two Birds, One Stone" which took shots at both Pusha and his G.O.O.D music label mate Kid Cudi. In the "The Story of Adidon," which features a throwback photo of Drake in blackface as its cover artwork, Pusha hits hard at the Toronto-born rapper inferring that he was "always afraid he wasn't black enough." Amid the attack, Pusha-T also shockingly claims that Drake allegedly fathered a child with an adult film star. (Bustle reached out to Drake's team about these claims, but did not receive an immediate response.)
Responding to some of the backlash he's received over the song's cover image, Variety reported that Pusha tweeted, "Please stop referring to this picture as 'artwork' …I'm not an internet baby, I don't edit images…this is a REAL picture…these are his truths, see for yourself." He also added a link to David Leyes' website, the photographer responsible for the picture, according to BuzzFeed.
Shortly after the song hit airwaves, listeners jumped in to share their reactions to Pusha's retort. Judging from their comments, many have their popcorn popped and are ready to watch the situation between Pusha and Drake as it continues to rapidly unfold.
1. Brand Bashing
Music journalist Touré Neblett pointed out that "Adidon" is supposedly the name of Drake's upcoming Adidas line and alluded to the notion that Pusha's latest diss track will have a huge affect on its branding going forward.
2. Somebody Did Their Homework
One listener noted Pusha's commitment to telling his side of the story.
3. Please Explain
Referencing a line from Drake's "Portland" lyrics, another commenter thinks the Canadian rapper has some serious explaining to do.
4. The Beef Keeps Getting Better
Reminiscing on the legendary lyrical beef between JAY-Z and Nas from 2001, this fan thinks that Pusha takes the crown on this one.
5. Next Level
A Twitter fan pointed out how quickly things escalated in Drake and Pusha's feud.
6. Choosing Sides
This commenter is confused about some people's decision about the winner in this rap beef.
7. Secret Formula
Someone knows exactly what Drake needs to come out on top in this feud.
8. Ruthless
Another person points out all of the shocking comments Pusha-T made during his verbal attack on Drake in "The Story of Adidon."
9. Meme Masterpiece
This fan used an epic meme to express their thoughts on Pusha and Drake's battle.
10. This. Is. Not. A. Drill.
Someone initially thought that Drake and Pusha were trying to build hype around their albums, but later found out things were very real when Pusha dropped "The Story of Adidon."
11. Time To Call For Help
Meanwhile, one fan suggested that it was time for Drake to call in some special favors.
While the beef may seem new, fans of the rappers are most likely aware that this feud between Pusha and Drake has been brewing for years. Billboard reported that it dates back as far as the early to mid 2000s with Pusha sending thinly veiled shots Young Money boss, Lil Wayne, and later Drake. Although the seesaw exchanges between Push and Drake were seemingly a bit more spaced out and subliminal in the past, the May 25 release of Pusha-T's new album Daytona, which included a track entitled "Infrared," quickly kicked things into high gear upon its debut. The song, which was not-so-subtly aimed at Drake, once again called into question Drake's ability to write his own lyrics.
Drake immediately fired back with an verbal attack on "Duppy Freestyle," attacking the validity of Pusha's alleged drug dealing past. On the song, he also indicated that he's helped to write songs for Pusha's label head and sole producer of his album, Kanye West. Drake then ended by requesting to be paid from Pusha and West for giving them publicity by engaging in the beef. He later posted an invoice on Instagram asking to be paid $100K for his help.
West has been in the studio finishing up the two albums he's scheduled to drop on June 1 (solo) and June 8 (with Kid Cudi), and he has yet to comment on Pusha and Drake's revived beef, according to Variety. Yeezy's fiercely loyal persona, which has played large role in Pusha's career coupled with the fact that Drake also referenced him on "Duppy," makes it safe to say that 2018 is going to be yet another "Cruel Summer" from the G.O.O.D. Music team.