Putin Hasn't Accepted Trump's Invite To Washington & It's Getting Awkward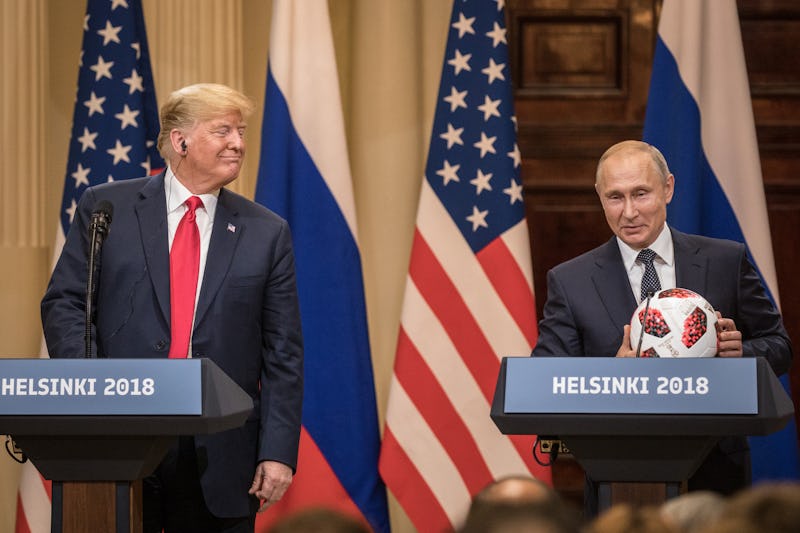 Chris McGrath/Getty Images News/Getty Images
Both the Trump administration and the Russian government praised Trump and Putin's meeting in Helsinki this month as an overall success. The U.S. president was so pleased with the summit that he immediately invited Putin to meet with him again — this time, in the United States. But Putin hasn't accepted Trump's offer to visit Washington yet, and some Russian officials are pointing to American public opinion, Reuters reports.
"After the [Helsinki] summit you know what kind of atmosphere there is around its outcome," Kremlin aide Yuri Ushakov told reporters when he was asked about how Trump behaved at a joint press conference in Helsinki, according to Reuters. "I think it would be wise to let the dust settle and then we can discuss all these questions in a business-like way. But not now."
The Trump administration has claimed that preparations are underway for an additional meeting with the Russian president, but members of the Russian government have denied that this is true, Reuters reports.
"In Helsinki, @POTUS agreed to ongoing working level dialogue between the two security council staffs," Press Secretary Sarah Huckabee Sanders tweeted last week. "President Trump asked @Ambjohnbolton to invite President Putin to Washington in the fall and those discussions are already underway"
Though they say they haven't agreed to visit yet, the Russian Foreign Ministry maintains that Russia is currently focused on tending to the points discussed between Trump and Putin during their private meeting. Most of those details are not publicly known.
"A lot of what the president of the Russian Federation talked about is now being worked through," Russian Foreign Ministry spokeswoman Marina Zakharova said last week, according to The Washington Post. "Relevant instructions are being carried out, and diplomats are beginning to work on the outcomes."
Trump faced fierce criticism after his one-on-one meeting with Putin, particularly because of remarks he made at a press conference immediately afterward. When a reporter asked Trump if he believed U.S. intelligence agencies who have concluded that Russia interfered in the 2016 presidential election, Trump cast doubt on them.
"My people came to me, Dan Coats, came to me and some others they said they think it's Russia. I have President Putin. He just said it's not Russia. I will say this: I don't see any reason why it would be," he said.
Trump later backtracked, saying in a separate press conference that he intended to say that he didn't see any reason why it "wouldn't" be Russia who interfered with the election. However, he faced criticism for the explanation that was comparable to that which he received for making the comments in the first place.
On Twitter, Trump has denounced much of the issues his critics have raised. "The Summit with Russia was a great success, except with the real enemy of the people, the Fake News Media," he wrote last week. He continued:
I look forward to our second meeting so that we can start implementing some of the many things discussed, including stopping terrorism, security for Israel, nuclear.........proliferation, cyber attacks, trade, Ukraine, Middle East peace, North Korea and more. There are many answers, some easy and some hard, to these problems...but they can ALL be solved!
Whether or not Russia will eventually accept the White House's invitation is unclear. For now, they say, they want things to calm down.