Putin Spokesman Calls Out America's "Emotional Obsession" With Russia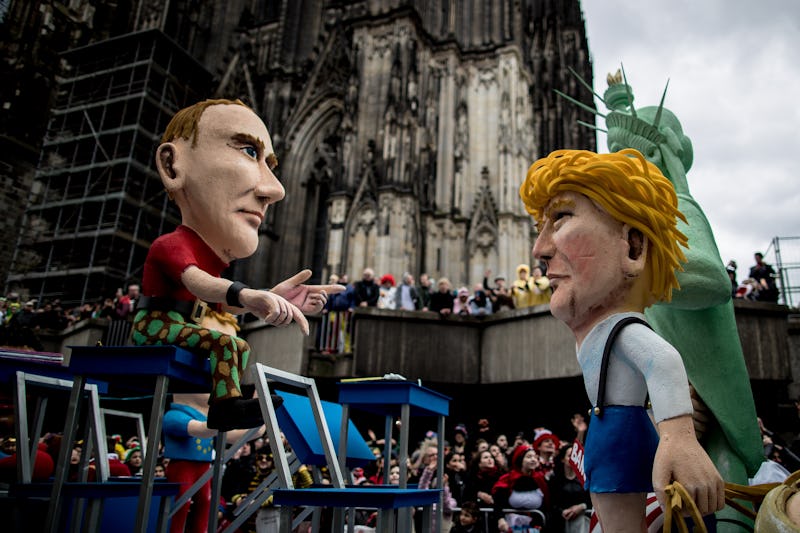 Maja Hitij/Getty Images News/Getty Images
Russia's role in President Trump's election victory remains an ongoing controversy in the United States, and it certainly doesn't seem like the Kremlin is at all pleased about it. Speaking to reporters on the telephone, Dmitry Peskov, President Vladimir Putin's spokesman, noted America's "emotional obsession" with Russia, adding confidently, however, that it "will end soon."
Peskov was talking to reporters about U.S.-Russia relations, a fraught relationship that became decisively more complicated after Trump became president. "We regret the emotional obsession with the so-called Russian factor that is being zealously maintained in America," Peskov said, according to ABC News. "But, on the other hand, we understand that we need to be patient — this obsession will end soon."
As Putin's longtime aid and spokesman, Peskov has an ear planted firmly onto the ground in Moscow; he's more than informed enough to speak to the Russian government's mood on this issue. Taken together with his previous comments on the U.S.-Russia relations — he has lamented claims of Russian interference in the 2016 election and noted that relations between the two are "maybe even worse" today than the Cold War — Peskov's remarks on Friday paint a telling picture of the Kremlin's feelings about its relationship with America, and likely even the Trump administration itself.
The U.S.-Russia dynamic has always been a struggle for international dominance, but Trump's clear admiration for Putin and his openness to improving ties were expected to bring about a new era of relations — one that deeply concerned foreign policy experts and politicians alike. But word of Russia's influence in the presidential election, as well as the investigation into possible collusion between Trump's campaign and Russian officials, tested the tenacity of that alliance.
Trump's sudden firing of FBI director James Comey, who was overseeing the investigation into Trump's Russia ties, further muddied the waters. One day after Comey was let go, Trump and Secretary of State Rex Tillerson met with Russian foreign minister Sergey Lavrov and Russian ambassador to the U.S. Sergey Kislyak at the White House. American journalists, to their shock, were barred from the Oval Office meeting — but not the sole Russian press member, who was allowed to enter. Needless to say, the incident only deepened suspicions of Russia's influence over the Trump administration.
In the call on Friday, Peskov reiterated Moscow's defense against the allegations. "[Russian officials] never interfered in U.S. internal affairs and are not going to do it in the future," he said. As for Putin's own relationship with Trump, Peskov said that the Russian president has "more than once" stated his his willingness to meet his American counterpart and work on their rapport. Putin he said, was ready to "develop our relations as profoundly as our partners in Washington are ready to."