Putin Doesn't Have Bad Days Because He Doesn't Have A Period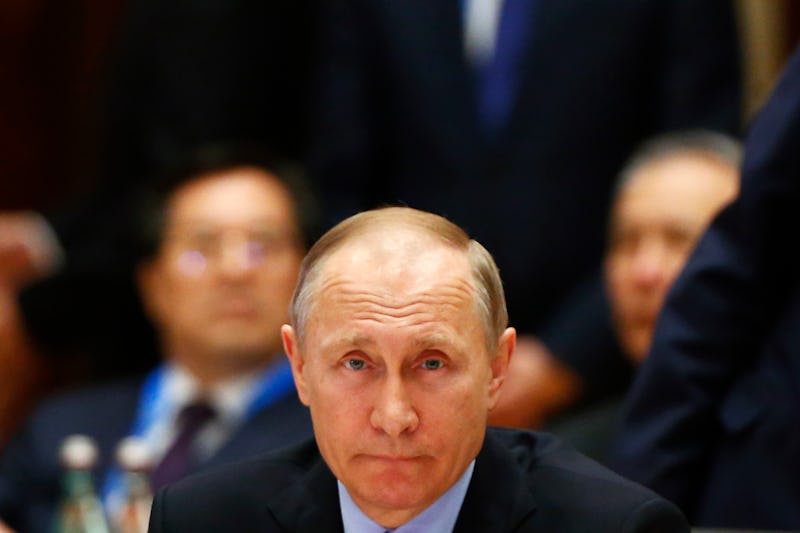 Pool/Getty Images News/Getty Images
Showtime is airing a new documentary entitled The Putin Interviews, which features a four-part series of interviews between Russian president Vladimir Putin and American director Oliver Stone. And featured in the documentary was Putin declaring only women have "bad days," because, you know. Periods.
Putin made these comments as he was offering Stone a tour of the Kremlin's gilded throne room during the filming of the documentary. While discussing why he never has "off" days as a president, Putin said:
I am not a woman, so I don't have bad days. I am not trying to insult anyone. That's just the nature of things. There are certain natural cycles.
Putin's comment that only women have bad days since they are seemingly hormonally obliged to do so is certainly jarring and has received a great deal of media attention. However, it sadly does not fall far out of line with other comments the Russian president has made about women in the past and was just another example of the Russian president's disparaging words and actions aimed at women.
For example, as ABC News reported in 2014, Putin responded to a journalist who had asked about remarks Hillary Clinton made about the Russian president by saying, "When people push boundaries too far, it's not because they are strong but because they are weak. But maybe weakness is not the worst quality for a woman."
Furthermore — and even more egregiously — Putin made widely-publicized remarks in 2006 in which he seemingly praised former Israeli President Moshe Katsav for being accused of raping 10 women. "What a mighty man [Katsav] turns out to be! He raped 10 women. We all envy him." Putin characterized the remarks as a "joke" and blamed the backlash on faulty translation from Russian to English that didn't reflect the true meaning.
But in addition to making inappropriate comments about women, Putin has recently signed legislation that directly harms women — the partial decriminalization of some forms of domestic violence in Russia. The new law, which Putin signed in February, drastically reduces the punishment for a first domestic violence offense in which the victim was not seriously injured by making it an administrative offense instead of a criminal offense. The passage of this law was condemned by human rights groups, which, according to The Guardian, "believe it sends the wrong message in a country where, according to some estimates, one woman dies every 40 minutes from domestic abuse."
Putin's comments about women's supposed "bad days" are once again illustrative of the Russian president's unacceptable stance toward women. It would serve Putin well to monitor his words and actions much more closely.