Queen Elizabeth II Met Prince Louis & Chose The Coolest Mode Of Transportation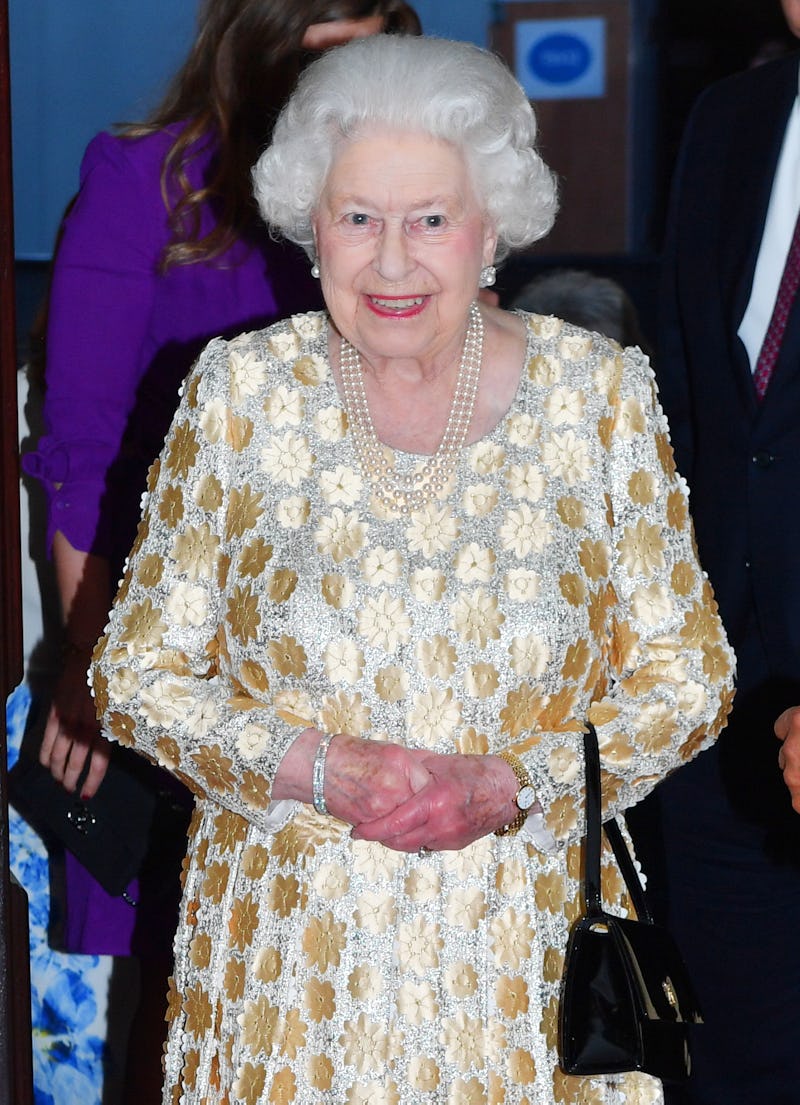 WPA Pool/Getty Images Entertainment/Getty Images
The British Royal Family doesn't mess around. As reported by Vanity Fair, Queen Elizabeth II met Prince Louis. She apparently couldn't wait any longer than she already had to meet her sixth great-grandchild, so she headed to Kensington Palace, where Prince William and Kate Middleton live, on Tuesday afternoon. Guess what? Reuters reports Queen Elizabeth flew in a helicopter from Windsor Castle to Kensington Palace, because she's the queen and can do whatever she wants. (By the way, Google Maps says it would have only taken about 40 minutes driving.)
Sources told Vanity Fair the Queen had been "greatly looking forward" to meeting Louis. A "royal source" also told the publication, "The Queen was very keen to meet her new great grandson and to see [Prince] George and [Princess] Charlotte, so when the Cambridges couldn't make it to Windsor, the Queen went to them."
According to ABC News, the Queen arrived carrying a small bouquet of yellow flowers. Vanity Fair reports they were "handpicked" for Middleton.
The original plan, according to Vanity Fair, was for William and Middleton to visit Queen Elizabeth and Prince Philip at Windsor Castle over the weekend, but for some reason the plans fell through. And Philip couldn't go to the Duke and Duchess of Cambridge because of his recent hip surgery. He is currently at Windsor, where he is recovering.
After his surgery in early April, Kensington Palace released a statement, which partly read, "The Duke of Edinburgh has undergone a successful hip replacement operation. He is progressing satisfactorily at this early stage." After Philip was released from the hospital on April 13, the Palace said in a statement, "His Royal Highness The Duke of Edinburgh left King Edward VII Hospital at midday today, following a hip replacement operation last week. The Duke will continue his recovery at Windsor."
Queen Elizabeth isn't the only family member who has meet Louis. On April 23, HollywoodLife.com reported Prince Harry and Meghan Markle met Louis. A "palace source" told the outlet soon after Louis' birth, "Harry and Meghan stopped by William and Kate's apartment very briefly today, just so they could meet the new [addition] and Meghan couldn't stop smiling. She absolutely loves children, and much like Harry's mom, Princess Diana, she's a natural with them — kids just gravitate towards her."
On April 27, the Daily Express published photos of Carole Middleton leaving her daughter and son-in-law's home. It's probably safe to say she's met her second grandson. According to Vanity Fair, "Carole is making sure Kate is resting and not having too many visitors. Kate made no secret of the fact that she wanted another son, and she's over the moon and so is William. They are loving these slightly crazy newborn days with their happy bundle of joy."
As for Prince Charles, according to ABC News, William's father was set to meet his grandson Wednesday at Kensington Palace. The family was reportedly having a gathering for Charlotte's third birthday, per Vanity Fair, which some royals were expected to attend.
During the birth of Louis, the Queen wasn't anywhere near St. Mary's Hospital, where Middleton delivered her son. Queen Elizabeth was horseback riding at Windsor Castle, the Daily Mail reported at the time. Alongside head groom Terry Pendry, the Queen rode "her beloved black Fell pony, Carltonlima Emma".
It seems like the perfect time for the Queen and Louis to meet. Some people might not understand why she waited so long, but there's no doubt William and Middleton had their hands full with two toddlers and a newborn. Plus, nobody wants a ton of company right away after welcoming another baby into the fold. So the Queen definitely gave them enough time to get settled. And 10 days was apparently as long as she could wait until giving orders to fire up her helicopter and take her to Prince Louis.