Karamo From 'Queer Eye' Is Making Bomber Jackets Because Things Just Keep Getting Better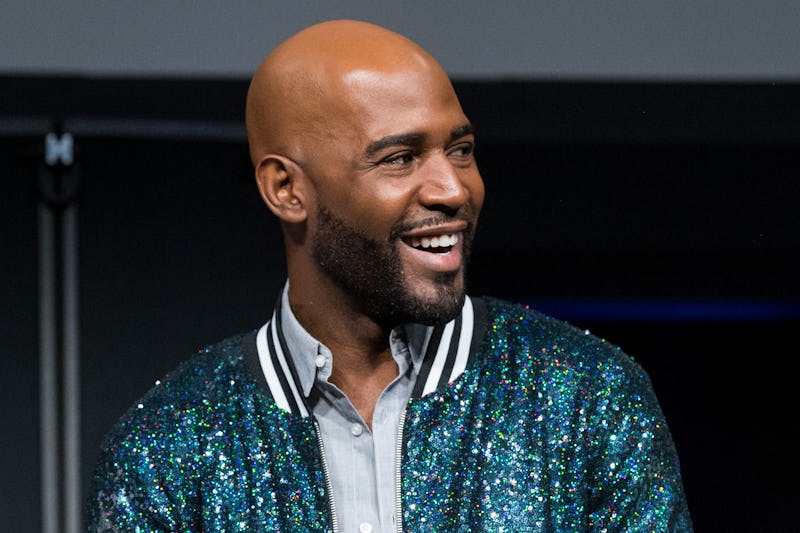 Emma McIntyre/Getty Images Entertainment/Getty Images
Tan France may be the Queer Eye cast members who helps the fashion challenged learn to do a french tuck, but it's Karamo Brown's bomber jackets that are about to be your new must-have. Why Brown, though? Well, if you're a fan of the show, you'll know that each of the men have their own personal style (and all of them are fantastic). However, it's Brown who has a signature look, and that's his bomber jackets.
Have you been to Brown's Instagram account? Have you seen photos of him at events? Watched Queer Eye? Then you've definitely seen this stylish culture guy rocking a bomber jacket. In fact, despite filming in the arguably one of the hottest places in the country (Atlanta, Georgia), Brown continued to wear his signature look for most of Queer Eye's filming. Is there any else more qualified for you to buy a bomber from? No. There's not.
According to Variety, Brown announced his bomber jacket plans at a special Emmy screening of Queer Eye for GLSEN (Gay, Lesbian & Straight Education Network). As for what will be included? It sounds like it's basically all of Brown's staples: prints, patterns, and even a little bit of sparkle thrown in.
Speaking at the event, Brown explained, "It's going to be all sorts of patterns from things that are sparkly to things that are floral to things that you can wear to work." If that weren't exciting enough for you, though, yes, the line will be unisex, and yes, it is coming soon. Other than that, though, there aren't a ton of details available to the public at the moment.
Until Brown decides to release more information about when his bomber jackets will be dropping and where you can snag them, there's plenty of looks that fans can drool over to surmise just what may be coming from the bomber loving star.
His Instagram account is basically an homage to the fashionable item. Even when he's just goofing around with the rest of the Queer Eye men, he's still sporting the style.
Clearly, he's already got metallics down, and fans may just be seeing a few in his line.
That's not all, though. Brown also knows how to rock it in a floral pattern.
Check out how gorgeous this boldly colored bomber's pattern is!
Honestly, Brown's incredible assortment of patterned, printed, multi-hued and metallic bomb jackets just proves that he's the king of the style, and his upcoming line is the Queer Eye item that you never knew you needed.
According to Variety, Brown isn't the only member of the cast launching individual projects. Antoni Porowski is set to launch his own restaurant in New York, and Bobby Berk is launching a home goods collection.
Who knows which of these launches will come first? The thing fans do know is that they'll support anything these men do, and now, they can do it looking bomb in one of Karamo Brown's bomber jackets.