Why Netflix's 'Queer Eye' Is The Emotional Makeover Show You Need To Warm Your Heart This Winter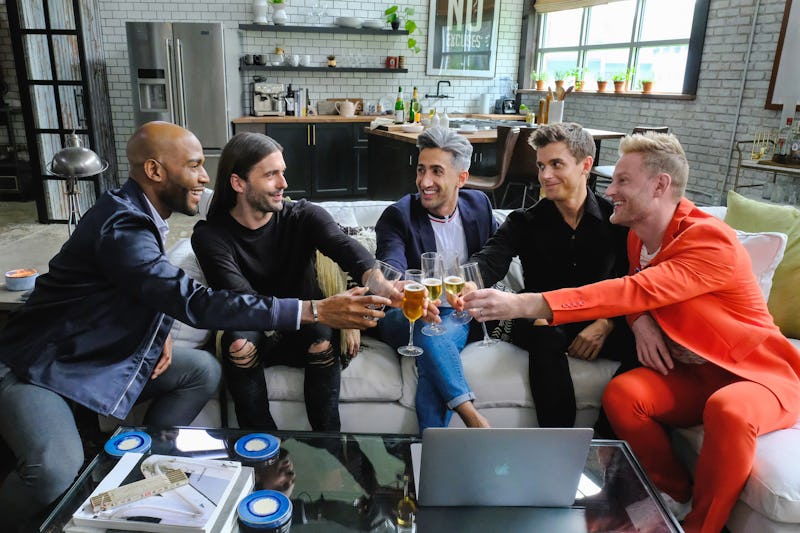 Carin Baer/Netflix
Netflix's new reality series Queer Eye, which premiered in early February, is a reboot of the 2003-2007 Bravo hit. And while the makeover show may seem like something light to switch on while you're getting a jump start on spring cleaning and need a boost of '00s nostalgia, it's actually a heavier but more satisfying life. Because, spoiler alert, the Queer Eye revival is super emotional and heartwarming. Leave your cynicism at the door with your cargo pants, because Queer Eye will give you all the feels — like a leave-in product for the soul.
First, it's no surprise that this show is heartwarming, Any show in which someone gets any kind of major transformation — and loves it — will probably make you grin. The before and after of it all is a huge emotional payoff for participants and viewers. Add to that conceit that the new Fab Five are incredibly supportive of each other and tearfully proud of each guy they're sent to improve. All of those positive vibes are positively infectious.
If you haven't watched either iteration of the show, basically the Fab Five are experts in different fields of self-improvement. They're dispatched together to transform and revitalize the life of a man who desperately needs it, from his eyebrows to his patio furniture. In the new version, Tan France handles fashion; grooming falls to Jonathan Van Ness; Karamo Brown is the culture expert; interior design is Bobby Berk's area; and Antoni Porowski teaches good food and wine.
Even in the original, the makeover was an inside and outside process. But this Fab Five have really committed not just to working to improve the exterior of their subjects. They read through to their psychological and emotional hang-ups as well. The guys are getting to the root of the insecurities that the men they're making over have, ranging from body image to general anxiety to fear of change. Why are their houses a mess? Why don't they take pride in their appearance? This version shortens the Bravo title Queer Eye For The Straight Guy because heterosexuality isn't the answer to all of these questions. In fact, one of the men the Fab Five is called to assist is gay himself.
In 2018, this show isn't just about drab men "getting out of their comfort zone" by talking to a gay man — while still an issue in society, as far as reality TV goes, that's so 2003. The men being helped are learning to be more comfortable in their own skin, to express themselves with better fitting clothing, or even to make a personal leap via something as simple as introducing themselves to someone new at a party or giving a friend a hug when they walk in the door. "When people build [emotional] walls, they end up keeping other people out, but they're also keeping themselves in," Karamo says, at one point.
Want to watch a bunch of men talk about their feelings? Check out Queer Eye. Every episode is a journey. In the first installment, which centers on a truck driver named Tom, you think that he just needs to take better care of himself, and then learn later on that what he wants is to win back an ex that he's still in love with. By the end of the episode, he's successfully asked her out to dinner and the Fab Five are crying watching from their couch.
Also, this time around, we're learning just as much about the Fab Five as we're learning about the men they're making over. In the second episode, "Saving Sasquatch," food and wine expert Antoni talked about his own experience coming out to relate to messy hipster Neal's own insecurities about being judged. They bond over how they both cover their discomfort up with humor. Neal goes from being uneasy about being touched at all to embracing all of his friends at a get together.
In the premiere episode, "You Can't Fix Ugly," interior designer Bobby talks about his husband, which leads to a conversation with the afore-mentioned Tom about why stereotypes about someone being "the wife" in a gay relationship are offensive and flawed. In "To Gay Or Not Too Gay," the group talks to AJ about why some gay men are scared to be seen for who they are. There's a lot to unpack in these brief friendships, and the Fab Five is down to get into it.
In the third episode "Dega Don't," a subject who also happens to be a white cop discusses police brutality and Black Lives Matter with Karamo, a black man. Because while the makeovers may seem magical, the show still takes place solidly in the real world. The show is set in Atlanta — a modern metropolis that happens to be in a red state. Karamo and Corey share their sides of the issue. And later, Corey tells his wife it was the most memorable moment of his entire Queer Eye experience.
Queer Eye is making a point to underline that no matter where you fall on the Kinsey scale, we're all human and we all share the same needs, desires, and struggles. LGBTQ visibility is important — that was true of the original Queer Eye too — but this show aims to expand the concept of conversation, representation, and understanding.
Basically, the new Queer Eye is so much more than menswear and apartment porn. Not only will it make your heart grow three sizes, it's a great exploration of how toxic masculinity can keep men from feeling comfortable being open about their personalities and emotions.