'Queer Eye' Star Karamo's Kids Changed His Life, But For Years He Had No Idea He Was A Father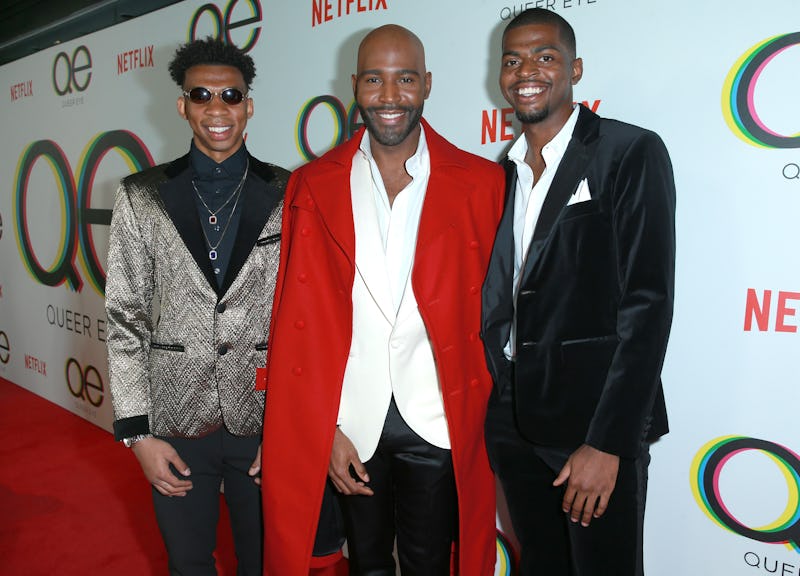 Rich Fury/Getty Images Entertainment/Getty Images
Members of the Fab Five on the new Netflix Queer Eye reboot are used to encouraging the people they're helping to open up and be vulnerable —after all, it's part of their job. But each of the Fab Five do some opening up too, and Karamo, the show's culture guru, has shared with audiences a bit about his untraditional path to fatherhood. Karamo Brown has two sons, but for 10 years, he didn't even know of their existence.
Karamo's life changed forever when he received papers demanding he pay overdue child support, per The Advocate. At the time, Karamo was best known for appearing on The Real World: Philadelphia, the show's 15th season, in 2004. He had no knowledge of having fathered any child. "At first, I thought I was on the MTV show Punk'd," Karamo told The Advocate of the moment that he received the notice. But after doing some digging, Karamo learned that it was anything but a joke: he had a 10-year-old son, a child that he had fathered with his high school girlfriend when they were 15 years old, according to The Advocate. The girlfriend moved away shortly after becoming pregnant, and she and Karamo did not stay in touch, per the same article. She never told Karamo that she was pregnant with their child.
A year after his ex moved away, Karamo came out at the age of 16, according to his interview with Parents.com. So he was more than a bit surprised to find out that he had fathered a son. "I was confused, sad, angry, and weirdly excited to be a dad, but felt lost nonetheless," Karamo told Parents.com. "We were both kids and I don't blame her for the decision she made because the choice was not hers, it was the adults around us."
But Karamo adapted to his new role as a father very quickly. According to The Advocate, Karamo flew out to Texas to meet his son, Jason, who was 10 years old at the time. After bonding with Jason, Karamo received full custody of Jason in 2007, per the same report. "Every single person was over-the-moon elated," Karamo told The Advocate of his family's reaction to finding out he had a son. "At the time, there seemed no possible way I was having a child … unless I adopted later in life. And being a boy, I think everyone wanted for me to carry on the name. They were all over the roof, especially my father."
And soon, a second child joined their brood. In 2010, Karamo adopted Jason's half-brother, Chris, so that the brothers could stay together, per The Advocate. Having two sons to care for meant it was necessary for the former Real World star to adjust his partying lifestyle. "It wasn't until I became a dad that I asked myself how would I feel if my son had the same relationship with drugs and alcohol as I did," Karamo told Parents.com "I quit and have never looked back."
Though he makes it look easy, suddenly assuming the role of a father wasn't painless for Karamo. "The adjustment process was challenging at times. New house means new rules and expectations not just for the children but for me — the parent — as well. Navigating each other's expectations, the move-in, diet, friends, school, and homework can be overwhelming," Karamo told Parents.com. And those new rules included limiting his son's screen time. "Until they turn 18, at 7:00, they have to put their phones in a basket," Karamo told People. "I think it's imperative that we start to figure out a way that kids can learn how to disconnect."
And though Karamo might seem like a chill, easygoing guy on the show (which he totally is!) his kids revealed in an interview with Slate that he's actually a pretty strict parent. When asked about his dad's parenting style, Jason didn't mince words:
...I'm going to totally go ahead and say [Karamo's parenting] was strict. It was totally strict. There were complete moments where my dad was the coolest dad, he took us go-carting, he took us laser-tagging, he rented out so many places. He's actually a really cool dad if you follow what he has to say.
But Chris also seemed to grateful for how strict his dad was:
A lot of kids think it's bad when their parents are strict, but I think as a child I needed that from my parents, or at least from my dad. I needed that because that helped me create self-discipline, so I know some things I can't do and some things I can.
It's clear that Karamo has taken to being a dad as well as he's taken to being a member of the Fab Five. And in typical Karamo fashion, he couldn't end his Parents.com interview without an inspirational call to action. "When people hear my story, my hope is always that they start to believe that the life they want is possible for them because I am living the life I've always dreamed," Karamo said. "In our country being from immigrant parents, growing up black in the South, coming out at 16 years old, being a teen parent… you would assume that my life would amount to nothing. And here I stand today. So, if I can do it… you can too!"
How's that for a little bit of Fab Five wisdom?