The Original 'Queer Eye' Wasn't Perfect — Here's How The Reboot Is Righting Those Wrongs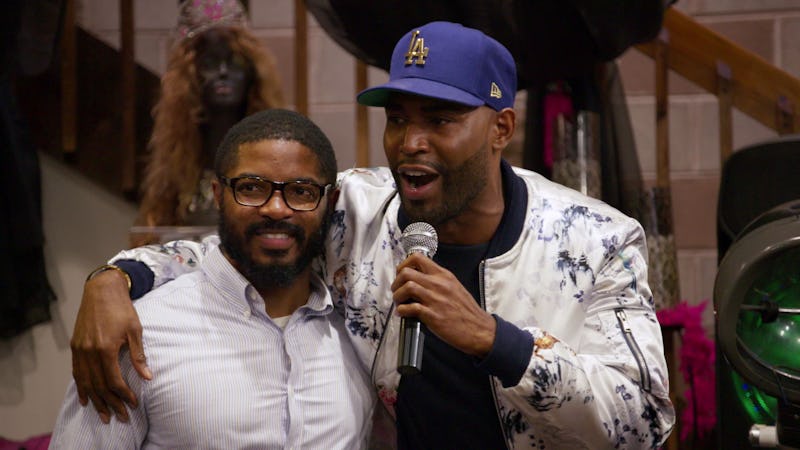 Netflix
In Netflix's 2018 reboot of the classic Bravo show Queer Eye there is, of course, a new Fab Five. And according to Karamo Brown, the culture expert of the new Queer Eye, this updated version of the show is much more inclusive of the broad gay experience. "What I think is great about this incarnation is that I doubt there's going to be anyone that feels like [they're] not represented or seen," Brown says, speaking over the phone ahead of the premiere. "Obviously, there's only five guys, so you can't represent everyone completely, but we all have aspects that we feel like the community will be able to say, 'Oh, I kinda see myself.'"
To Brown, the most important part of being on the show is what it will mean for others, especially LGBTQ youth. That's because just seeing another gay person on TV meant so much to him.
"I just remember me being a little, gay boy running home after school to watch RuPaul, his talk show on VH1 back in the day," Brown says. "I would run home after school so I could watch it before my parents came home."
Watching RuPaul validated Brown's experience; he saw someone like him in media. And that's exactly the legacy he wants to leave in this rebooted version of Queer Eye. "It's important for shows like this because it lets children know first of all, that their experiences and their lives are valid and worthy," he says. "It lets them know that it's possible, life is possible … It's so amazing that kids now will be able to see this and say, if they're doing it, I can do it and I can do even more than what they're doing. Because that's our real goal."
Of course, this is a brand new series on another network, so don't expect an exact replica of the original Queer Eye. The new Fab Five is the most obvious change, and Karamo says that it was high priority for the series to be more diverse and inclusive.
"What [the original show] did was groundbreaking … it started a conversation that was pretty amazing, even though, it wasn't culturally inclusive, to a degree," he says. "But we switched that, the creators of the show, Netflix, were like, 'We're going to make sure we're more diverse.'"
And for Brown, this change is very personal. He's thrilled that the show explores the gay experience not just as a white experience. (Tan France, the show's new fashion expert, is a gay Muslim man.) That was a barrier to entry for him with the first series, Brown says — one of the reasons he didn't see all of it.
"The one factor that I did love about it, ironically, was [Jai Rodriguez, original culture expert]," Brown says. "He still brought this Puerto Rican realness to the show that I appreciated and that was one of the things that drew me and my friends in."
The way Karamo approaches his role as the culture expert is updated, too. It won't be just museums and Broadway musicals with this cast member. "A lot of times we don't see gay men in athletic roles," he says. "We try and pretend we all are always shopping or always dining. And we do, don't get me wrong. But we're also athletic. We're diverse in so many ways and I think that's going to be amazing for people to see." Even the "heroes," or those people that the Fab Five help out will be different this time around. They won't all be straight men, hence the shortening of the original series name, Queer Eye For The Straight Guy.
The new Queer Eye is not the father of two's first foray into the world of television. Brown was the first openly gay African-American person on reality TV when he appeared on MTV's Real World: Philadelphia in 2004. Since then, he's had a number of different jobs, including being a social worker. One of the most impactful outlets for him though, has been his political advocacy for the LBGTQ community. Recently, he started his own non-profit called 6in10.org. Its main goal is to provide support to gay and bisexual black men as work continues to eradicate the HIV/AIDS epidemic that is plaguing that community.
Despite all of his previous experiences though, getting the news that he was chosen for the show was one of the most exciting moments of Brown's life. "I felt like everything I've done has been working towards this moment," he says. "From the Real World and figuring out who I was young and having that impact to, getting into politics and when I started working as a social worker, and helping people ... I feel so honored to be part of the show."
That doesn't mean that the new Queer Eye is separate from the old show, though. After admiring Rodriguez on the show, Brown actually became friends with him. "We're both from the same town and so we would see each other at the club and have mutual friends," he says. "He's just someone I always respect."
With the secrecy around the new show, Brown couldn't share with Rodriguez that he was taking his old job. However, when the news broke, Rodriguez reached out. "The minute he was able to find out, he has been nothing but supportive," Brown says, adding that all of the previous Fab Five have been that way. He also hints that they may make an appearance at some point in the new series.
"I believe that there will be some things where the old Fab 5 and the new Fab 5 get together," he says. "I can't say in what capacity."
Though he'll be making some other dreams come true on this series, don't expect Brown to be giving up on his own. "For me as an entertainer, my goal has been for everything to combine," he says. "I'm going to have to have my own show, which I still want one day and I'm working towards. But right now, [Queer Eye has] come ... it's so exciting for me, and I feel really good about it."