'Queer Eye's Karamo Addressed Shania Twain's Polarizing Trump Comments With An Open Heart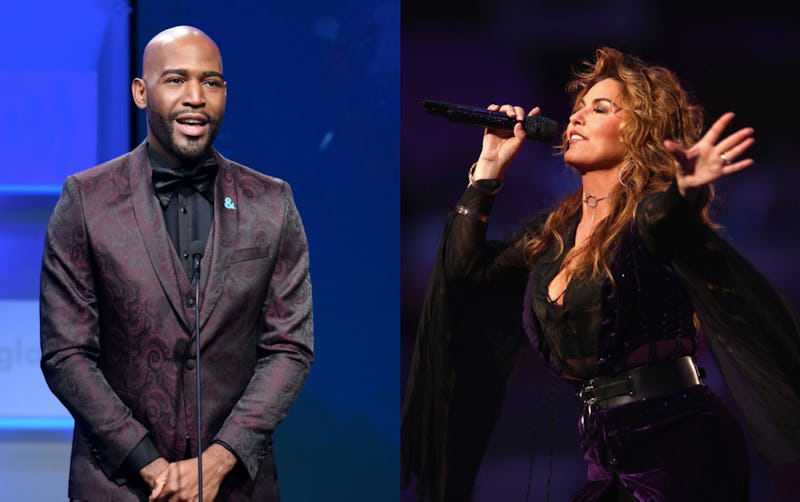 Vivien Killilea/Getty Images Entertainment/Getty Images; Clive Brunskill/Getty Images Sport/Getty Images
Canadian singer Shania Twain sparked outrage after a recent interview with The Guardian, stating that she would've voted for Donald Trump in 2016, had she been a U.S. citizen. Despite her comments, Queer Eye star Karamo Brown is encouraging LGBTQ fans to forgive Twain, according to Billboard.
In a Facebook Live interview with entertainment journalist Marc Malkin on Tuesday, Brown, the Netflix show's culture expert, said,
"As a community we are very forgiving. It's in our nature because we have been treated so bad by people in our family and our friends who didn't accept us as we go on our journeys, that we've learned how to be empathetic and to forgive and I believe that as a community we will again."
Brown continued, "That one vote doesn't define her as a woman." As a refresher, plenty of people expressed outrage on social media at the country-pop superstar's comments that she would have voted for Trump "because, even though he was offensive, he seemed honest." The singer continued, "Do you want straight or polite? Not that you shouldn't be able to have both. If I were voting, I just don't want bullsh*t. I would have voted for a feeling that it was transparent. And politics has a reputation of not being that, right?"
On Sunday night, Twain later backtracked, stating in a series of tweets that the question took her by surprise and stressing that her answer did represent her views. She wrote:
"I would like to apologise to anybody I have offended in a recent interview with the Guardian relating to the American President. The question caught me off guard. As a Canadian, I regret answering this unexpected question without giving my response more context"
Twain continued, "I am passionately against discrimination of any kind and hope it's clear from the choices I have made, and the people I stand with, that I do not hold any common moral beliefs with the current President."
Still, LGBTQ fans were disappointed in Twain, who has a large gay fanbase and has been a favorite of the community for years. When Billboard asked Twain to address her gay fans during an interview August 2017, she said, "It's so difficult to face your fears and I think a lot of people in this day and age are hopefully getting more comfortable with who they are and who are they are in their own skin."
In 2004, talking about her hit "Man! I Feel Like A Woman," Twain told The Advocate, "It's not only girl power, it's gay power ... I think that song really stands for both," and she was even a guest judge on RuPaul's Drag Race as recently as last Thursday.
Following the Trump comments, Twitter users expressed their shock and some even called for a boycott of Twain and her music. One wrote, "Shania Twain was JUST on an episode of RuPaul's Drag Race a few days ago, and now the gays are hearing she would've voted for Tr*mp??? yikes," while another wrote, "SHANIA TWAIN IS CANCELLED LADIES!!"
One fan expressed his sorrow at Twain's comments, recalling feeling empowered while listening to her music as a kid:
"Feeling really sad about Shania Twain's cancellation. As a kid, my dad would play her greatest hits album as he drove us for hours to Boy Scout camp. Listening to her music in his car was so freeing because I could be as gay as I wanted before code switching at camp for a week"
After Brown's comments began to circulate, some people online have been resistant to his recommendation. And it looks like that forgiveness might not come anytime soon.
Twain, who released her long-awaited album, NOW, in September 2017, is due to kick off her North American tour on May 3. So it remains to be seen whether fans will eventually accept her apology, like Brown suggested.