What Happens To Your Body When You Stop Vaping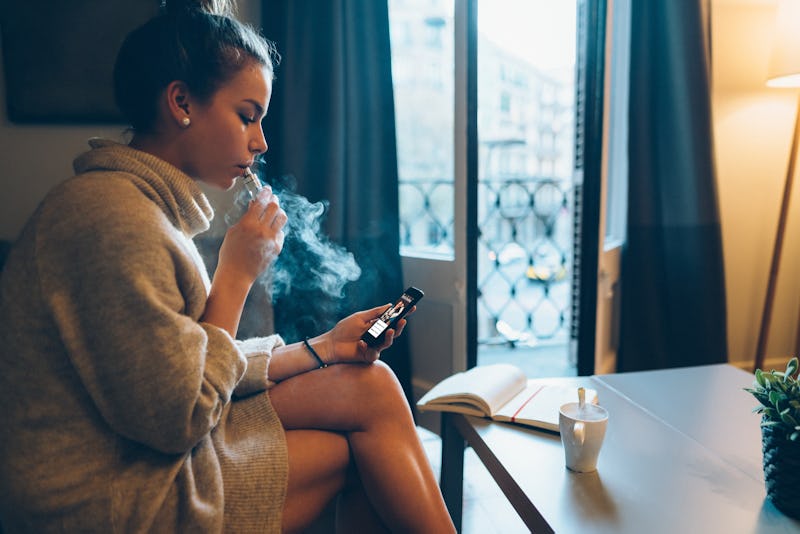 martin-dm/E+/Getty Images
Vaping devices, whether they use nicotine or flavored chemicals, are proving to be more damaging for health than users might have anticipated. Studies have now revealed that vaping products, even those that don't involve any nicotine, can still cause health issues: they can contain heavy metals and chemical flavors that have been linked to lung disease, according to the Surgeon General's office. If you're trying to quit vaping, experts say, your body may react in many ways — but there's still quite a lot we don't know about vaping and how to quit it most effectively.
"While we know about how the human body rebounds after quitting cigarettes, with vaping it really depends on the chemical, frequency, and the amount used to vape," Dr. Osita Onugha, M.D., assistant professor of thoracic surgical oncology at John Wayne Cancer Institute at Providence Saint John's Health Center, tells Bustle. Your own reaction to quitting will depend on what you vape — generally, nicotine, marijuana, or flavored chemicals, says Dr. Onugha — how you do it, how long you've had the habit, and a variety of other factors.
There isn't one uniform way in which the human body reacts to quitting vaping, in part because there's so much variation in vaping products themselves. Scientists can make assumptions based on what they've observed in people who vape, but in the end, your own bodily reactions to quitting vaping will be pretty individual. Here's a guide to what might happen.