Quotes From Taylor Swift Testifying Show She Won't Back Down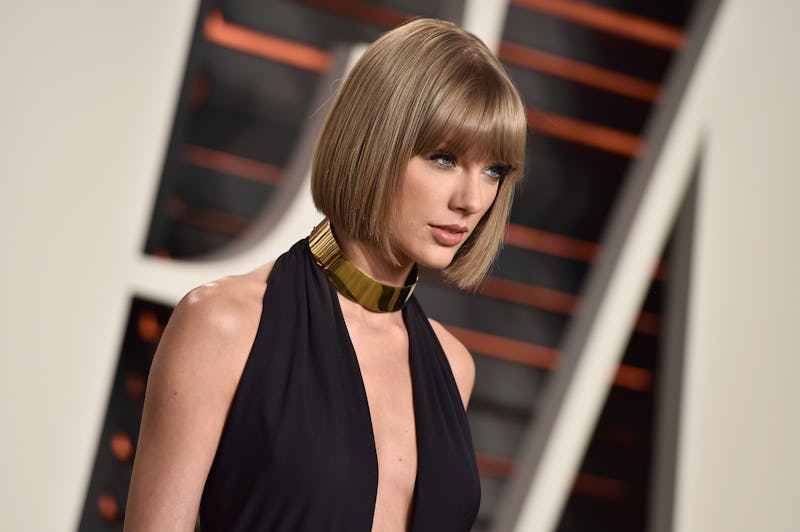 Pascal Le Segretain/Getty Images Entertainment/Getty Images
On Thursday, Taylor Swift took the stand in the trial regarding the allegations she made against former KYGO radio station DJ David Mueller. Swift alleges he groped her while taking a photograph with her before her concert in Denver, Colorado on June 2, 2013, which he denies. It's clear, that based on the quotes from Taylor Swift's testimony on Thursday that she refuses to back down.
In front of an eight-member jury, Swift stood by her claims previously revealed in court documents (via USA Today) in which she alleged, "[Mueller] took his hand and put it up my dress and grabbed onto my ass cheek." She also claimed in a deposition, according to Time, "It was not an accident. It was completely intentional, and I have never been so sure of anything in my life."
The photograph in question, shows Mueller with his right hand behind Swift. According to the Associated Press, Swift's side believes the photo proves groping happened, whereas Mueller's side says it shows him jumping into the photo.
In September 2015, Mueller filed a lawsuit in which he claimed Swift's accusations were false and led to him getting fired from his job at KYGO. Per BuzzFeed, according to court documents, Mueller's job cited "the morality clause in his contract" because they believed he changed his story regarding the alleged incident. Swift countersued Mueller in October 2015, and also accused him of assault and battery, according to BBC News. Mueller's lawyer, Gabriel McFarland, claimed during opening statements on Tuesday, "David Mueller unequivocally denies he touched her inappropriately in anyway. No inappropriate contact that is Mr. Mueller's position."
Now that the 1989 artist has testified, she has made it very well known that this is one battle she's not only fully invested in, but one that she will passionately fight.
She Explained The Set Up Of The Meet-And-Greet
She's Not Critical Of Her Bodyguard For Not Stepping In Anything
She Contradicted Mueller's Testimony
She's Used To Criticism
She Was Unwavering
She Repeated This Phrase More Than Once
She Alleged The Situation Was Different Than Most Photos
She Refused To Take Blame
Swift was only on the stand for under an hour, but that's obviously all she needed to get her point across.