These Quotes From The Harvey Weinstein Expose Reveal How Huge The Allegations Really Are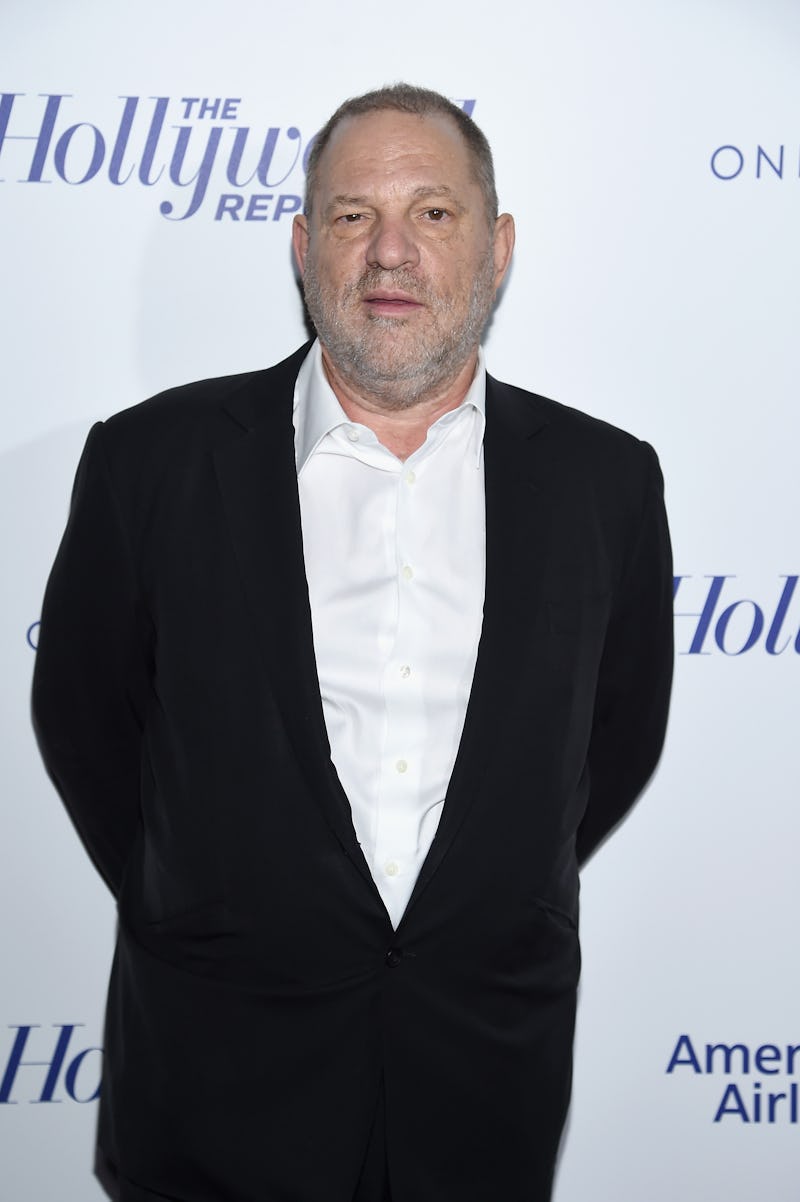 Dimitrios Kambouris/Getty Images Entertainment/Getty Images
On Thursday, Oct. 5, The New York Times published an expose about Harvey Weinstein and his alleged behavior towards numerous women in Hollywood. The lengthy reported piece features several claims from women in the industry alleging that the film and television producer mistreated and/or took advantage of them. These reports are dated as far back as 20 years ago.
Weinstein has released a statement in regards to the expose in which he appears to acknowledge the claims, saying: "I appreciate the way I've behaved with colleagues in the past has caused a lot of pain, and I sincerely apologize for it. Though I'm trying to do better, I know I have a long way to go."
The statement also states that he came of age in Hollywood in the '60s and '70s and that in addition to stepping down from running Weinstein pictures, he will be focusing his energy on combating the NRA and "our president."
However his lawyer, Lisa Bloom, has released her own response, claiming that not all of the accusations are true, telling the Times: "He denies many of the accusations as patently false."
UPDATE: According to The Hollywood Reporter, attorney Charles Harder says Weinstein is planning to sue the New York Times. The statement reads,
"The New York Times published today a story that is saturated with false and defamatory statements about Harvey Weinstein. It relies on mostly hearsay accounts and a faulty report, apparently stolen from an employee personnel file, which has been debunked by 9 different eyewitnesses. We sent the Times the facts and evidence, but they ignored it and rushed to publish. We are preparing the lawsuit now. All proceeds will be donated to women's organizations."
While the truth of the matter is being investigated, these allegations and the claims against Weinstein should be treated with gravity and care. And there are many quotes within the New York Times piece that reveal just how huge these accusations really are.
"'How do I get out of the room as fast as possible without alienating Harvey Weinstein?' Ms. Judd said she remembers thinking."
The article opens with an anecdote from actor Ashley Judd, where she recalls arriving at what she thought would be a breakfast meeting at Weinstein's hotel 20 years ago. She alleges that he asked if he could "give her a massage... or she could watch him shower," the article states.
"In 2014, Mr. Weinstein invited Emily Nestor, who had worked just one day as a temporary employee, to the same hotel and made another offer: If she accepted his sexual advances, he would boost her career, according to accounts she provided to colleagues who sent them to Weinstein Company executives."
This account shows another woman alleging that a eerily similar account between herself and Weinstein took place.
"An investigation by The New York Times found previously undisclosed allegations against Mr. Weinstein stretching over nearly three decades, documented through interviews with current and former employees and film industry workers, as well as legal records, emails and internal documents from the businesses he has run, Miramax and the Weinstein Company."
If these allegations are true, this means Weinstein has allegedly been mistreating women since the '80s.
"Mr. Weinstein required her to have casting discussions with aspiring actresses after they had private appointments in his hotel room..."
This allegation comes from a memo written by Lauren O'Connor, a former employee of Weinstein, penned in 2015. O'Connor, however, declined to be interviewed for the NYT article.
"I am a 28 year old woman trying to make a living and a career. Harvey Weinstein is a 64 year old, world famous man and this is his company. The balance of power is me: 0, Harvey Weinstein: 10."
This also comes from the same memo written by O'Connor.
"Dozens of Mr. Weinstein's former and current employees, from assistants to top executives, said they knew of inappropriate conduct while they worked for him. Only a handful said they ever confronted him."
If this is true, it is a startling and horrific reality, and likely made it more difficult for his alleged victims to come forward.
"Mr. Weinstein enforced a code of silence; employees of the Weinstein Company have contracts saying they will not criticize it or its leaders in a way that could harm its "business reputation" or "any employee's personal reputation," a recent document shows."
This further proves how impossible it must have seemed for those who knew what was allegedly was happening to speak up.
"Ms. Judd said in a recent interview, 'Women have been talking about Harvey amongst ourselves for a long time, and it's simply beyond time to have the conversation publicly.'"
If these allegations are proven to be true, the Times article could potentially help expedite this conversation.
"Across the years and continents, accounts of Mr. Weinstein's conduct share a common narrative: Women reported to a hotel for what they thought were work reasons, only to discover that Mr. Weinstein, who has been married for most of three decades, sometimes seemed to have different interests."
And it's hard to ignore the numerous claims that have come forth within this article.
"In interviews, eight women described varying behavior by Mr. Weinstein: appearing nearly or fully naked in front of them, requiring them to be present while he bathed or repeatedly asking for a massage or initiating one himself."
It's obvious that these reoccurring accounts do not bode well for Weinstein moving forward.
"'I said no, a lot of ways, a lot of times, and he always came back at me with some new ask'," Ms. Judd said. "'It was all this bargaining, this coercive bargaining.'"
Judd alleges that Weinstein tried to escalate their hotel "meeting" into something sexual.
"In 1997, Mr. Weinstein reached a previously undisclosed settlement with Rose McGowan, then a 23-year-old-actress, after an episode in a hotel room during the Sundance Film Festival."
Again, the article alleges a similar trend of alleged wrong behavior.
"In March 2015, Mr. Weinstein had invited Ambra Battilana, an Italian model and aspiring actress, to his TriBeCa office on a Friday evening to discuss her career. Within hours, she called the police. Ms. Battilana told them that Mr. Weinstein had grabbed her breasts after asking if they were real and put his hands up her skirt, the police report says."
These allegations continue to be numerous and horrendous in nature. Reports on both sides — from the alleged victims and Weinstein — continue to unfold, and the Times' article appears to be just the beginning of this necessary conversation.
If you or someone you know has been sexually assaulted, call the National Sexual Assault Telephone Hotline at 800-656-HOPE (4673) or visit online.rainn.org.