13 Craziest Quotes From The Trump-Howard Stern Archives That Will Make You Go "WTF?"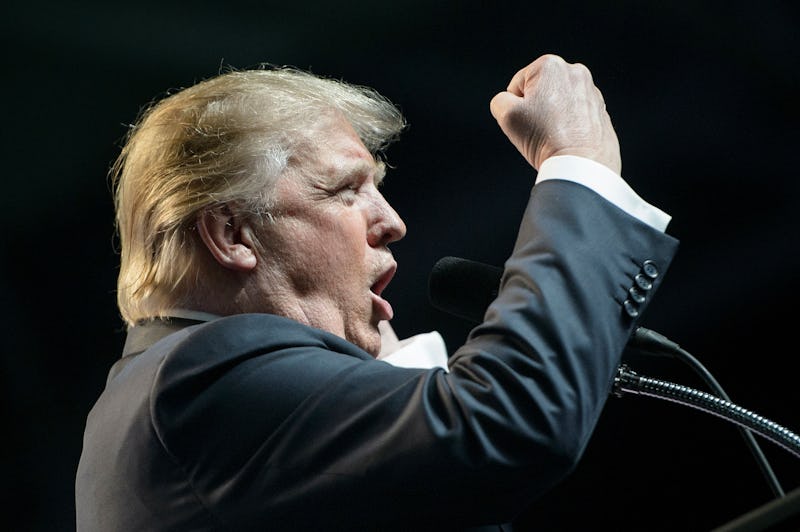 BRENDAN SMIALOWSKI/AFP/Getty Images
Earlier this month, an organization called Factbase acquired nearly 15 hours of archived audio from interviews that radio show host Howard Stern conducted with Donald Trump from 1993-2015. The organization transcribed nearly all of this audio and published the related transcripts on Monday. Perhaps unsurprisingly, the Trump/Stern archives include a myriad of crazy quotes, with the now-president sharing his thoughts on many aspects of life.
Trump was a frequent guest on The Howard Stern Show in his pre-presidential days. As Newsweek reported, Trump has actually talked to Stern more than any other journalist or media personality. Stern has always refused to release archives of his radio chats with Trump over the years, saying he felt like doing so would have been a betrayal to Trump, who willing came on Stern's show for over 20 years.
Stern has publicly remained steadfast in his refusal to release the tapes and their recent revelation is not attributed to him, but rather an anonymous source who sent the files to Factbase via a DropBox file earlier this month, as Newsweek reported.
Some of the banter on the tapes is mundane, while other segments are quite shocking. Indeed, Trump offers his very blunt assessments on a variety of topics: his daughter's body, his role as a father, and what he believes is President Obama's inability to "act presidential," just to name a few.
Trump's most memorable Stern archive quotes about these topics, and many others, are shared below.