Rachel Bloom Hopes Her 'Crazy Ex' Songs Make You Feel Less Alone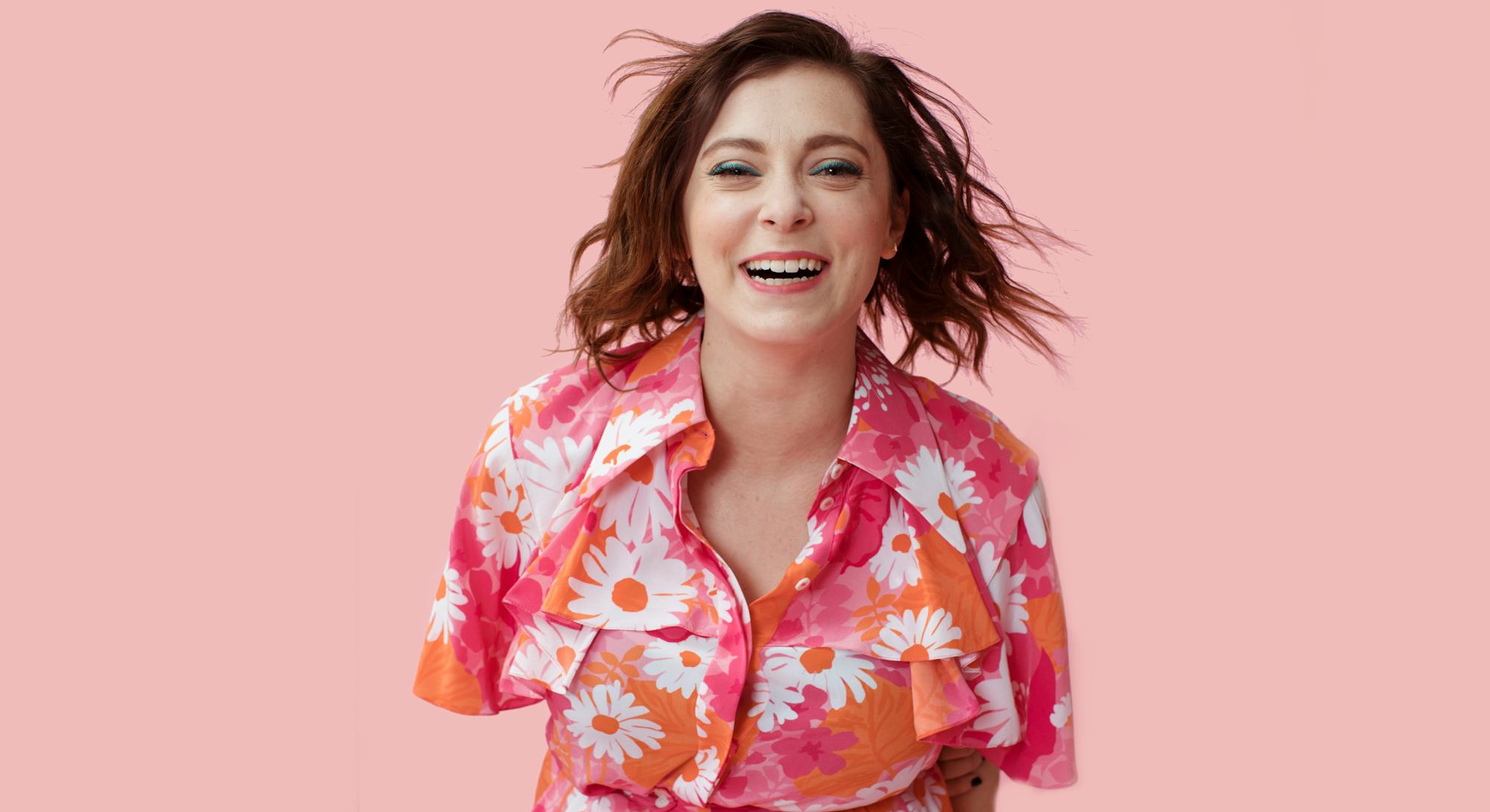 Ashley Batz/Bustle
Throughout July, Bustle's Comedy IRL package is featuring photoshoots, profiles, and stories of the women in comedy who are using their craft to elevate female voices and speak out on important issues. Comedy is powerful as hell, and we're toasting the women who prove it. Check out the whole package here.
If you have heavy boobs, you probably know and love the woman who wrote the one and only anthem dedicated to your precious mams: Crazy Ex-Girlfriend's Rachel Bloom. Thanks to the TV musical comedy she co-created alongside Aline Brosh-McKenna, so many of life's most uncomfortable truths (including "Heavy Boobs") now have punny tunes to help fans laugh through the pain... and envy... and awkwardness... and every other uncomfortable emotion humans experience.
For those of you who've yet to experience the ballad of boobs in all its glory, a song about a woman's breasts probably sounds crass and borderline desperate. But much like the series' title, the song is, frankly, a lot more nuanced than that.
"The idea of having heavy boobs, it's a body type thing," says Bloom when we speak at the Bustle offices in late May. "Because you have trouble fitting in bras, and it's separate from the weight aspect of it ... [it's] interesting because boobs are so sexualized, yet the type of body type that lends itself to having big boobs is sometimes not sexualized."
As a woman who refers to herself as voluptuous, this is something Bloom has clearly spent much of her life dealing with. "We deify boobs and yet they're really meant to feed babies and are sacs of yellow fat," she says, dropping her words like a hammer on the patriarchy.
This matter-of-fact way of looking at life's weird truths is what makes devoted fans flock to Crazy Ex like fruit flies to a glass of rosè. Bloom, and the songs she writes with co-producer Jack Dolgen and executive music producer Adam Schlesinger, just seem to get it. From the times when our heroine, Rebecca, sings about how she totally definitely has a lot of real friends who hang out with her all the time (the aptly titled "I Have Friends") to her BFF Paula singing operatic verses with extreme detail about just how disgusting it can feel when your period strikes ("I have to take a dump/ So I have to rush home/ Plus I also have my period/ So I have menstrual cramps/ Plus dump cramps/ And as I run frantically/ I pee just a little/ Because I've had two babies/ So by the time I get home/ My undies smell like/ A sewer rat!") these songs can be almost too real.
Take, for example, one character's song about the fact that being a father to a daughter is probably one of the most uncomfortable feelings of all time. Rebecca's boss, Daryl, sings what is arguably one of the most controversial songs of the series two-season run: "I Love My Daughter (But Not In A Creepy Way)." It's easy to see why lyrics like "I'm very careful where I tickle my daughter/ Never inappropriately/ I can see how that came out a little confusingly" could rub some audience members the wrong way — the song digs into corners of reality that many of us would prefer not to think about. But according to Bloom, the biggest fan of that song is actually her own father.
"My dad was like, 'That song is how it feels,'" she says. "'It is weird to have a daughter because I don't wanna be cold, but I don't wanna touch her in ways that are gonna traumatize her. I'm a man, she's a little girl, also I gotta change her [diaper].' It just taps into the fact that my dad is a bit socially awkward, but that song really to me, really spoke to me."
And Crazy Ex-Girlfriend songs have a tendency to do that very deliberately. For Bloom, who's been open about her own battles with anxiety and depression, these songs are a way to have a conversation with those who are going through similar issues or wrestling with similar thoughts — almost like group therapy.
"The way that I cope with things is to get them out in the open, because when I've been in my worst states with being anxious or depressed, the worst thing is how alone I feel and how in my head I feel, and the more I kind of vomit it out to the world, it's sort of like letting the air out of a balloon," she says. "We are going to have these dark weird thoughts and so why not just be open about them and realize that you're not alone?"
And even when the subject is as simple as feeling OK about your body, eliminating that idea of loneliness is worth its weight in boobs.
Makeup: Alex Byrne for Exclusive Artists using DHC Skincare
Hair: Marc Mena for Exclusive Artists using Philip B. Haircare
Design: Bry Crasch, Brit Phillips/Bustle
Styling: Gabrielle Prescod, Kara McGrath/Bustle
Booking: Guillermo Perez/Bustle