Rachel Bloom Buying Her Own Emmys Dress Shows Just How Exclusionary Red Carpet Fashion Still Is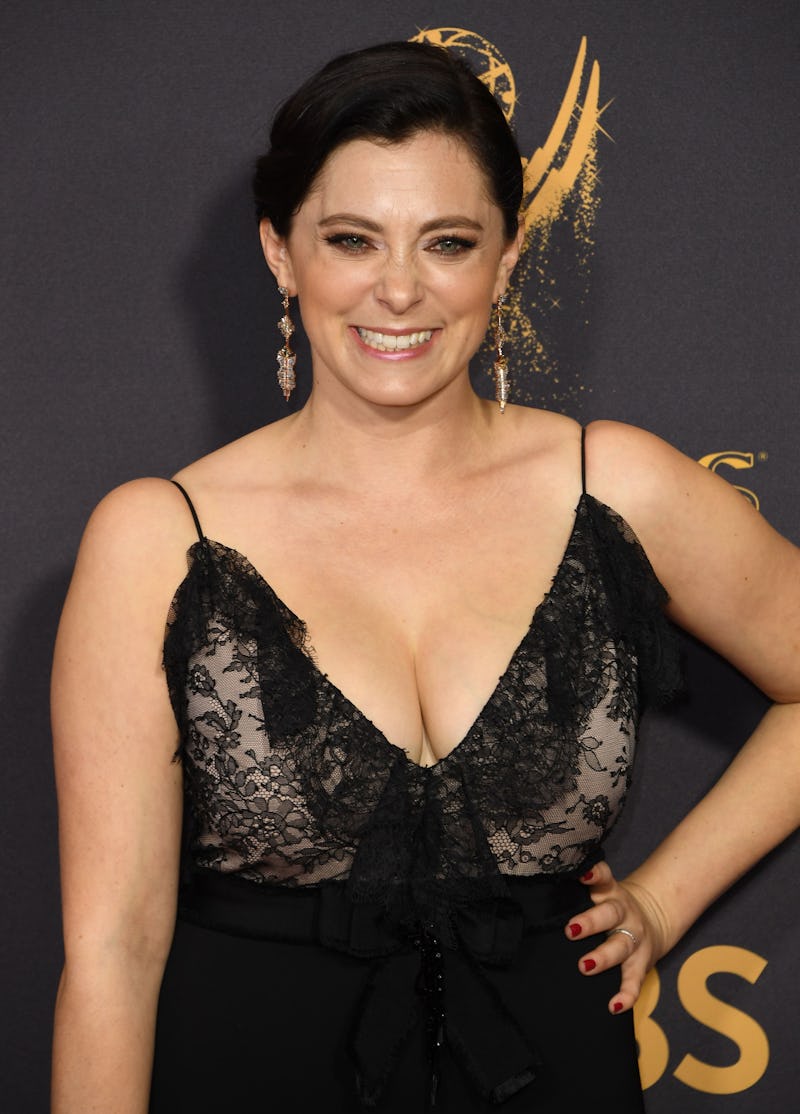 MARK RALSTON/AFP/Getty Images
When it comes to red carpet interviews, the response to the oft-asked question, "What are you wearing?" typically leads to celebs talking about the amazing sponsored gowns. Well, not this time. Actor Rachel Bloom bought her own Emmys dress, as she always does and she wasn't shy about letting people know. But the origin of the dress wasn't entirely her choice, and it highlights a big problem with the fashion industry.
Bloom stepped onto the 2017 Emmys red carpet wearing a gorgeous black and white, lacy Gucci dress. She paired the gown with a simple up-do and teardrop earrings. The look might not have been the most eye-catching attire at the event, but Bloom used her dress to make a big statement about inclusivity in fashion.
"I bought this dress because Gucci is not lending me a dress," she told E! News correspondent Giuliana Rancic in her red carpet interview. "It's hard to get places to lend me dresses because I'm not a size zero. But I'm also at a place where I can afford it, so …"
It's not exactly the brand name-dropping response that you'd expect from a celebrity, but her honest answer highlights a major problem in Hollywood fashion. Though there is a major push for diversity in television, many designers don't want to dress actors above a size 2 when they finally get some much-deserved recognition.
Bloom isn't the only woman who has had a hard time finding a designer to dress them for major events. Plenty of celebrities who aren't of sample size, like Aidy Bryant and Leslie Jones, have expressed their frustration with finding any designer who will dress them for events.
In June 2016, for instance, Jones was having a hard time finding a designer to dress her for the Ghost Busters premiere, and took to Twitter to blast the fashion industry for its exclusivity. Thankfully, Christian Siriano came to the rescue with just two emojis on Twitter. The two A-listers have a great friendship to this day, with Jones donning his design to this year's Emmys.
Bloom's approach, however, was just as masterful as a Twitter callout, albeit a lot less public. She took control of her own look, which is a powerful option — if you have the money to splurge.
Still, it's unfortunate Bloom has to dish out dollars for her own digs just because she wears a slightly larger size than the usual 0 or 2 designer sample size.
In August, Bloom told People that she'll spend about $3,000 for a red carpet gown just because she isn't a sample size. According to The Cut, Bloom's 2017 Emmys dress by Gucci retails for about $3,500, fitting her previously stated budget.
Bloom also cheekily said she may resell the dress on the RealReal, an online consignment shop for high-end fashion and accessories.
"And I can always resell it!" Bloom said of her red-carpet look. "Take a look for this dress on the RealReal tomorrow."
The online-based store feature luxury brands like Alice + Olivia and Vera Wang, but also have more affordable finds like Nike. It's not clear where Bloom purchased her 2017 Emmys dress.
In a world where women of all sizes have the talent to make it to grand award shows like the Emmys, it's disappointing to see women above sample size struggle to find an outfit for the occasion. The silver lining is that celebrities like Bloom are boldly speaking out about the issue and taking the matters into their own hands.
After all, the first step to change the fashion industry is by hearing what needs to be changed.