Rachel Calls Lee A Snake While Watching 'The Bachelorette'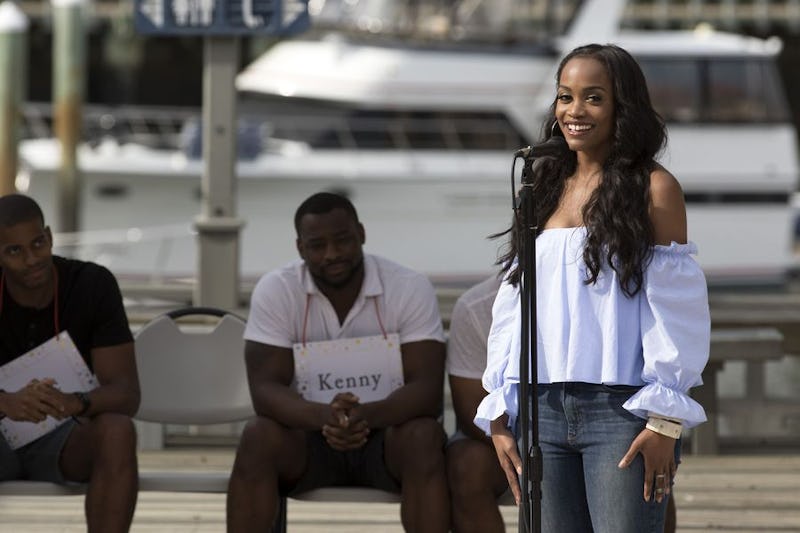 Bob Leverone/ABC
When it comes to eliminating the men competing for her heart on The Bachelorette, Rachel Lindsay has been pretty generous, and she basically never comments negatively about the men she's cut online. But after Rachel eliminated Lee on The Bachelorette, she actually responded to his exit on Twitter. Her message was short, but it clearly showed that Rachel was ready for Lee to go home, just like the rest of Bachelor Nation. In just a single tweet, Rachel acknowledged that while she may not have been present for all of the Lee/Kenny conflict, she's made her mind up since seeing the scenes play back. And, she seems to agree with Kenny's preferred nickname for Lee of "snake."
Commenting on Lee's elimination was probably a smart move for Rachel, because for at least the last three episodes, many fans were wondering why on Earth did she keep him around for so long when there were so many complaints about him? If you read what Rachel tweeted, she "may do things on [her] own time," but after gathering more information during the two-on-one date, she determined that Lee was not the one for her. So she decided to send him home and give Kenny another chance. Her hashtag sums it all up: "#ByeLee!"
After Lee's elimination, Rachel also offered a brief word of advice to Kenny about another moment she didn't quite get to see when it happened — when Kenny took one last chance to tell Lee goodbye and wound up getting drawn into another argument with him. On the date, Rachel was pretty annoyed about Kenny ditching her to yell at Lee again... and as she explains, "Kenny needed to let Lee go." Rachel didn't comment on Lee's racially insensitive alleged tweets, but she didn't really need to. Her message was clear. (After screenshots of his alleged words got out, Lee made his account private and ABC declined to comment on the content of the alleged tweets. A rep for Lee could not be reached.)
Even though Lee stuck around far longer on The Bachelorette than many believed he should have, the Bachelorette herself has clearly taken Kenny's side in the conflict — and she's not afraid to say so.