Rachel Isn't Even Trying To Hide That Bryan Is Her Favorite 'Bach' Guy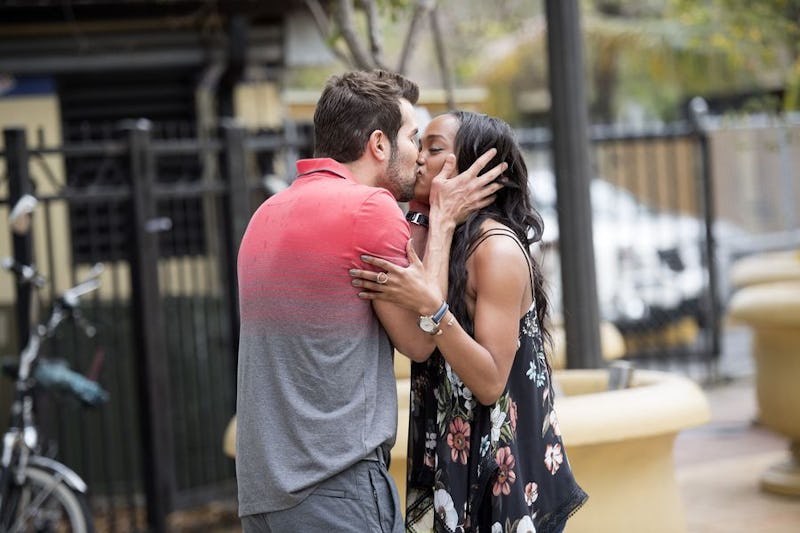 Rodrigo Valera/ABC
Even if you stay away from spoilers, there's always a clear frontrunner on The Bachelorette who seems to have this whole thing in the bag, and this time around, it's Bryan. Over the last several episodes, Rachel's been dropping hints that her feelings for him are way more serious than what she has with the other guys, and after seeing him meet Rachel's family it's even more clear. Rachel's not even trying to hide that Bryan probably wins The Bachelorette, and it seems unfair to Eric and Peter who are still hoping they'll get to propose at the end of the season.
Bryan was the last of the three to meet Rachel's family, and when they met up in her hometown of Dallas, Texas, it was immediately clear that his date with her would be much more personal than the ones she had with Eric and Peter. Right off the bat, she took him to meet her friends (the same ones who were responsible for her signing up for The Bachelor in the first place) and they all had mimosas together so they could get to know Bryan better. Since neither of the other guys met Rachel's closest friends, that stood out right away.
And then, when Rachel's family didn't instantly fall in love with Bryan like she did after meeting him, she got very defensive — another sign that she may be leaning towards him the most. Although the situation wasn't quite as volatile with Eric or Peter, Rachel didn't seem quite as protective over them as she did with Bryan. Why would she have a reaction like that if she wasn't planning on bringing him home for good at the end of all of this?
There's always a chance that these clues are wrong, of course, but as Rachel's engagement gets closer, it just seems more and more likely that she's got her mind and heart set on Bryan. (Hello? Those watches?) Hopefully, Eric and Peter have prepared themselves for the worst. It's going to be too tough if we have to see either of those guys get their hearts broken.