Rachel Lindsay & Bryan Abasolo Were Surprised That Peter Isn't The Next 'Bachelor,' Too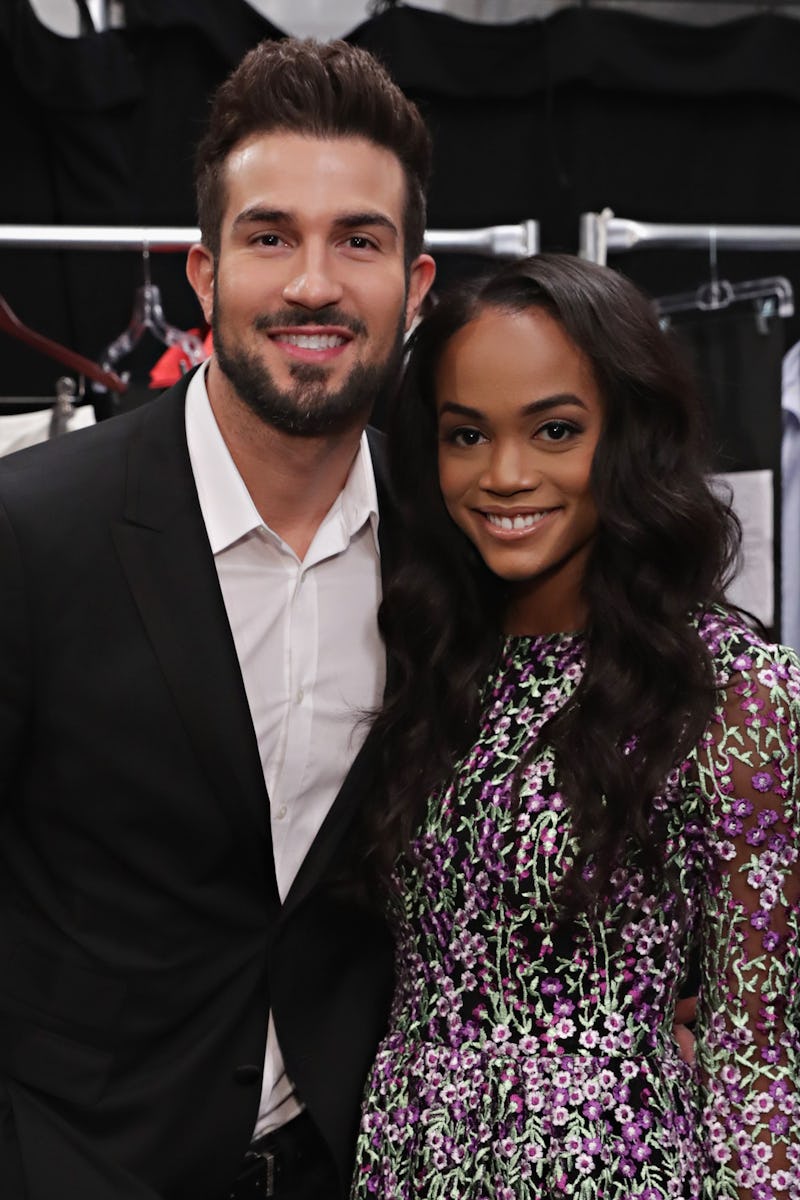 Cindy Ord/Getty Images Entertainment/Getty Images
In September, The Bachelor made the unexpected decision to bring back Arie Luyendyk Jr. as the next leading man. The choice was met with mixed reactions, as members of Bachelor Nation anticipated the return of popular contestant Peter Kraus. In a recent interview with Entertainment Tonight, Rachel Lindsay and Bryan Abasolo were prepared for Peter to be the Bachelor, and found the series' throwback choice surprising as well. Much like fans of the show, Rachel was shocked that the finalist from her season was not selected. The newly-engaged couple also insisted they were impartial about the show's selection, and would have been happy to see Peter on the series.
When her season wrapped, Rachel was hesitant to support Peter returning to the show. After the finale, she suggested to Variety that another contestant from her season, Alex Bordyukov, would be a better fit for the process. Rachel and Peter's emotional on-screen break up and awkward reunion during the live final episode was a controversial end to her season. When the latter was unwilling to commit to a proposal, the two stars parted ways for good. Given the way their relationship ended, it makes sense that the former-Bachelorette wouldn't endorse her ex for a show where engagement is the endgame. Rachel ultimately left the series planning to marry Bryan. The split was rocky, but Peter remained a fan favorite and many expected to see him leading the show's 22nd season.
Despite their history, Rachel told ET that she wasn't opposed to Peter being ABC's choice. "It didn't bother me either way," she said, and Bryan also insisted the choice was a non-issue. "Honestly, we didn't mind at all," Bryan added. "Peter is a good guy, and he deserves to find love, so we wish him the best along with anybody else." Rachel did, however, admit that she hasn't spoken to Peter since that tense finale episode. If they did correspond, she insisted it would be "cordial".
Potential awkwardness was avoided, as the franchise ultimately went in a different direction. Bryan and Rachel are excited to see what Arie Luyendyk, Jr. will bring to the series. The former-race car driver and real-estate agent last appeared on the show in 2012, and he was a final contestant on Emily Maynard's season of The Bachelorette. He proposed but was turned down, and he left the show brokenhearted.
Rachel and Bryan insisted that it wasn't a "relief" Peter wouldn't appear, but it will provide some much-needed distance. "I think what's going to be nice is that we can watch it, and just watch it. Arie isn't linked to us, so we can have a very objective opinion, and no one is going to read into it," Rachel told the publication. "I'm happy to just watch it and not be judged by every single thing that we do in regards to that season." If Peter had been chosen, Rachel would likely be expected to provide opinions on the season at every turn. The franchise's choice will bring back someone from many seasons ago will definitely take some pressure off the newly-engaged couple.
According to Us Weekly, Bach Nation was prepared for the Wisconsin-based personal trainer to return to the screen, but Peter wasn't ready to commit. The publication reported that the star was approached by ABC to discuss the opportunity, but Peter was unsure. It wasn't long after the split with Rachel, and he wasn't in the headspace. He also worried, yet again, about the expectation of a proposal. "This is kind of part of my thought process, if I did get to the end and I do really, truly like somebody but for some reason I can't just say this is for sure that person, I don't want it to be the same outcome again," he told Us Weekly in October. "People are forgiving once. I don't know if they're forgiving twice."
Peter's future with the franchise hasn't necessarily come to an end. He's slated to appear on Mike Fleiss' spinoff, The Bachelor Winter Games. The series will pit former contestants against each other in a wintery athletic challenges at a ski resort. It airs in February, and will feature plenty of Paradise style drama. If Peter doesn't find romance on the new show, he hasn't put a Bachelor run out of the question. "If it were to come up again," he told Us Weekly. "I would definitely consider it."
In the meantime, Arie Luyendyk Jr. will take on the role. He returns to the series almost four years after his season, and Rachel admitted to ET that she wasn't yet familiar with the contestant. "I didn't know who Arie was, but...I've seen a couple of things about him. He seems like he's in the right place, ready to meet someone and I think that that's important," she said. "I'm excited to see his season." Newer fans of the series will be less familiar with this star, but that adds to the intrigue. Bryan on the other hand, knew Arie's season well and feels enthusiastic about the choice, telling ET that he's a "very funny, charismatic guy."
Peter's choices on the last season of The Bachelorette do suggest that he might not be ready to commit to the show, but fans might get to see him star in the future. For now, it's clearly a bit of a relief for Rachel and Bryan to be out of the spotlight, and if Peter does chose to appear on a future season, he will definitely have their blessing.